Case study: a successful job share partnership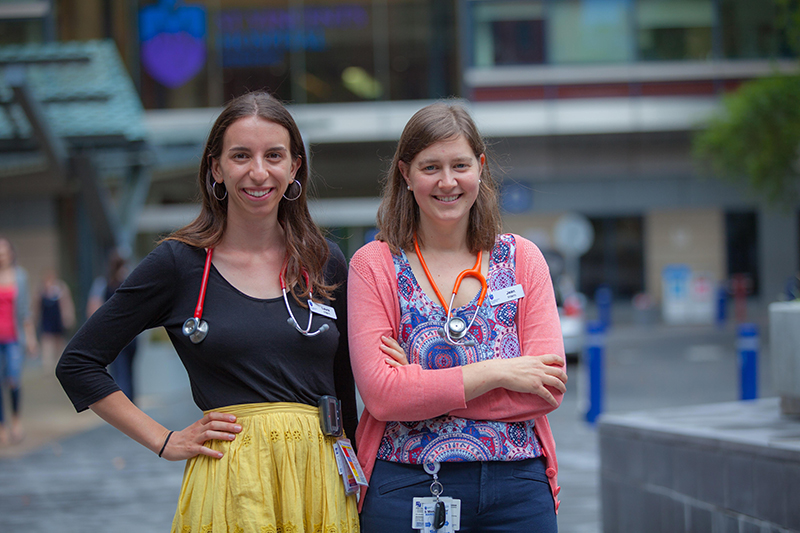 Dr Laura Toscano and Dr Jean Gador-Whyte have a successful job share partnership

Job share arrangements are common practice in many industries, but for junior doctors the opportunities are almost nonexistent. Almost. After plenty of anxious moments searching for an opportunity and much persistence, two doctors are job sharing their intern experience over two years at St Vincent's Hospital. Following the success of their arrangement, they believe more colleagues should have the chance to do the same.
When going through the intern application process in 2017, Dr Laura Toscano and Dr Jean Gador-Whyte had never met, but they both had something in common – a desire to work part-time so they could spend some time at home with their young children.
While there were no job share intern positions listed publicly anywhere, the doctors had both heard from the Postgraduate Medical Council of Victoria (PMCV) that if they asked enough questions and hassled the right people, it might be possible… somewhere.
"I rang most of the hospitals I was applying to about the prospect of working part-time and almost all of the responses I received were, 'What is part-time internship? We've never heard of this!'," Dr Gador-Whyte recalled.
After hearing that St Vincent's would consider a job share, Dr Gador-Whyte applied knowing little about her prospects. "I didn't know throughout the process if I was the only one applying for part-time or if there were 10 other people."
Dr Toscano was concerned about the prospect of starting full-time work just three months after having her baby girl, but if she was unable to find a part-time role, it looked unavoidable. She contacted many hospitals directly, only to be repeatedly told a job share position didn't exist and part-time was not option. So when she attended a St Vincent's information session heavily pregnant and asked if they would consider a job share arrangement, she was thrilled with the response. If a suitable partner could be found, it was definitely a chance!
It wasn't until after the two women had been informed that their applications for a job share arrangement had been successful that they learned the identity of each other.
"Once the job sharing arrangement was confirmed we met in person and we discussed the role, what we were looking forward to and what we were nervous about; which was a lot of things because it was a new position that had never been done before," Dr Toscano said.
The doctors have no overlap at work; it is treated like one position by the hospital. Both are contracted for 19 hours a week and they work the same two days each week and alternate on Wednesdays. The consistent arrangement works well with childcare.
The two doctors complete their rotations in the same manner as a solo full-time intern, but their program is over two years instead of one. For all rotations, apart from the emergency department, they do an extensive handover process in their own time, usually on a Wednesday and Sunday night, after their kids Arthur and Nina have gone to bed.
"Both Laura and I have been really keen to make it work," Dr Gador-Whyte said. "We've been working really hard to ensure we can do the job just as well as anyone else. It took us a little bit longer to get into the swing of things at the start, but we were very careful with our handovers to be as detailed as possible. Sometimes we'd be on the phone for a couple of hours, not just talking about the patients, but if it was a new rotation, talking about how the day would run and which people we would meet. We wanted to make it go smoothly and made our handover really thorough."
Dr Toscano believes the job share arrangement highlights the potential for more part-time work opportunities. "On emergency there's no need for a handover," she said. "I can't see why part-time work can't be offered to junior doctors in emergency at least because there's no handover required."
Both doctors feel very fortunate that their union has worked so well, recognising the pure luck that they were looking for the same opportunity at the same time. They'd like to see more hospitals follow the lead of St Vincent's.
"The more people that are looking for part-time internships for any reason (not just parenthood), then the more hospitals need to offer it," Dr Toscano said. "I think St Vincent's has shown that it doesn't mess up the whole intern year of rotations to have two people doing the one job.
"But the biggest challenge of job sharing is having the right partner. I think I was lucky with Jean in that we are quite similar."
Dr Toscano and Dr Gador-Whyte said they would not have their current opportunity without their persistence in ringing hospitals and "hassling as many people as you can". For now, they advise others to do the same. AMA Victoria would like to see every hospital have at least one intern position available as a job share. It may not always be filled, but they should have the capacity to offer one.
Tags