Mentoring a key to successful flexible surgical training positions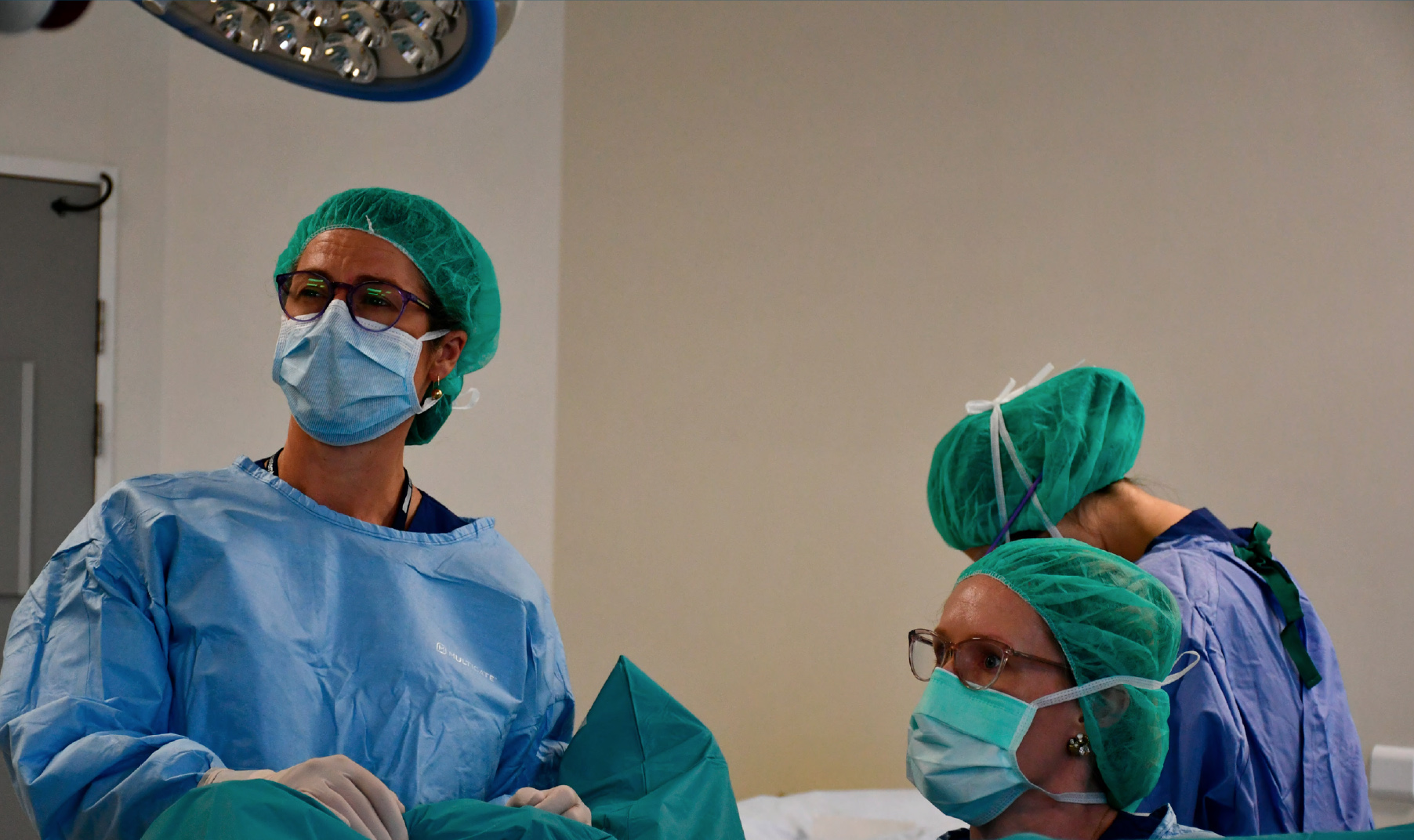 Two doctors from Eastern Health are sharing their experience as healthcare pioneers. As just the second female Director of Urology anywhere in Australia, Dr Caroline Dowling has championed the first stand-alone part-time urology training position in Australia and New Zealand for Dr Marni Basto.

Progress for the next generation
A surgical training graduate almost 20 years ago, Dr Dowling said having her first of four children long before flexibility was on the radar made for quite the struggle to find balance between family and career. "It was a very real battle and not one I wish for any of our surgical trainees today," she said.
So when Dr Dowling found out that Dr Basto was hoping to return to surgical training from an extended period of maternity leave, it presented an obvious opportunity to start the flexible conversation.
Dr Basto said the urology training board has been very supportive of her maternity leave and return to work in a flexible capacity. However, there is a practical reality in implementing these positions at the hospital level and this is where it requires a champion on the unit who is prepared to push it across the line. "Eastern Health and our unit VMOs in particular were receptive to her proposal," Dr Dowling said. "We want to be leaders in this progressive way of working in surgery."
In 2019, Dr Basto returned to surgical training in Melbourne juggling her two and three-year-old children, while her husband, Dr Matthew Liava'a, worked as a paediatric heart surgeon in Sydney. "Prior to this, we had been living in New York for my husband's Fellowship when our second child was born," Dr Basto explained. Ironically their son was diagnosed with a fatal heart condition requiring the very same surgery her husband was practising.
"Our son, Sebastien, was born with transposition of the great arteries (TGA) and his surgery was performed by my husband's mentors in New York." The twist of events that was a little too close to home meant Dr Basto required further time away from surgical training to support her son through his recovery.

Stand-alone part time options are essential
The Urology Unit at Eastern Health set up a stand-alone part time position for Dr Basto, where she worked three days a week, Tuesday to Thursday. This included three operating lists, two outpatient clinics, a morning for administration and a radiology meeting, a multidisciplinary cancer meeting and teaching time.
The on-call requirement was 1:4 which was similar to the other registrars. "Marni's role was an additional role to the unit. We were able to accommodate this by ensuring that all leave for the unit would be covered internally rather than another registrar provided to cover leave," Dr Dowling said.
As the number of female surgical trainees approaches 30 per cent - most in their prime child-rearing years - flexibility in the surgical workforce is essential to prevent trainees from leaving altogether and to improve workforce diversity.
"Female surgeons should not be faced with the choice of having a child on their six weeks of annual leave or alternatively taking a whole year away from training if that is not their preference," Dr Basto said.
"My position this year has really shown that you can work part-time and progress your skill and knowledge set, albeit at a slightly slower rate." She also said that while people commonly acknowledge the difficulty of working in a surgical profession with a newborn, it's important to remember that the pressures of child-rearing extend well beyond the first year of life.
Dr Dowling said a more flexible approach will assist more than just new parents. "Although our research has shown that nearly 40 per cent request flexible training for child-rearing reasons, these arrangements should not only be for parents, but for those needing flexibility for a variety of reasons," she said. "This includes men in our surgical workforce who juggle childcare responsibilities, trainees with sick children or family members and individual trainee health issues."
"I've seen highly-skilled doctors leave the profession because the job demands can't accommodate their personal needs. Traditionally people are very hesitant to ask for flexible options, because they feel it will be poorly looked upon."
Dr Dowling and Dr Basto feel strongly that the time has come for all in surgery to show that they are leaders and actively encourage trainees to request these roles when required.

Embrace change or risk losing our best future surgeons
Dr Dowling, Dr Basto and several other colleagues in the surgical and surgical education fields conducted an evaluation of prior flexible training positions within the Royal Australasian College of Surgeons. Importantly they found that 25 per cent of respondents would have withdrawn from surgical training had their position not been available.
"I suspect this is an underestimate too, as we know that some trainees who defer do not come back and those who continue in a full-time capacity under significant stressors may not be able to continue surgical training," Dr Dowling said.
Respondents from this research were from general surgery, urology, paediatric surgery, cardiothoracic surgery, otolaryngology and orthopaedic surgery training programs.
"While the majority of trainees were satisfied with their flexible training experience and their ability to manage other life commitments, over 50 per cent had encountered negative perceptions of the role, or bullying and discrimination, so there is still a lot of work to be done in reinforcing positive perceptions of these roles," Dr Basto added.
Dr Dowling is a firm supporter of the notion from American civil rights activist Marian Wright Edelman who stated, "You can't be what you can't see" and hopes the discussion about flexible training and a visibly diverse surgical workforce will have an impact on choice for future surgeons.
Tags