#286 Careers Expo Presenter Profile: Dr Brendan Condon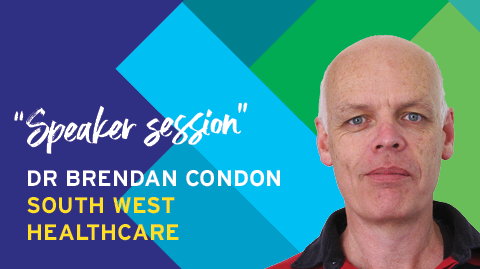 20 April 2021
AMA Victoria's 2021 Medical Careers Expo empowers medical students and early career doctors with insight, knowledge and connections, providing assistance with the initial steps in a medical career.

Running from Monday 26 April to Saturday 1 May, the Expo provides access to representatives from health services, medical colleges, training providers and other organisations that recruit and employ doctors; along with a range of services and resources to help achieve career potential.

One of the event's presenters is Dr Brendan Condon, Supervisor of Intern Training at South West Healthcare. Dr Condon will be presenting at 6.40pm on Monday 26 April (PGY2+) and 6.40pm on Thursday 29 April (Internship) and will be available to answer your questions.
What is your current role in medicine?
Supervisor of Intern Training for South West Healthcare
Year 4 coordinator of the Deakin University Warrnambool Clinical School
Medical Educator for the Western Victoria Regional Training Hub
Clinical Editor for Westvic HealthPathways
What was your pathway to your current role?
Whilst working as a rural GP, I found I enjoyed helping medical trainees develop their clinical skills and gradually moved increasingly into medical education. I joined the faculty of the newly created Warrnambool Clinical School and took on the newly created role of Supervisor of Intern Training, when it was created, in anticipation of the first graduates from the clinical school looking to continue their rural training.
What is the best part about your work?
The best part about my various roles is meeting new groups of medical students and junior doctors each year, helping them develop their skills and find their path through medical training.
What is the hardest part about your work?
Finding enough time to achieve everything I intend.
What are three things an early career doctor should know about your workplace?
Being a rural hospital, South West Healthcare offers a more 'hands on' clinical role, enabling the development of a wide range of clinical skills, with close contact between consultants and junior doctors.
General clinical units, rather than sub-specialties, provides a broad experience that provides a solid basis of clinical skills and a taste of clinical work on many disciplines.

Pathways exist to many career options. GP, VRGP, general physician, and general surgery training programs exist in the region. Emergency medicine and psychiatry training can be commenced locally and the broad solid training supplied in our rural setting is in demand for subsequent training in metropolitan hospitals. Our JMOs who do want to move to a metro hospital have no trouble achieving their aim.
Do you have any advice for those pursuing a career in medicine?
Take your time to experience many disciplines and talk to specialists about the lives they lead, which involves much more than what you see of them as a junior doctor, in order to find the role that suits you.
How would a Medical Careers Expo have helped you when you were starting out?
A Medical Careers Expo would have opened my eyes to the variety of options available to me and allowed me to research those options fully.
Click here to register for this year's Careers Expo to ensure your next steps are the right ones.
Tags