#21 Event wrap: Family planning and balancing medicine seminar
21 August 2018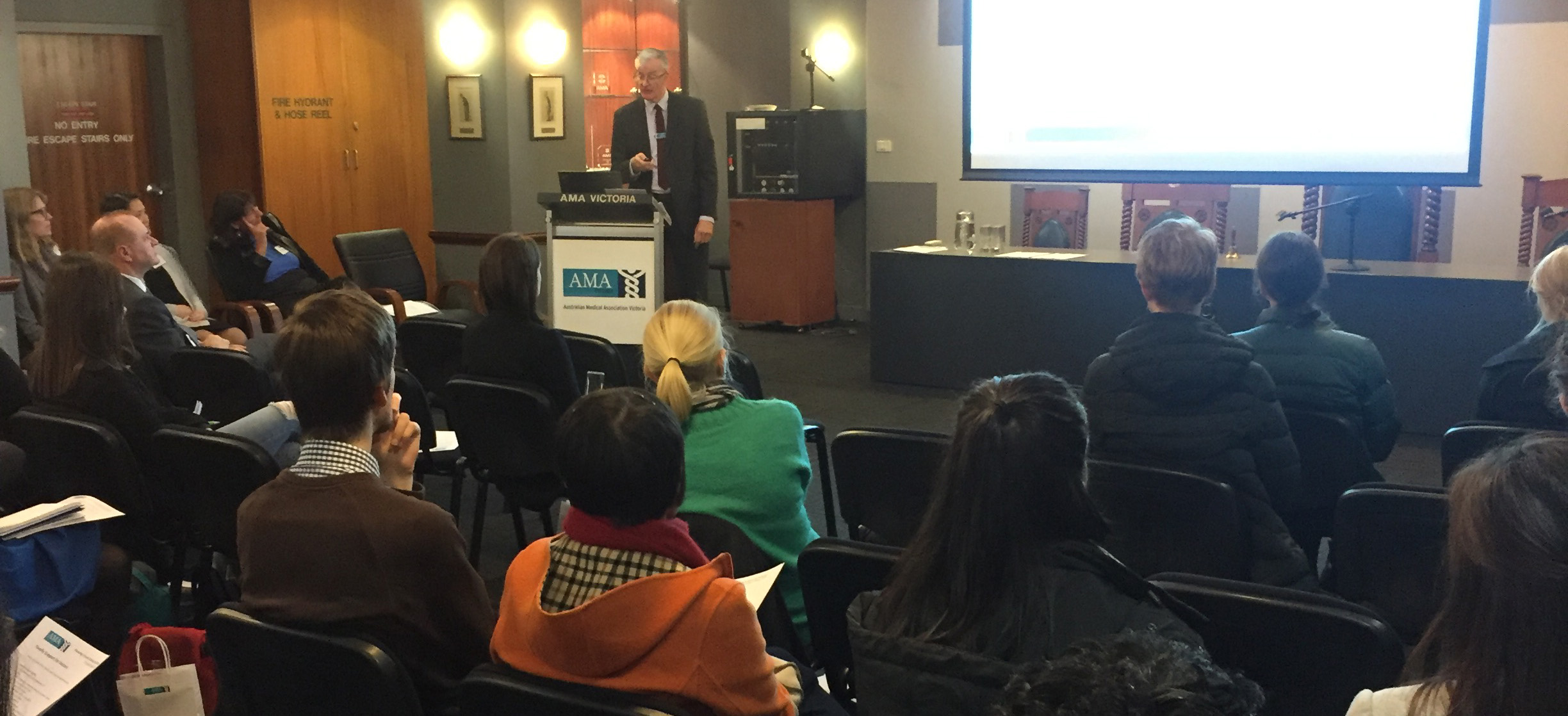 AMA Victoria's Workplace Relations Adviser John Ryan
The room was full of current and future parents, warming up on party pies on a chilly August evening after a full day of work or study. The topic was one not commonly discussed in the workplace - identifying the right time to have a family and how to balance this with a medical career.
AMA Victoria's industrial relations advisor, John Ryan, described the impact of workplace culture and the difference between workplace rights and workplace realities in relation to family friendly environments. He provided an overview of parental leave provisions in a variety of settings, including the new provisions in the enterprise agreement for hospital medical officers.
John also warned that as a pregnancy may not always go according to plan it is essential to consider if lighter or alternate duties may be required and the need to use other leave provisions for medical appointments or unexpected health issues. He noted that there may be times when both parents need to take leave and that parental responsibility usually continues for at least 18 years, until a child finishes secondary education. John advised all those planning a family to seek expert advice from AMA Victoria about their individual circumstances, before concluding with a reminder that membership can continue during parental leave with a special discounted rate for members who are not working or in a part-time role.
Obstetrician Dr Amber Moore gave an engaging presentation about issues including how both partners should prepare for pregnancy and which pre-pregnancy and prenatal tests should be undertaken. She outlined declining fertility and fecundity for women in their 30s and talked about options such as freezing eggs, IVF and surrogacy. Amber, who is a mother to four children, also described in a very entertaining manner her own experiences juggling parenthood and medicine, how to minimise stress through outsourcing and how this can enrich your life through expanded support networks. Some of her stories were very poignant and included experiencing a pregnancy loss while simultaneously assisting with a caesarean section.
A generous panel of Dr Tara Purcell, Dr Phuong Pham and Dr Sue English then described their own personal experiences as medical parents. Tara noted that she started her family while studying medicine and how essential her support network, including other parents, is to maintain a balance. Phuong described the detailed consideration she gave to approaching parenting differently from her own medical parents, by choosing to stay home and defer training with a view to returning to training and work part-time when her partner has completed his training. Sue described balancing full-time work as a practice-owning GP practising obstetrics - which required the occasional need to take her young boys into the labour ward - plus the value of a beloved nanny in her household. With the wisdom of hindsight, now that her children are young adults, Sue was also able to talk about the light at the end of the tunnel, as she now works part-time and pursues international charity work in East Timor and mentoring, among a broad range of other interests.
The key messages from the night were:
The right time to have a family is… when it's the right time for you (not everyone else)!
Build a village - have a support network to help you
It's ok to be out of control – life isn't perfect
Look after yourself – physically and mentally
AMA Victoria can help you – just ask us! Our workplace relations team is only a phone call away on (03) 9280 8722
If you're interested in attending a similar event next year, please let us know by emailing amavic@amavic.com.au.
AMA Victoria's Women in Medicine Committee will be hosting two 'Inspiring Women' events in October. Click here for more information.
Tags