#7 crazysocks4docs
23 May, 2018
Make sure you have some crazy socks ready to wear on Friday 1 June to raise awareness of doctors' mental health. The aim of the day is to encourage conversations about mental health and help reduce the stigma for doctors experiencing mental illness. Many doctors unfortunately still feel that seeking help for mental health problems could risk their career.
The social media campaign, which uses the hashtag #crazysocks4docs, was started by AMA Victoria member and cardiologist Dr Geoff Toogood, who has championed mental health support for doctors after his own battle with mental illness.
"The idea for the day arose from turning up to work one day in odds socks and my mental health was questioned by a colleague… not in a positive way," Dr Toogood explained. "It would have been far better to ask if I was ok.
"The true reason was my new dog, a golden retriever called Sammy, had demolished all but two odd socks!"
Sammy's naughty behaviour and an unhelpful comment sparked a hugely successful awareness campaign last year, with doctors from around Australia and overseas, health workers, and politicians, sharing their crazy socks on social media.
"The fun campaign was about stopping stigma in medicine around mental illness," Dr Toogood said. "Acknowledging that doctors do get ill, we are human too and we need to realise this as well. We also must support our colleagues."
The second year is set to be even bigger, with Dr Toogood hoping for a greater social media presence around the world. We would love to see your crazy socks on Friday 1 June, so please use the hashtag #crazysocks4docsand direct your Twitter posts to @amavictoria. You can also post your photos on our Facebook page.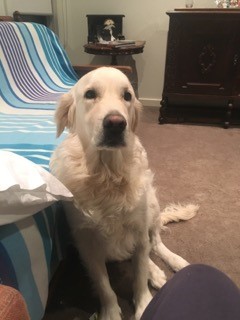 Sammy the dog
Tags