#8 Environmental Sustainability in Healthcare
AMA Victoria's Women in Medicine Society hosted its much anticipated 'Environmental Sustainability in Healthcare' event, on Monday 21 May.
The audience of over 70 was treated to a live jazz band and refreshments followed by insightful presentations, as they took in the splendour of Mayfair Apartments on St Kilda Road. Mayfair Apartments is the first residential project by world-renowned Zaha Hadid Architects. They combine functionality with natural beauty and provided an appropriate setting for speakers Dr David Pencheon OBE and Dr Eugenie Kayak.
Dr Kayak is a Melbourne-based anaesthetist and the National Deputy Chair of Doctors for the Environment Australia (DEA). She is a fierce advocate for improved environmental healthcare sustainability. Dr Pencheon is the founding Director of the UK's National Health Service (NHS) Sustainable Development Unit, which aims to make the NHS a leading sustainable and low carbon healthcare service.
Together they unpacked current environmental issues and detailed some successful case studies. The audience heard that climate change and the quality of our environment is a major health issue, and that urban air pollution causes more deaths in Australia than road accidents.
Currently, the carbon footprint of Australian healthcare contributes more than 7% of our total greenhouse emissions, but some hospitals are successfully addressing the issue. The Mater Hospital in Brisbane has saved more than $2.3m since 2008 by implementing various environmental sustainability initiatives, and by changing anaesthetic gas from desflurane to sevoflurane. Western Health is saving about $30,000 and 140 tonnes of carbon dioxide emissions each year.
It was put to doctors that more hospitals must follow these examples, and it is up to them, as trusted voices in society, to lead the discussion on environmental change.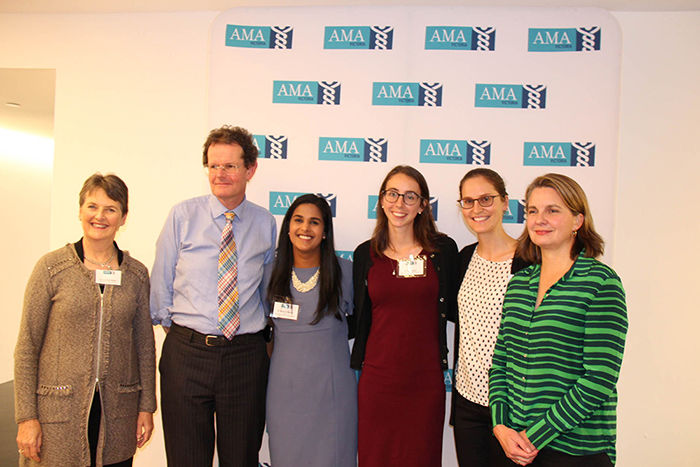 Dr David Pencheon and Dr Eugenie Kayak with former AMA Victoria President Dr Lorraine Baker and members of the Women in Medicine Committee
Tags