#48 Improving the health literacy of refugees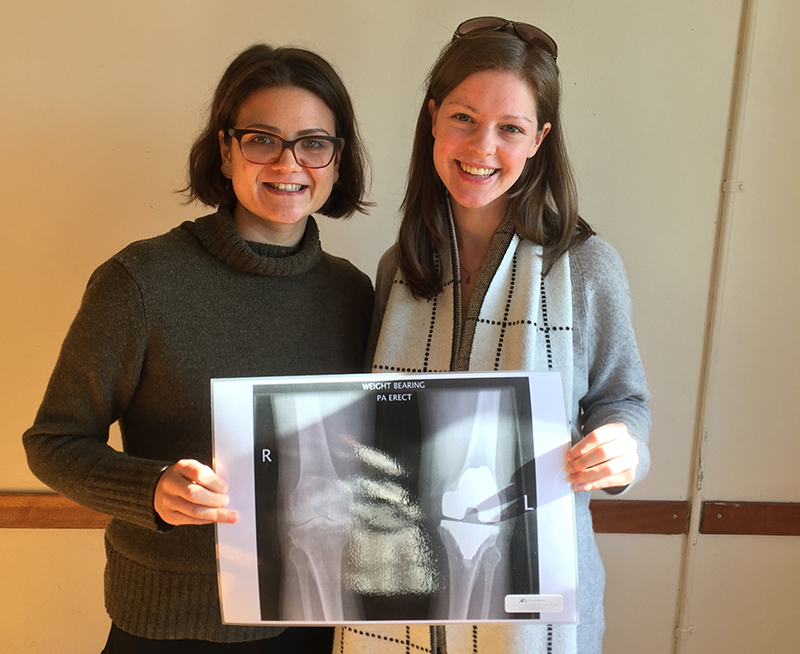 Water Well Project volunteers Steph Nesbit (left) and Dr Anna Power presented a session on bone and joint health.
21 January, 2019
New arrivals to Australia face a number of barriers to health and wellbeing, something Dr Linny Kimly Phuong knows only too well as the daughter of Vietnamese refugees.
"My parents came to Australia as refugees in 1979, so I am quite passionate about refugee health for that reason," she said. "They were Vietnamese boat people who sought refuge and were in a refugee camp in Malaysia. They were lucky to be accepted by the United Nations Humanitarian Program (for refugees) and came to Australia to start their new lives and their family."
In 2012, Dr Phuong, an infectious diseases registrar and AMA Victoria member, founded The Water Well Project, an Australian not-for-profit health promotion charity which aims to improve the health and wellbeing of migrant, refugee and asylum seeker communities by improving their health literacy. The charity is run by a dedicated group of volunteer healthcare professionals and recently celebrated its 500thcommunity health education session.
The Water Well Project delivers culturally-sensitive health education sessions in Victoria, New South Wales and Tasmania based on the needs identified by refugee support organisations. There are many topics covered including navigating the Australian healthcare system, healthy eating, exercise, diabetes, mental health, contraception and immunisation.
"The Navigating the Australian healthcare system session is an effective one for new arrivals and even those who have been in the country for a number of years," Dr Phuong explained. "During sessions we might roleplay how to make an appointment to see a doctor, talk about what you would bring along to the appointment, ensure community members are aware of interpreter services and, importantly, discuss when to present to an emergency department instead of a general practice clinic. These are fundamental things that you would only understand if you've grown up in this country."
Topics delivered depend on the brief provided by referral partner organisations. "For example, if we run a women's health session we rely on the community partners who we work with to provide a brief of what the community actually wants and needs," Dr Phuong said. "We aim to fill knowledge gaps and try and make our sessions really interactive and practical. A women's health session may involve us passing around speculums, Pap smear brushes and pelvic models, to get the conversation going and make the session engaging, interactive and fun."
Dr Phuong established The Water Well Project around the time she began her intern year and devotes much of her time outside of work to the organisation. It has also challenged her to work well outside her comfort zone.
"I never set out to create an organisation," she reflected. "It just kind of happened and gathered a lot of momentum. Before I knew it we were in three states!" She recognised early on what her strengths and weaknesses were and has brought a range of people from diverse backgrounds onto the board to help assist with responsibilities like balancing ledgers, running social media campaigns and navigating not-for-profit law. "There is so much stuff that you do not learn in medical school!
"The main aim for us (now) is to build awareness of our service across refugee support organisations," Dr Phuong said. "We want to more effectively reach at-risk populations. This has been hard because until recently we haven't had any marketing expertise in our organisation. We are also focused on building a sustainable organisation that provides quality sessions tailored for the community."
The Water Well Project is always looking for medical professionals to become involved. Doctors interested in supporting The Water Well Project can:
Register to become a volunteer healthcare professional facilitator at www.thewaterwellproject.org or
Donate to the project – As a registered health promotion charity, The Water Well Project has deductible gift recipient (DGR) status. All donations above $2 are tax deductible.
This article appears in the December 2018 edition of Vicdoc.