#55 A 'Voiceless' sculpture sends a strong message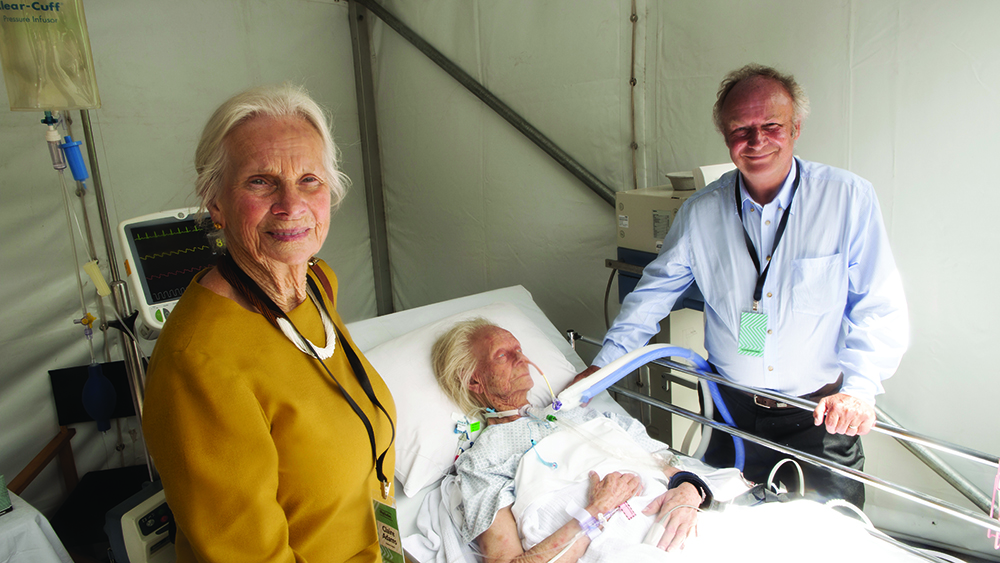 A/Prof Charlie Corke with the 'Voiceless' sculpture and its model, Claire Adams
22 February 2019
Few doctors will have stood by the bed of a sick, frail patient, with advanced chronic illness who is beyond making any decision for themselves and not have agonised as to whether to do everything to try to save the patient or to palliate. This dilemma should only be resolved on the basis of what the patient would want, something that is so often unclear.
Advance Care Planning is designed to ensure that the patient's perspective and wishes are communicated, facilitating appropriate decisions. Planning ensures that patients have a voice when these decisions have to be made. Despite the obvious advantages of making sure that wishes are known, most people don't have a plan. With the developments of modern medicine this is a significant problem.
It's a difficult thing to get people to consider and it is not surprising that we do our best to avoid thinking about being in a dreadful situation! This makes Advance Care Planning a really difficult marketing challenge – but one that we have to address.
A desire to promote good planning led to a unique event late last year in Southbank. Those walking by the Yarra encountered a frail, elderly woman lying in bed on life support. This was a hyper-realistic, silicone sculpture of Claire Adams by the sculptor Dale Bradford. Claire, the model, is a remarkably healthy, beautiful, lively and bright 91 year-old lady – but the sculpture shows an alternative future. The work is strikingly real.
An artwork is intended to be closely observed, something that could never be appropriate in the case of a real patient, so the sculpture gives the public an opportunity to see, and begin to understand, what doctors see every day. The work starkly illustrates the implications of 'whatever it takes' at the extreme of life. Some are reassured by this vision, while many readily share their desire to avoid anything like this sort of outcome.
Good art provokes emotion and reflection and the sculpture certainly achieves this. Though the sculpture is titled 'Voiceless' it speaks eloquently to those who see it and sets them thinking. We plan for the 'Voiceless' sculpture to tour Victoria, in order to create interest right across the state.
Action must follow though and the underlying purpose of the sculpture is to promote a free, online program MyValues (funded by the Victorian Department of Health and Human Services) that assists people to understand where they stand with regard to 'how far you'd want to go'. The program evaluates attitudes and creates a report that summarises the answers. The program also enables users to automatically include their report in a Victorian Advance Care Directive.
The program can be used by anyone, anywhere, but only those with a Victorian postcode have the opportunity to include their report in the Victorian Advance Care Directive. The program can be accessed at www.myvalues.org.au
Everyone who has been involved with Advance Care Planning recognises that the process is rarely quick, and people often find it quite difficult. Helping patients plan can be very time consuming and is often incompatible with a busy medical practice. In some jurisdictions there is opportunity to refer patients to skilled Advance Care Planning facilitators (which permits detailed conversations), but this may be unavailable or impractical.
MyValues offers an easily accessible solution that enables patients to convey their opinion in a way that can usefully inform doctors (and family) at the time of a medical crisis and permits them to further elaborate their wishes, if they wish to do so.
Busy doctors who wish to encourage patients to plan may find MyValues a useful option to offer patients. Flyers may be obtained by contacting me at charliec@barwonhealth.org.au
A/Prof Charlie Corke
Senior Intensive Care Specialist
Barwon Health
This article appears in the February 2019 edition of Vicdoc.