#78 Financial assistance for doctors in need


24 May 2019
The Victorian Medical Benevolent Association (VMBA) provides short-term financial support in a time of crisis and need to medical practitioners and their immediate family, as well as medical students in their final year who reside or practise in Victoria.
The VMBA is not a service provider, but works alongside the Victorian Doctors Health Program (VDHP) and AMA Victoria's portfolio of services, including the Peer Support Service, the Peer Visitor Program, the Mentoring Program and the Medical Career Service.
The VMBA was formed at a time when the medical profession in Victoria was still struggling to establish itself, in 1865. Doctors were confronted by many issues in the towns and rural districts of 19thcentury Victoria: isolation, remuneration, collegiality, training and registration. As part of what was a very difficult world, many of them had their own personal struggles in establishing a viable livelihood.
The profession has been well-established in Victoria for well over a century now, but the numbers of doctors whose professional expertise does not extend to the world of business or financial management is no more or less than in the general community. And those issues facing the profession 150 years ago remain, even if cast in a different light.
The ability of doctors to self-medicate, combined with their detailed knowledge of drugs and ability to access them, has helped create problems of substance abuse. Narcotic addiction has always been present within the medical fraternity, but in recent decades illicit substance abuse amongst a younger cohort of professionals, with the complex and varied difficulties associated with such a state, has become more common. Alcoholism, of course, is another disabling factor that has appeared in the case books since the very early years.
Over the previous 154 years, the VMBA has helped many hundreds of distressed practitioners and their families. However, the recipients are still a very small percentage of the Victorian medical population – there were 812 registered doctors in 1892, and 22,000 in 2010, and there have never been more than a handful of recipients at any given time.
How can the VMBA endure for so long when there appears to be so little need for it? This question is considered by chronologically discussing some of the professional concerns and issues raised by practitioners in the medical press, surveying the cases that have come before the committee and studying the attitudes and concerns of the VMBA towards these doctors and their families.
Ultimately, however, the best explanation for the longevity and endurance of the Victorian Medical Benevolent Association is that doctors are a community unto their own and the empathy required to deal with their particular problems is best found amongst their colleagues.
Requests for assistance can be made by direct contact with the VMBA, or through a family member, a medical colleague, the VDHP or AMA Victoria.
All requests for assistance should be made to the VMBA's Client Manager Diana Cooper (see contact details below). The Client Manager will ascertain if the assistance is within the VMBA's constitution. Before a request proceeds, the client will be asked to complete an application form which includes assets, income and expenditure.
All request for assistance are discussed at a committee meeting and outcomes are confidential. The VMBA does not provide urgent or emergency assistance.
For further information on the VMBA support program visit www.vmba.org.auor contact Ms Diana Cooper, Client Manager on dianac@vmba.org.auor Mr John Fletcher, VMBA Executive Officer on johnf@vmba.org.auor call 0476 473 058.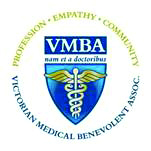 Tags