#81 Opening up about doctors' mental health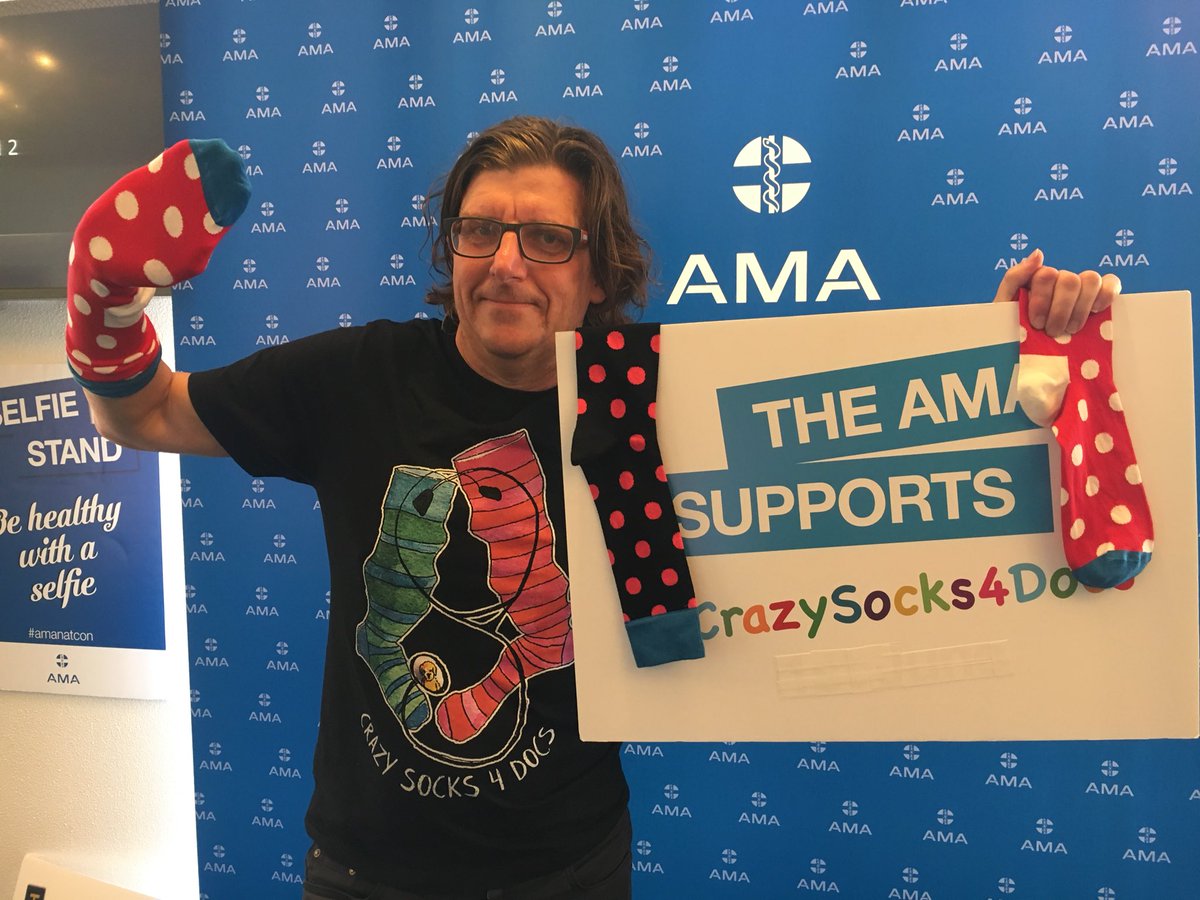 5 June 2019
It takes courage to share your mental health problems with the world, particularly for doctors fearing judgement from colleagues. However, for Crazy Socks 4 Docs Founder, Dr Geoff Toogood, it's been an important part of his recovery process.
Speaking on a panel in preparation for Crazy Socks 4 Docs day this Friday 7 June, Dr Toogood said he is regularly thanked by members of the medical profession who have experienced their own troubles with depression.
"You don't get many questions during the talks, but after the talks you get many people coming up and thanking me," Dr Toogood said. "After I received the (AMA President's) award numerous people came up and told me their story and said they wouldn't have had the courage and feared speaking about their own story."
Michael Myers is a Professor of Clinical Psychiatry based in Brooklyn, New York. An expert on doctors' mental health, he treated his first physician patient on Christmas Day in 1970.
"There's a long history in medicine of keeping things like this to ourselves," Prof Myers explained. "Thankfully with people like Geoff and Miko and many others who are speaking openly (about their own issues), it makes such a difference to bring it out in the open that we're human too. The problem is that in some circles there's still a fair amount of judgement."
'Miko' is Dr Yumiko Kadota, a one-time aspiring plastic and reconstructive surgeon left broken by the system after her experience as an unaccredited registrar at a Sydney hospital last year. The harrowing tale documented on her personal blog has led to significant media attention and a new role as a mental health campaigner, but it's not something she envisaged as she struggled to come to terms with her condition.
"The day I resigned was actually Crazy Socks for Docs day (last year) and I didn't even know about it at the time, I was so deliriously exhausted that I didn't even know what day or month it was," Dr Kadota recalled. "I was working my 24thday in a row and it happened to be 1 June last year that I resigned. The week after that I was diagnosed with depression and that is something that I have really struggled with, especially because of the culture that we're in.
"I think I'm also guilty of holding that (negative) perception of mental illness. I had to fight my own prejudices against mental illness because I have not had a history of mental illness before, so for me to accept it was really difficult, especially coming from the surgical fraternity."
Dr Kadota believes her determination to earn an accredited training position stopped her from recognising the signs and seeking help earlier. "That's why I held off for such a long time. It took a lot for me to walk away from something that I really wanted to do. A lot of people have asked, 'Why were you hospitalised in October, when you resigned in June?' I think of a lot of it was because I was still in denial that I had a mental illness. I just thought I was really tired and burnt out."
The inability for some to understand mental illness, compared to a physical ailment, can often add to the difficulty experienced by the sufferer, making them feel even less comfortable about disclosing their condition.
"The guilt I felt about having a mental health issue and severe depression and 'How come you're not better in three weeks?'… it takes a considerable amount of time to recover," Dr Toogood said.
Prof Myers believes this issue is compounded for doctors. "Guilt is one of the symptoms of depression but it's also one of the symptoms of our medical culture," he explained. "Very few physicians who develop a psychiatric illness don't feel guilty; that somehow they've let down the medical profession, they've let down their colleagues and their branch of medicine."
Dr Toogood credits exercise and finding a better life balance away from work for playing an important role in his recovery. "I've changed my work-life balance," Dr Toogood said. "After the second bout (of depression) I learnt not to work 60 hours a week and be the head of a department. I went back to normal working hours for other people. I swim a lot for exercise, I cook for mindfulness and I spend a lot of time with my children."
It's a similar story for Dr Kadota. "I make sure I have good nutrition, sleep well, exercise and last year I became a yoga teacher," she said.
For many, recovery from depression is an ongoing process and certainly not something which can be overcome quickly. "A severe illness takes anywhere between three and 12 months (recovery)," Dr Toogood said. "When I went back to work (after) the first time, I went back to full-time work and that was a mistake. I had a lots of protective factors, but I got crushed and it wasn't enough."
Prof Myers called on other doctors to be as supportive as possible. "Many say after they return to work, 'I wish I was using a cane or crutches, because then my colleagues would know that I'm still limping, I'm still on the mend and I need more time. They will need more time (to recover), maybe another three to six months.
"In the club of medicine, we have to watch out for each other. Sometimes it's inter-generational when we're mentors to younger physicians, but (we need) a better sense of watching out for each other."
Dr Kadota wants the medical profession to be mindful that depression isn't always easy to recognise in colleagues, particularly those who are good at masking their problems. "I'm an example of someone who may have an atypical presentation of mental illness. I was always chirpy and outgoing and even this year I've had messages from colleagues saying they had no idea I was going through a tough time. I often say ask your strong friend how they are doing because a lot of people put on a veneer for the outside world and you have no idea what's going on inside.
"I encourage everyone to keep doing their activities that protect their mental health, but if there is a colleague who does raise concerns about his or her mental health, don't ignore their pleas for help. I ask hospitals to take it seriously when junior doctors are expressing concerns about their health."

'Crazy Socks 4 Docs Day' is on Friday 7 June
The event is all about raising awareness of the mental health of all doctors and health practitioners around the world. No matter who you are, anyone can get involved and enjoy the day held on the first Friday in June. Be sure to share photos of your 'crazy socks' on social media using the hashtag #CrazySocks4Docs.
For any doctors struggling with mental health or other life pressures, you are not alone. Support is available through:
AMA Victoria's Peer Support Service - 1300 853 338
Victorian Doctors Health Program - (03) 9280 8712
Lifeline - 13 11 14
Make sure you have a regular GP.
Watch the panel discussion at the 2019 launch for Crazy Socks for Docs 2019.
Tags