2018 Hospital Health Check Survey results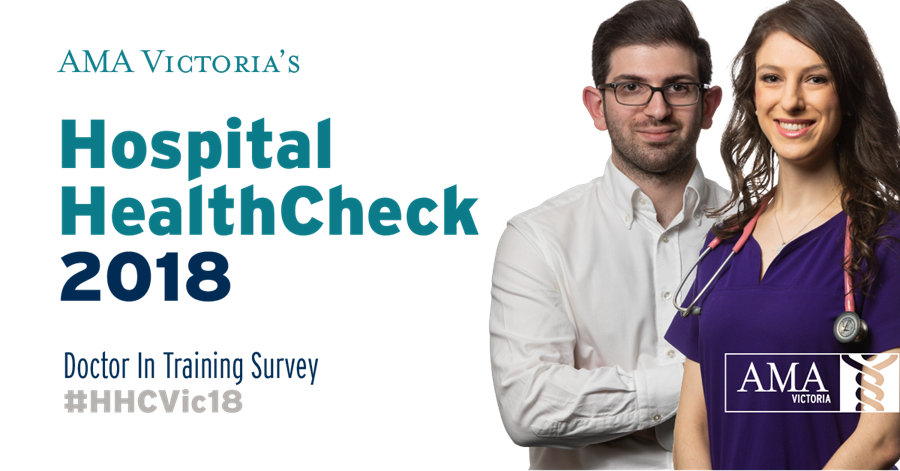 About the survey
In 2018, we successfully surveyed 674 hospital trainees across Victoria on their working conditions.
It was a chance for Doctors in Training to let AMA Victoria know how their health service performed in 2018 - what they were doing right and where they were falling short. We received responses from 29 hospitals. To protect the anonymity of the respondents, the results from hospitals that received fewer than 10 responses have not been published.
Key Victorian statistics
The following are some key learnings and areas of concern that have come from the survey:
29% of trainees rated morale in their workplace as Poor or Very Poor
38% of trainees rated support for their mental health and wellbeing as Poor or Very Poor
71% of trainees Often or Very Often need to work through their lunch break due to workload
Due to excessive workload and poor working conditions 37% of trainees have considered resigning from their hospital, and 31% have considered leaving the medical profession
On average, Victorian trainees work 9 hours beyond their rostered hours each week. 76% are paid for less than a quarter of these overtime hours.
48% of trainees report ongoing breaches to Enterprise Agreement
42% of trainees have experienced discrimination, harassment, sexual harassment, bullying or victimisation. 58% report fear of negative career consequences" as a barrier to reporting unacceptable behaviours.
36% of trainees have been bullied and 51% have witnessed bullying
AMA Victoria will continue to run this survey annually with the aim of applying appropriate pressure and improving working conditions for Victorian Doctors in Training.
At a glance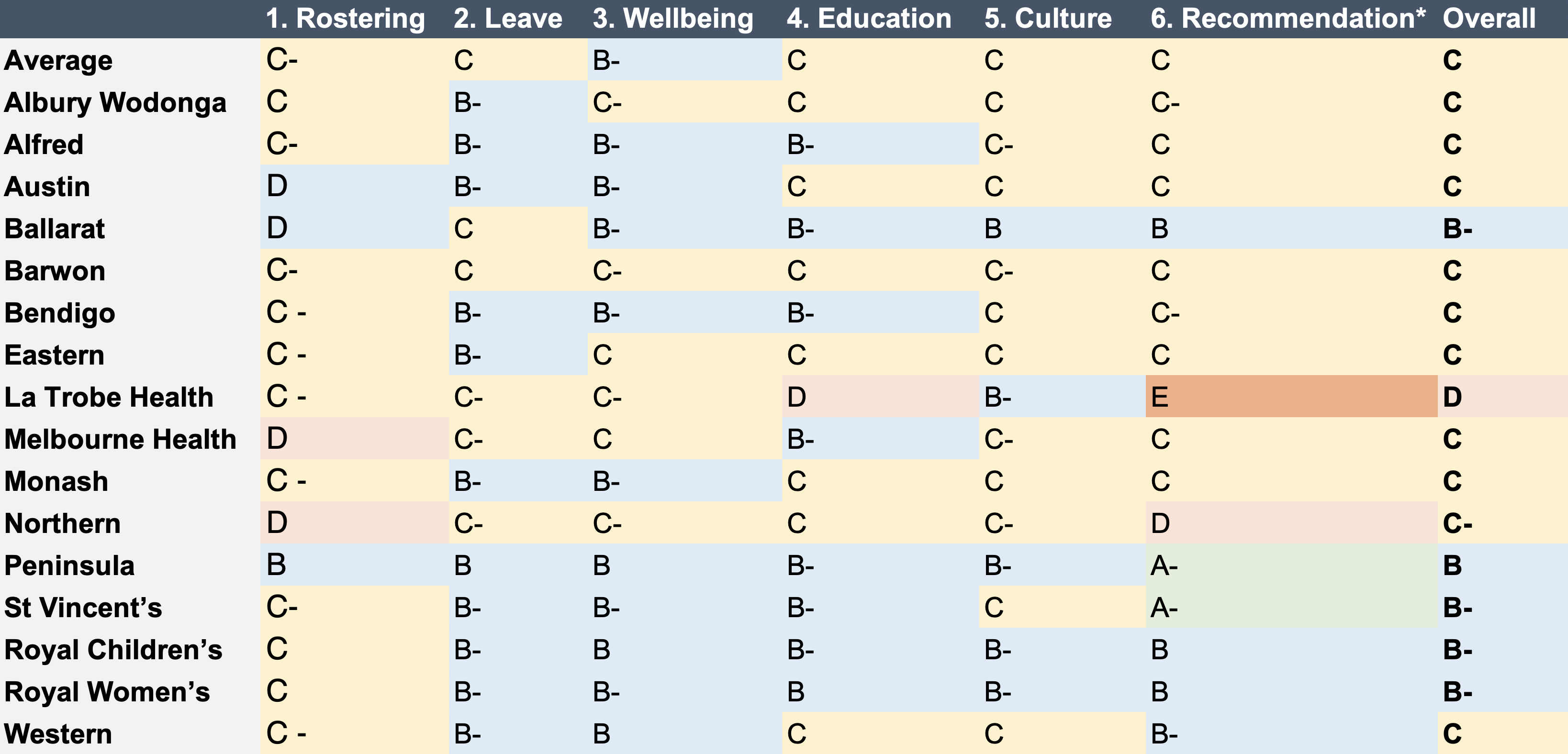 6 Domains
Data from the survey was used to assign grades to each hospital across six domains.
Click the links below for a detailed breakdown of each domain and how the grades were calculated:
Disclaimer
The AMA Victoria Doctors in Training (DiT) Sub-Division Hospital Health Check survey was completed on a voluntary basis by Victorian doctors in training covered by the DiT Enterprise Agreement 2018-2021.
The purpose of this document is to assist graduating medical students as well as current interns and residents with their decision making process when deciding on which Health Services to apply for in the future.
This information is provided in good faith and should only be used as a guide, it is intended to be general in nature and is made available on the understanding that the AMA Victoria and the AMA Victoria's DiT Sub-Division do not make any comment or assertion that the information provided by participants is correct, or reflects the experiences of doctors who did not participate in the survey.
Before relying on the information contained in the survey results provided, users should carefully evaluate its accuracy, currency, completeness and relevance for their purposes, personal objectives and career goals, and should make their own enquiries, including consulting with the relevant Health Service and staff at the relevant Health Service.
Whilst every effort has been made to ensure the accuracy of the collation of the information in this survey, AMA Victoria, its employees and the AMA DiT Sub-Division cannot be held responsible for the information provided by participants in the survey and cannot be responsible for any loss or damage arising from any person or organisation as a result of the publication of this survey of information. AMA Victoria and the AMA Victoria DiT Sub-Division do not take any responsibility for the outcomes published in the survey.
Comparison of results among Health Services must be made with caution, as the survey did not involve a probabilistic sampling frame, but instead was open to the entire Victorian DiT population. Further, as DiTs were not randomly allocated to Health Services, differences in attitudes and expectations of respondents cannot be adequately controlled. This introduces biases into the results which cannot be accounted for.
Thus, all differences among health services should be interpreted as specific only to the survey respondents and must not be interpreted as representative of the experiences of all junior doctors in Victoria.
Tags