Flexible work and job sharing opportunities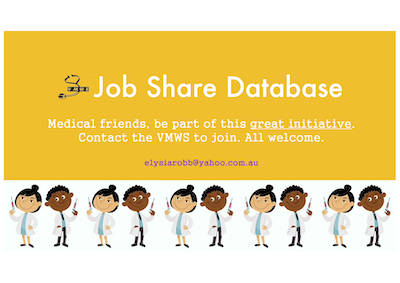 At AMA Victoria, we're passionate about assisting doctors to access flexible working arrangements at all stages of their career. In supporting this initiative we are excited to be partnering with the Victorian Medical Women's Society (VMWS).
Join the VMWS job share database!
The Victorian Medical Women's Society had joined AMA Victoria to promote its Job Sharing Database (JDS).
The JSD is an initiative designed to facilitate DiTs to find like-minded medical colleagues to job-share with. The program requests interest and details from potential job-sharers and stores the information in a confidential database. It then matches them appropriately.
This program is open to all genders, all specialties, and if you are interested, we really encourage you to join.
The VMWS is very enthusiastic about job-share and standalone part-time programs for DiT, and believes this is a way forward in medicine. They recognise how difficult it can be to find a good job-share match, hence the creation of this database.
We welcome your input and interest, and look forward to expanding this program and the number of job-sharers in Victorian hospitals.
If you would like to join or have any comments or questions, please email: elysiarobb@yahoo.com.au.
To join, we require details including: name, level of training, areas of interest, locations of interest, duration/roster requests, and/or check out our website for more details.
Case studies
Tags