Month of Mindfulness

Thank you for your entries! Entries to #MonthofMindfulness are now closed. See the entries in VICDOC magazine!
#MonthofMindfulness is a social media campaign by AMA Victoria and Doctors' Health Fund to raise awareness of the small things in our lives which lift our mood and can make a difference to how we feel.
Healthcare workers have been under significant pressure for a long time. This can impact our wellbeing and also result in burnout. While we cannot control the external environment, it is important to put in place our own strategies to protect and enhance our own wellbeing. Focusing on what brings us joy and our passions and interest beyond medicine helps each of us to wind down and relax outside our workplaces. Doctors were encouraged to share what brings them joy outside medicine on some specific themes during May 2022.
Practicing mindfulness is important for doctors and anyone in a stressful role. During the month, our hope was to remind each other about the simplicity and power of mindfulness and inspire each other by sharing stories.
In May, we launched a theme each week and invited you to respond with some words and a photo or image. Courtesy of Doctors' Health Fund, we had some great prizes to share for the best posts on each theme.
Our weekly themes included:
Pets:
Prize - $200 Pet Hamper gift card
Tell us: how does your pet enhance your life? Share a picture of your pet.
WINNER: Dr Carmen Brown
Entry: @amavictoria Can't you see the undying love and adoration in her face?
DHF judges' comments: Everyone found the evil glare on Dr Brown's cat very endearing!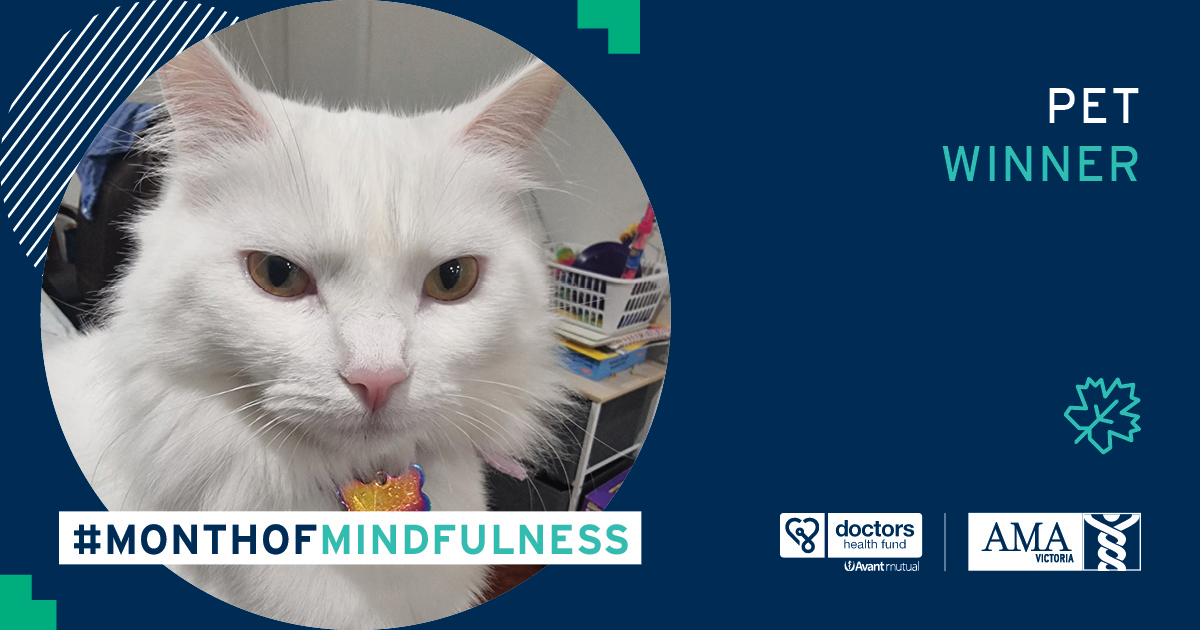 Food / Cooking
Prize - $200 Hello Fresh gift card
Tell us: What dish is your comfort food or favourite meal? Share the recipe or post a picture.
WINNER: Dr Magdalena Simonis
Entry: Γεμιστά! Or stuffed tomatoes - my favourite and one of my specialties!
DHF judges' comments: Voting on this one was very close! But Dr Simonis JUST edged out fellow finalist Dr Knot with one extra vote!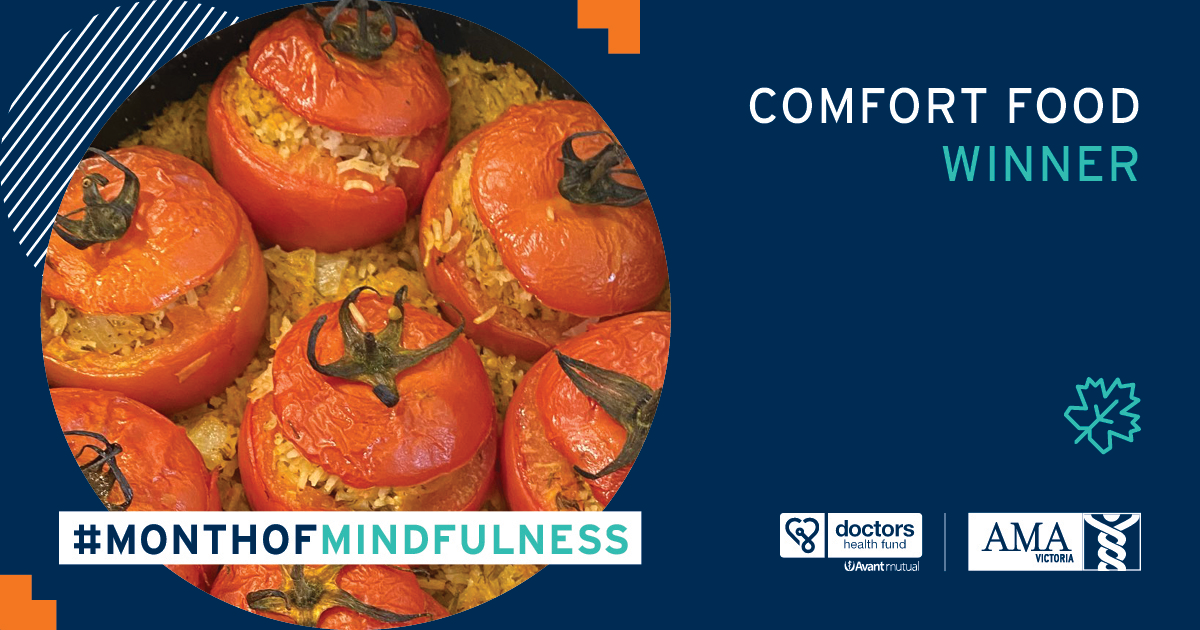 My happy place
Prize - $169 Lounging in Luxury gift hamper
Tell us: Where is your happy place? Post a picture of your happy place.
WINNER: Jasmine Elliot
Entry: #monthofmindfulness #happyplace @amavictoria
DHF judges' comments: Dr Elliot's was a clear favourite for this category. We all loved the beautiful scenery and cute little ducks!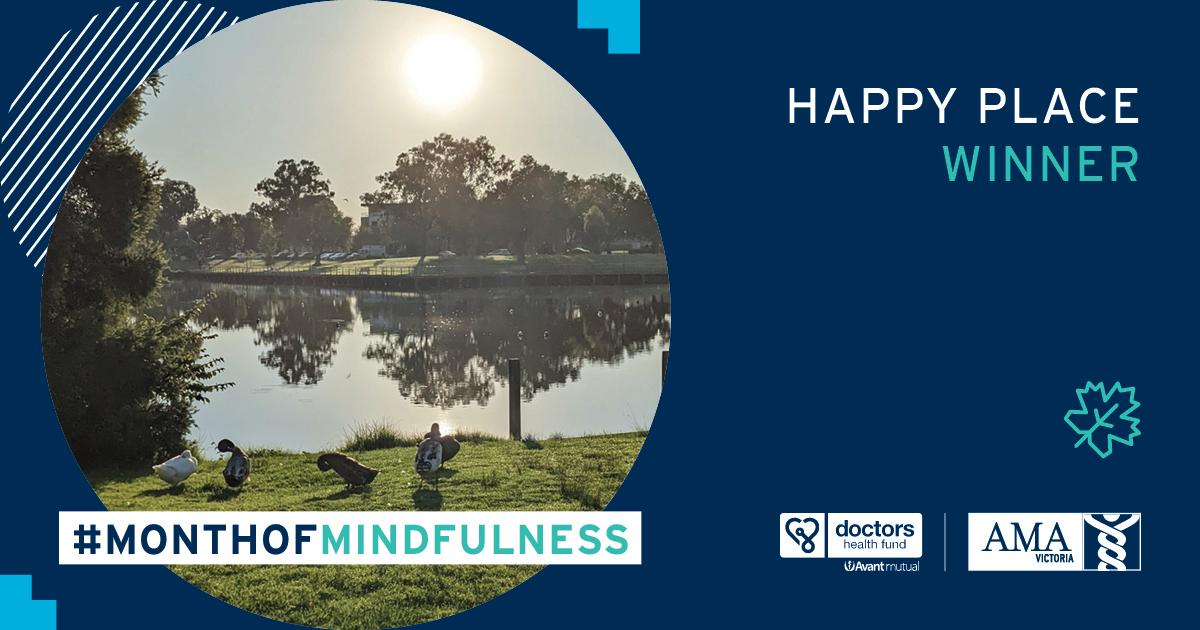 Book or movie
Prize - $200 Booktopia or Event Cinemas gift card
Tell us: Which book or movie can you read/watch over and over? Tell us about it.
WINNER: Dr Andrew Tagg
Entry: My guilty pleasure - I must have watched it over 100 times.
DHF judges' comments: Dr Tagg JUST won this one as more staff recognised Pride and Prejudice than close finalist, When Harry Met Sally.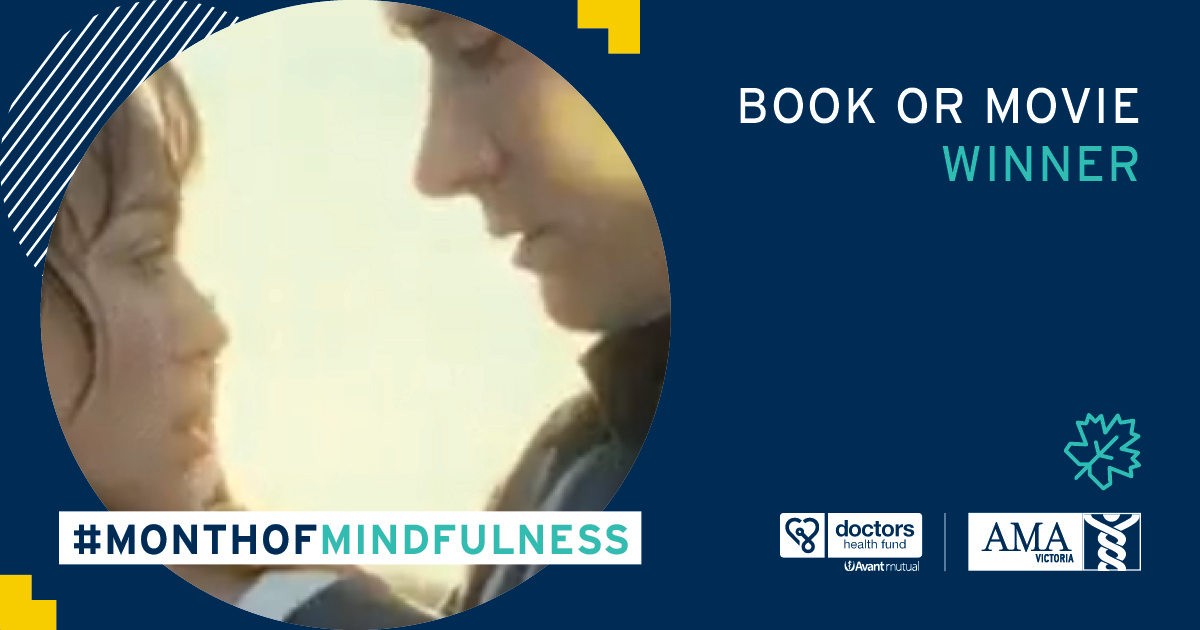 Entrants were asked to post a photo with their wellbeing tip on Twitter or Instagram using the hashtag #MonthofMindfulness, tagging us at @amavictoria (Twitter) or @youramavic (Instagram).
Thank you to all who shared with us the things that bring you joy to help us to get this conversation started.

Please note: This campaign was originally launched as #MindfulMay, but has been updated due to copyright reasons. Posts originally entered using the Mindful May hashtag remained valid in the Month of Mindfulness draw.