#170 Pandemic Kindness Movement supports the wellbeing of health workforce


27 May 2020
A group of clinicians across Australia has established a new wellbeing support website for healthcare workers. The clinicians have curated respected, evidence-informed resources and links to valuable services to support the wellbeing of the health workforce for the project dubbed the Pandemic Kindness Movement.
"We recently launched the website Pandemic Kindness Movement after five weeks of incredible work from clinicians and talented people across Australia coming together and investing in improving healthcare worker wellbeing for the long term," A/Prof Jane Munro explained. "It's been a labour of love amid the troubling times of COVID-19 and we've had a wonderful response to the website from healthcare workers from many different backgrounds."
A/Prof Munro, the Head of Rheumatology at the Royal Children's Hospital, is one of the Victorian doctors behind the project, along with former Royal Australian and New Zealand College of Psychiatrists President, Dr Kym Jenkins.
The model for organising health worker support is based on Maslow's hierarchy of needs, with the pyramid representing these needs adapted to reflect the potential challenges of the COVID-19 pandemic on the health workforce.
Visitors to the website can explore the pyramid by selecting the different needs: basic needs, safety, love and belonging, esteem, contribution and leadership actions. Effective leadership is critical at all levels of the pyramid and is an additional layer represented in this model.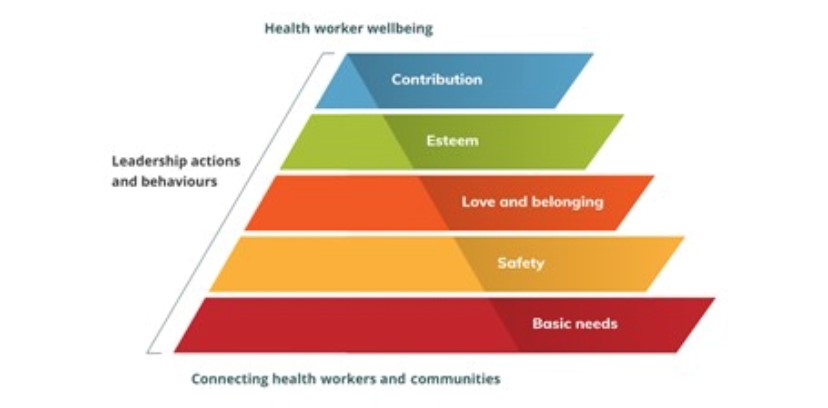 "We're adding more podcasts and webinars soon and we're excited that this resource will grow," A/Prof Munro said. "We would love for doctors to suggest resources to us via the email on the webpage.
Click here to visit the Pandemic Kindness Movement website.
Tags