#179 Lockdown lessons: The unexpected upsides of Zoom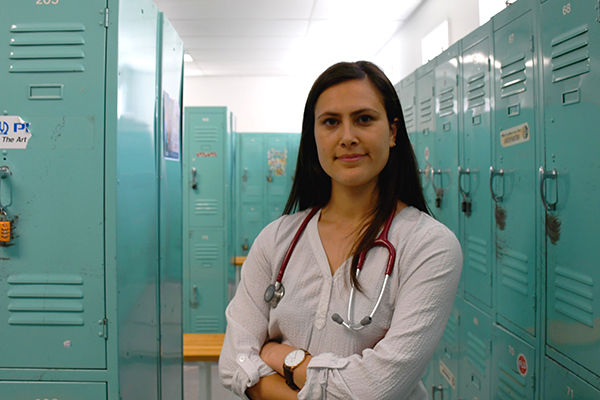 22 June 2020
So many things about the way we live our lives, at home and at work, have changed recently. It's easy to focus on what's been hard - sweating under PPE (when we can get our hands on it), the lack of freedom and the painful distance between us and our friends and family. But recently, I've started noticing some wonderful things that have unexpectedly arisen out of the COVID-19 era, and one of these is Zoom meetings.
As a junior doctor, Zoom has completely opened up educational opportunities. In the early days of COVID, when none of us was sure how bad things would become, different departments at Western Health offered weekly teaching on topics from airway management, to end of life discussions - all centred around COVID. This has sparked new, widespread interest in the flexibility around teaching sessions to maximise access while we're at work. For example, our Emergency and Obstetrics and Gynaecology Departments have opened up their regular teaching sessions to anyone in the hospital interested in learning, and we're looking at improving access to education in other departments in future.
Removing geographical limitations has also allowed much larger audiences to attend events at reduced cost. We recently held the AMA Victoria Women in Medicine Wellness Seminar, where we had the opportunity to discuss emotional support, growth mindset and the importance of sleep with a panel of experts. Dr Helen Schultz spoke to us about recognising the difference between stress at work and patterns of depression or anxiety, and removing logistical barriers to seeking help. Professor Jill Klein highlighted how important a growth mindset can be for harnessing resources that are within our control, even when we feel powerless in the face of a global pandemic. Dr Linda Schachter emphasised practical strategies to reduce ruminations that keep us awake at night and ways to refocus on quality of sleep. Our audience members were able to submit questions through a chat box, allowing us to filter through and make sure they were answered seamlessly after the talks.
In moderating this event it struck me that, with a bit of planning, Zoom seminars have the potential to create a sense of connection that can be difficult to attain at a large in-person event. By keeping individual presentations shorter and leaving more time for questions and discussion, Zoom makes it easier to create the sense that you're part of an intimate conversation between experts, rather than listening to a series of speeches. You have the advantage of reaching a wide audience with the comfort of being at home, and it feels easier to ask questions without feeling self-conscious or put on the spot. Whilst online seminars will never replace the post-event connections that arise over drinks and canapes, they do provide an accessible alternative that I hope we continue to consider long after the COVID era is over.
Here are five lessons I took away from moderating an online seminar:

Set the stage
Because audience members are sitting at their computers without many distractions, it's important to have everything ready to go as soon as your event goes live. Our speakers did a practice Zoom session to make sure everyone was familiar with the technical aspects of the online format and Q&A system, and we all signed on 15 minutes before the session was ready to go live to test audio, voice quality, backgrounds and camera angles. As a moderator, I found a split screen useful to have my event 'run sheet' open next to my Zoom screen, so it was easy to keep on top of the event structure and timekeeping.

Make the speakers the main event
Some of our speakers' slides weren't able to project due to technical difficulties, but this didn't matter! Taking the focus away from slides and onto the speakers worked well to help our audience follow along with the message and the content, rather than having them reading the slides. If you are going to use slides, you could ask participants to make the screen projection 50/50 so the speaker's face is the same size as the slide.

Keep the talks brief and the discussion long
One of the hardest aspects of a Zoom presentation is to maintain attention behind a screen. We found it worked well to prepare a talk about half the length you would usually give in-person. Our speakers each gave an overview of their content in about 10 minutes, leaving 30 minutes for questions and conversation.

Look into the abyss
It feels unnatural at first, but looking into the camera away from your own face or your notes can help your audience to maintain an authentic connection that can be lost through a screen. I used a run sheet to keep me oriented to the structure of the event, but tried my best to keep my eyes on the camera when speaking to a panel member or the audience.

Continue to build your community
The technical aspect of Zoom seminars limits the opportunity to mingle with audience members like you usually would after a talk or panel session, which is why it's so helpful to follow-up with participants afterwards. If you create your Zoom settings to enable you to collect audience members' emails, you can send out links to the recording, answers to questions or resources that came up during the event, and naturally progress from an online conversation to a community network.

Connecting with others is one of the best ways to keep our morale going during this crisis. In a time where video chat is having a global moment, finding more ways to translate an online conversation into a robust community network is our best chance of making it through this storm together.

Dr Sonia Srinivasan
Doctor-in-Training
AMA Victoria Women in Medicine Committee
Tags