#193 Television series takes viewers inside RMH emergency department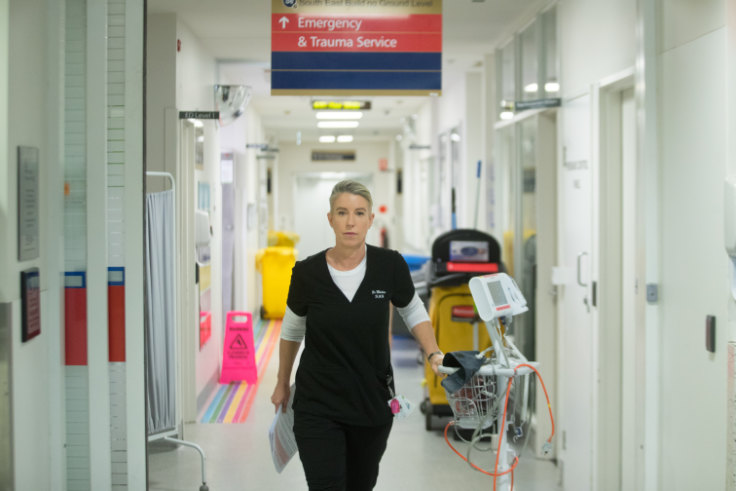 4 August 2020
Emergency is a reality TV series which provides a fly on the wall account of working in one of Australia's busiest emergency departments at the Royal Melbourne Hospital (RMH).
The series, which is currently airing on the Nine Network on Wednesday evenings, was filmed in 2019, before RMH staff and the rest of the world's health professionals were hit front-on by the challenges of COVID-19.
RMH emergency physician and AMA Victoria Board member, Dr Sarah Whitelaw, features in the show and says it's a stark reminder of a different time.
"What strikes us all when we watch it now is, 'Where are the masks and look at how close we are all standing together', so it is quite a strange experience to watch it when it was filmed in quite a different environment to now and it feels like so much has happened since then," Dr Whitelaw explained.
The show also provides the staff with a rare opportunity to see more of the care provided to patients by their colleagues.
"It's lovely to watch the show and see how good our emergency nurses are from a different perspective; the compassion that they show in dealing with patients that we don't always get to see," Dr Whitelaw said. "Goodness me they do such a good job! We work in parallel with our colleagues and we don't often have the opportunity to sit back and watch them work, so that's been great to be able to see what they do."
Promotional material from the show's producers, WTFN said, "Emergency reveals the tribulations and triumphs of the RMH's dedicated doctors and nurses as they deal with victims of vicious assaults, horror car crashes and other tragedies, caring for the constant stream of patients coming through the door every day".
Dr Whitelaw also hopes the program gives viewers a better understanding of some of the challenges confronting ED staff, while they or a loved one are waiting for attention.
"I hope that they understand how much we love our jobs and how important it is for us to deliver an excellent level of care to them. I hope people take that away from the show."
"I think when you're sick and in pain, particularly when the emergency department is really busy, it can be a very stressful place to be and maybe this gives people who are sitting in the waiting room an opportunity to have a look at what is sometimes going on inside that they can't see."
"Hopefully it also lets them know how much we care about looking after them, even when sometimes I can imagine it doesn't feel like that."
"I have enormous respect for the people that I work with, their level of expertise and their continued striving to be better. The way that we work as a team in emergency is just a joy and a privilege to be part of and it's lovely that other people get to see that."
The producers used their knowledge from working on the program Paramedics, which provided an insight into the experiences of Ambulance Victoria staff, when pitching the show to the RMH. It meant they already had a solid understanding of how to be respectful of patients and staff and preserving confidentially.
Fixed cameras and microphones were placed in walls and ceilings of the ED, with the clear intention of not impacting patient care in any way. Patients and staff had to give their consent to be featured in the program, while additional crews and cameras followed them around to capture all of the action.
"It was very important to the hospital that anyone who did not want to be shown on-air had the right to refuse," Dr Whitelaw recalled. "We had a crew in the emergency department for a good couple of months. They were often there well into the early hours of the morning, so they were there at our busiest times."
"They would film some stuff and go back to the patients and their families and ask, 'Are you happy enough for this to be included in the show?' Well before we started we negotiated that our Director of the department, our Deputy Director and our Director of Nursing all had oversight over what went to air and what didn't and they were very protective of patients and very protective of staff in that way. That was very important to us to make clear before we started filming."
"It was quite easy to very quickly forget about the fact that you had a microphone on and a camera crew following you. But overall, it was a it was a lovely experience. I'm really glad we did it."
The program is scheduled to air on Wednesday nights on the Nine Network until early September, with past episodes also available to watch on the 9Now streaming service.