#238 NotYoga 2020: Online health and wellbeing symposium for doctors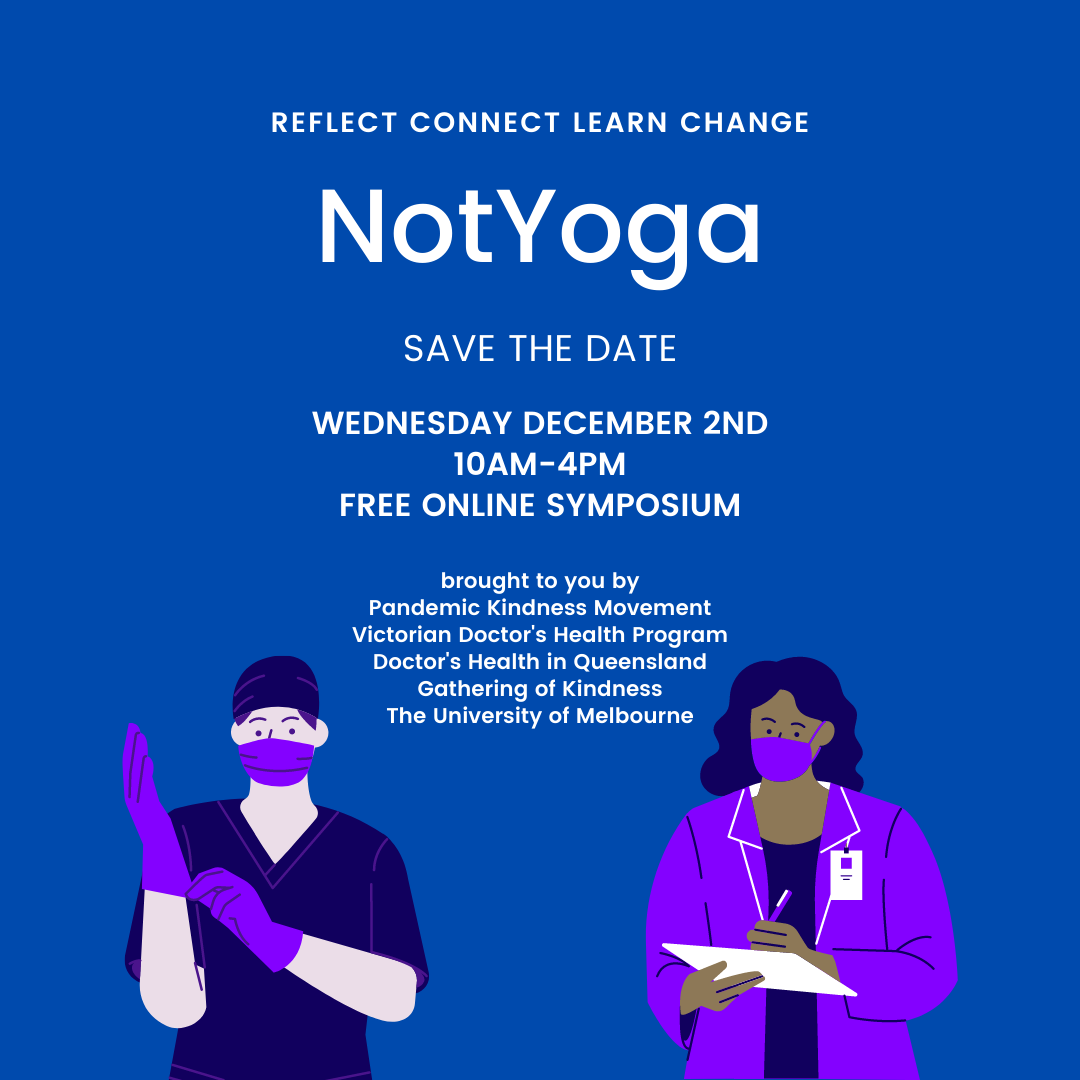 10 November 2020
NotYoga is our first annual event that is aimed at all medical professionals at any stage of their careers. It is also targeted and relevant for anyone interested in clinician health and those supporting medical professionals in the workplace or interested in healthcare system transformation for improving workforce wellbeing.
We have taken a focus this first year on the medical profession, but we are delighted to have interested attendees from other areas of healthcare participate.
All sessions will be recorded so please register if you can't attend all or any of the day and you can watch later.

#NOTYOGA2020
We've put together a one-day symposium with some absolutely awesome and inspiring speakers, to build a community and tackle the big issues about the health system to improve our conditions and clinician's health and wellbeing.
The innovative program will include plenaries, TED style talks and interactive panels with stimulating and diverse guest speakers.
It is Not Yoga. We will work together to enact change. Please join us - we want to hear your experiences, your innovation and your voice.
Wednesday 2 December
10am - 4pm
Free online symposium
Click here for details of the day and to register

Key topics will include:
a reflection of our experiences in Australia, NZ and internationally during the pandemic
what this means for us all now and beyond
moral injury and compassion fatigue
PTSD and learning from experts in other industries such as the military
practical strategies for looking after ourselves and our teams
understanding the systematic issues and develop collective strategies for system change
connecting as a community and building networks.
We encourage you to come and learn and connect with inspiring leaders and start to build a community practice so we can make change across Australia and New Zealand.

Our partners
Pandemic Kindness Movement
Victorian Doctors' Health Program
The University of Melbourne
Doctors' Health in Queensland
Gathering of Kindness

The NotYoga team
A/Prof Jane Munro, Dr Kym Jenkins, Dr Tracey Tay, Dr Margaret Kay, Dr Andy Tagg, Prof Catherine Crock, Dr Rebecca Szabo, Dr Simon Fleming, Mr Eric Levi, Dr Nardine Elzahaby, A/Prof Anne Powell
Tags