#340 Leadership insight: Adapting as a core leadership skill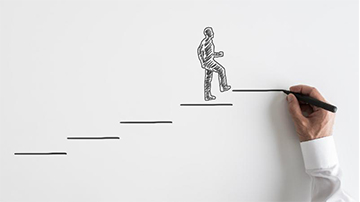 1 September 2021
We have been challenged to adapt to a constantly changing environment as the world responds and manages the impact of the COVID-19 pandemic on how we live and work. The development of COVID vaccines, the rollout and the increasingly specific and effective protocols for quarantine and lockdowns are all evidence of our societal scale adaptation to COVID-19.
The other side of this, however, is a long period of time working under conditions of high stress, anxiety and uncertainty. We are all increasingly aware of the huge toll adapting is taking on our health and wellbeing – in ourselves, our families and communities.

So what can we be doing to alleviate some of this pressure? How can we prevent burnout, exhaustion and uncertainty fatigue?
Literature on these topics is increasingly focussed on the present situation. The tips and insights below are gleaned from some of these articles and a selection are highlighted below for further resources. They are examples of what adaption looks like in everyday home and work life. My aim is to provide some tools and examples of practical and achievable adjustments we can apply right now to managing and leading ourselves and others.
Adjusting our thinking and perspective
It sounds a bit trite, but saying out aloud to yourself and to your teams, "This is hard, this is no business as usual and we are going to allow ourselves to let up a bit where and when we can," is a real and compassionate response. It allows us to drop our guard a little and free ourselves up to adjust our load and refocus on what is possible and what is doable in constantly changing circumstances.
Adjusting our planning and daily workload
While traditionally a core piece of leadership was to devise an annual strategic plan, with clear milestones and deliverables and deadline dates attached, I think most would agree this won't really do the job for the rest of 2021. So, for example, where two years ago we may have responded to a challenge with a strategic plan for the year, clear cut goals and milestones with set deadlines, this isn't going to cut it for the remainder of the year.

Rather, it is more adaptive to think about and talk about values, purpose and direction – where we need to head and get to. And rather than specific milestones with dates attached, we can focus on the 'next best step' and talk about the need to change and update as part of what will happen.
Small goals are enough. Creating a short list, four or five things for the day, with one or two 'must-dos' is enough. It is adaptive and effective because it's realistic; because we need to prioritise so that we focus on what is possible and needed right at this moment. It's helpful to gain a sense of mastery by being able to achieve these one to four goals in a day and celebrate this as a win. Compared to a former standard, it might seem like only a small win, but in these current parameters it's a celebration.
Practising compassion
This also requires adapting our thinking – doing less is not a failing or a weakness, it is an adaptive response to an exhausted and depleted workforce. It is not a time to keep pushing, but a time to look at yourself and your team gently and honestly and assess when and where can we push today, while also identifying where the brakes can be applied. Who needs a rest and who can go a bit extra this week?
Practising compassion, showing empathy and kindness and acting on these insights is adapting in its most basic yet powerful form. It enables us to keep going and to move on in a sustainable way, rather than getting stuck. And this is what is needed at this time. We know we can't stop, but we also can't continue managing heightened levels of stress and large workload indefinitely either.

I don't want to seem trite or unrealistic in the face of you, our frontline healthcare workforce. Rather, I want to offer some tools for managing what is ahead by reducing burden and creating doable schedules for each day, together.

Dr Anna Clark PhD
Leadership consultant & coach
AMA Victoria's Leadership & Professional Coaching team is here to support members reach their professional potential and build their leadership capability. Visit the leadership coaching section here to find out more.

Reference
Wake me up in 2022: working through uncertainty fatigue (ABC Radio National)
Are you feeling absolutely exhausted at work right now? What you are feeling may be uncertainty fatigue.For ideas on how to work through the overwhelming and heavy feelings that come with yet another lockdown for three Australian cities, psychologist Dr Shanta Dey from the University of Sydney Business School and leadership expert and coach Julia Steel share what they've learned through the COVID chaos. Click here to listen.
Tags