#355 Mindfulness in Medicine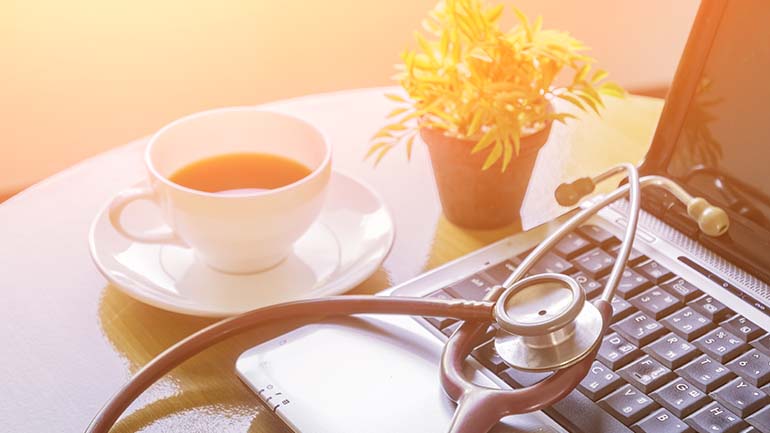 28 September 2021

"Mindfulness training for physicians has been shown to reduce burnout, improve mental health and improve empathy to patients. Learning mindfulness may be the single most important skill you learn." - Dr Craig Hassed
As the number of cases of COVID-19 in Victoria grows and the pressure on acute healthcare and primary healthcare increases, self-care and managing stress need to be at the front of every doctor's mind. Whether you are working in the ED, deployed to the COVID-19 ward or in General Practice dealing with anxious and unwell patients and running vaccination clinics – you will be facing an increased workload. You may be a specialist struggling to find a bed for an urgent case who needs inpatient care or urgent surgery. There are going to be a lot of unwell patients needing care in addition to the usual workload. Our health system will be under pressure and that creates stress for all healthcare workers, including all members of the medical profession. Making sure you have a means of managing your own wellbeing is essential and mindfulness can be a valuable technique to use.
Mindfulness: the secret to doctors' wellbeing
Mindfulness is the ability to be fully present, aware of where we are and what we're doing, and not overly reactive or overwhelmed by what's going on around us. Mindfulness involves training oneself to pay attention to the present moment without getting caught up in the past or worrying about the future, and not reacting to experiences in the internal or external environment. Mindfulness is developed by practising a type of meditation in which you focus on being intensely aware of what you're sensing and feeling in the moment, without interpretation or judgment. Practicing mindfulness meditation involves breathing methods, guided imagery, and other practices to relax the body and mind and help reduce stress.
Mindfulness Based Stress Reduction (MBSR) was established in 1979 by Jon Kabat-Zinn at the University of Massachusetts Medical School. The program was developed for people suffering chronic illness and stress that was not responsive to conventional medical treatment. MBSR introduces participants to a range of mindfulness practices that foster awareness, acceptance and compassion towards their own internal experiences, including thoughts, emotional states, body sensations and behaviours. There has been a significant body of research that demonstrates the wide-ranging benefits of MBSR.
Mindfulness does not have to be a static practice and can be undertaken while you are involved in other activities, for example: walking, swimming, creating, knitting, baking and gardening. Many surgeons report that they are very mindful when conducting surgery as they are totally focussed on the task at hand and not distracted other thoughts which may cause anxiety. Mindfulness is especially suited to doctors because it can help counteract the worrying, perfectionism and self-judgment that is so common within the medical profession. Mindfulness helps doctors listen more carefully to their patients, show more compassion, and approach problems in a fresh, open-minded way.
Dr Craig Hassed, senior lecturer in the Monash University Department of General Practice and author of Mindfulness for Life, says doctors who practice mindfulness can be more effective. "For a doctor, to be mindful in practice means really paying attention to what you are doing and really listening to the patient, paying attention to the procedure, picking up the clinical signs and being aware of your own biases and thought processes. It makes doctors less likely to make a diagnostic error," he says.
Dr Hassed also reports: "Mindfulness is taught to students from their first year at Monash and has been shown to significantly improve their mental health and quality of life, even during the high-stress exam semesters. Mindfulness training for physicians has been shown to reduce burnout, improve mental health and improve empathy to patients. Learning mindfulness may be the single most important skill you learn."
Practical aspects of mindfulness
Mindfulness is:
Being aware of what is happening right now without wishing it to be different.
Enjoying the pleasant without holding on when it changes (which it will).
Being with the unpleasant without fearing it will always be this way (which it won't)

What happens when we meditate using a mindfulness approach:
We move into 'being' mode
Observe our inner awareness
Realise how little control we have over our thoughts
Move away from outcomes
Develop insight
Undertake a form of mind training

Studies into mindfulness have demonstrated the following benefits:
Improved working memory
Sustained attention
Emotional self‐regulation
Promoted social behaviour
Improved cognition
Greater resilience

Mindfulness in Medicine:
Being fully present to the patient
Fostering compassion
Empathetic understanding
Improved patient outcomes
Daily Mindfulness for doctors
When you first wake up in the morning and before you get out of bed, bring your attention to your breathing. Observe five mindful breaths. If you practice meditation, this is a good time of the day to spend some time meditating so that you can approach the day calmly.

Notice changes in your posture. Be aware of how your body and mind feel when you move from lying down to sitting, to standing, to walking. Notice each time you make a transition from one posture to the next. Pay attention to the contact of the ground under your feet. Feel the air on your face, arms, and legs as you walk. Are you rushing?

If you exercise at this time of day, think about the sensations you are experiencing, what you are seeing and smelling. Focus in on the activity and avoid thoughts about the day ahead which may make you anxious.

Shower mindfully noting the sensations of the water and focus on each part of your body while washing. Focus attention on your daily activities such as brushing your teeth, washing up, brushing your hair, putting on your shoes. Bring mindfulness to each activity.

When having breakfast, enjoy the sensation of each mouthful of food and sip of coffee. Savour the flavour and consider the texture. Try to focus on your breakfast rather than checking your phone for messages at the same time as eating. If you are with a partner, spend some quality time over breakfast rather than reading the news. When you do check your phone for messages, let that be your main activity at the time and respond to messages thoughtfully with care.

Once the workday begins, you will be faced with lots of distractions and multiple demands – but try to complete one task at a time. Distractions make a task take longer and increase the risk of making a mistake. Multitasking is not efficient in the long term, as you will make mistakes and you will feel more stressed. When you feel your stress level rising, be aware of it and note it without judgement. Take some mindful slow breaths, if necessary, to bring your heart rate down.

When you interact with other people give them your full attention, listen carefully to hear not to respond, engage fully in the interaction. Bring awareness to listening and talking. Can you listen without agreeing or disagreeing, liking or disliking, or planning what you will say when it is your turn? When talking, can you just say what you need to say without overstating or understating? Can you notice how your mind and body feel?

Whenever you eat or drink something, take a minute and breathe. Look at your food and realise that the food was connected to something that nourished its growth. Pay attention as you eat, consciously consuming this food for your physical health. Bring awareness to seeing your food, smelling your food, tasting your food, chewing your food, and swallowing your food.

Whenever you wait in a line or are on hold on the phone, use this time to notice your posture and breathing. Feel the contact of your feet on the floor and how your body feels. Bring attention to the rise and fall of your abdomen. Are you feeling impatient?

Throughout the day, take a few moments to bring your attention to how you are feeling and your breathing. Observe five mindful breaths. Be aware of any points of tightness in your body throughout the day. See if you can breathe into them and, as you exhale, let go of excess tension. Is there tension stored anywhere in your body? For example, your neck, shoulders, stomach, jaw, or lower back? If possible, stretch or do yoga once a day.

If you are studying in the evening, focus on the material and ignore the pings of messages or emails. A focused period of study over a short period of time is more efficient and effective. Have a schedule to study for a set time without distraction, then spend time relaxing before you go to bed. Avoid screens just before bed.

Before you go to sleep at night, take a few minutes and bring your attention to your breathing. Observe five mindful breaths.
This article is a brief introduction to mindfulness. If you would like to learn more and apply mindfulness in your life, participating in formal training with an accredited mindfulness practitioner is recommended. Due to COVID-19, most courses are now offered via Zoom or online learning.
Resources
Courses
Mindfulness apps
There are many mindfulness apps and these are some examples.
Treat – download the Treat app for free from iTunes and Google Play, conceived at Alfred Health and developed by medical interns Jennifer Tang and Jarrel Seah.
Calm – Calm is a simple smartphone app that teaches mindfulness and makes it easy to follow a daily meditation practice.
My Life Stop Breathe Think – Users can enter their present mood and then the app provides options for the most useful meditations to use.
Smiling Mind – Australian mindfulness meditation smartphone app for both adults and kids.
Tags