#358 General Practice update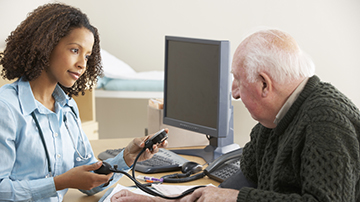 30 September 2021
Here's an update on a few of the issues AMA Victoria is working on for GP members, including:
Vaccination Enhancement Grants - a win for general practice and AMA Victoria
COVID-19 exposure site closures and impact on access to general practice.
Vaccination Enhancement Grants - a win for general practice and AMA Victoria
The Victorian Government is offering grants between $4,000 and $10,000 to GPs and community pharmacies in 11 key Local Government Areas across Melbourne (Brimbank, Cardinia, Casey, Darebin, Greater Dandenong, Hobsons Bay, Hume, Melton, Moreland, Whittlesea and Wyndham), helping them to "turbocharge" the local rollout of the COVID-19 vaccine.
The COVID-19 Vaccination Enhancement Grants will help participating providers use their full vaccine allocations and promote points of access within their local communities, supporting them to fund additional workforce or operational costs associated with the effort.
Providers selected for a COVID-19 Vaccination Enhancement Grant must demonstrate that they are able to maximise their dose administration in the weeks commencing 4 October and 11 October. They must have the infrastructure and workforce available to deliver this supply, with walk-ups permitted if safe and feasible.
AMA Victoria is most pleased with this announcement. COVID-19 has highlighted in stark terms the need for improved cooperation (including financial) from the Federal Government (general practice) and Victorian Government (hospital), yet this has not always occurred, compromising patient care.
Patient management is about relying on good cooperation between the two, so that each sector knows about and manages the patient in the patient's interests. The realisation of the grant is a considerable achievement of AMA Victoria (reflecting our tireless lobbying to State Government behind the scenes to achieve a payment of this nature). Furthermore, we hope that it portends much more sensible interplay of these two important healthcare sectors in future, to provide our ambition of seamless patient care between the sectors.
It is a very wise investment by the Victorian Government, ultimately saving tenfold from potentially unnecessary hospitalisation in a currently very stressed hospital system, which even now is reducing elective surgery.
The Expression of Interest (EOI) form is available at COVID-19 Vaccination Enhancement Grants. The EOI must be completed by 12pm on 3 October, and successful providers will be notified by Monday 4 October and invited to a briefing that evening. Funding will be released as soon as practicable.
Click here for more information.

COVID-19 exposure site closures and impact on access to general practice
As foreshadowed in a previous update, we have written to the Victorian Government on COVID-19 exposure site closures and their impact on access to general practice. We thank members who took the time to respond to our call for feedback, all of which has influenced our advocacy in this area.
We relayed to the Government that we have been informed by GP members across the state that, despite following the Department's guidelines and their staff being fully vaccinated, clinics are being declared Tier 1 exposure sites after treating COVID-positive patients and thus being shut down, causing loss of important services.
We pointed out that clinic closures cause a great deal of disruption and stress for GPs and their patients and that this has been exacerbated by a lack of clarity, consistency, and communication in dealing with the Department when their clinic has been visited by a subsequently determined COVID-positive patient.
Examples include:
A clinic being contacted by a patient and advised of an exposure event several days before any contact from the Department.
A clinic being given advice by the designated officer inconsistent with published guidelines, which changed several times over the course of the day.
GPs and staff waiting until the 16th day for notification of day 14 'all-clear' status from the Department, or not receiving any word at all.
A clinic being instructed to act as if they are a Tier 1 site and not hearing for several days that they are Tier 1b and could have been seeing patients.
In the longer term, our view, which we put to the Government, is that the current model will be unsustainable as restrictions ease and case numbers inevitably rise. Clinics will undoubtedly encounter more COVID-19-positive patients, and systems currently used, such as external/outdoor consulting suites for symptomatic respiratory cases and door screenings, will not accommodate exposure to asymptomatic patients in an endemic situation. Under that status quo, if an asymptomatic case attends a GP clinic, the GP faces a two-week furlough. This could be a recurring pattern, especially in areas of high COVID-19 caseload, and GPs risk being 'serially furloughed'. This is clearly unsustainable, noting patients would have no option to present to a hospital's emergency department, which are concurrently overrun with excess attendances and staffing issues.

If the risks of potential exposure and subsequent impacts on ability to deliver care are too high, practices will either close completely, or adopt a telehealth model, placing even further strain on emergency departments and public hospitals.
Primary care services are fundamental to patient care during this pandemic and central to the vaccination rollout. It is essential that GPs can continue to provide face-to-face care to their patients.
Accordingly, we asserted that it is crucial that protocols be put into place to ensure that these heavily risk-mitigated, essential environments are not treated in the same manner as non-medical settings.
Tags