Managing yourself and supporting your colleagues during a crisis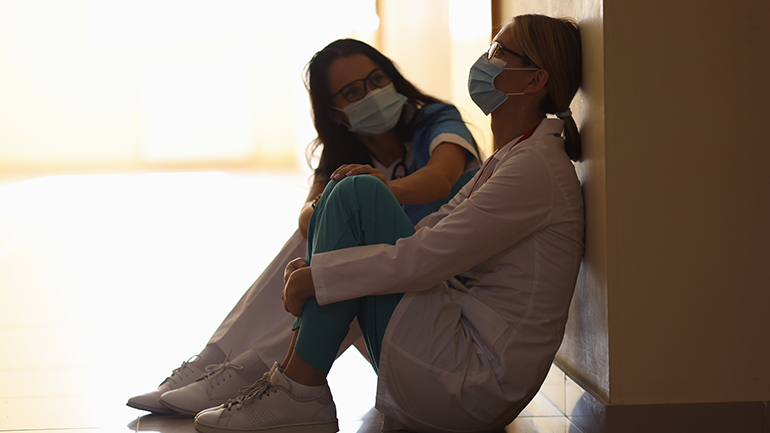 13 October 2021

"I know that I will be playing human Tetris for most of my shift."1
With many doctors working under pressure, it is very hard to maintain wellbeing in survival mode. Maintaining the effort to keep going and getting through one day at a time is often all that is possible during a crisis. The best option for self-care when working during very challenging times is having self-compassion. Don't place high expectations on yourself and be prepared to lower your standards. This can be very difficult to do if you are a perfectionist, as many doctors and medical students are. Survival is about being good enough, rather than excellent.
At times, care may need to be rationed and this may cause you to feel distressed. The responsibility for decisions about who gets care and who does not should always be with very senior staff. Moral distress occurs when you know the ethically correct action to take but you are constrained from taking it. Lack of resources in a crisis can lead to moral distress, as decisions may need to be made about eligibility for access to lifesaving care. Moral injury occurs when moral distress is experienced repeatedly, and the effects are long-lasting. Guilt, shame, disgust and anger are some of the hallmark reactions of moral injury. Moral injury can occur in reaction to a traumatic event in which deeply held morals or values are violated. The resulting distress may lead to Post Traumatic Stress Disorder (PTSD), depression, and other disorders in which feelings such as guilt, shame, betrayal and anger are predominant, although these feelings may occur in the absence of a formal disorder.
Looking after yourself during highly stressful times should be very practical. It might include buying a takeaway meal or ready-prepared food (unless cooking is a way you like to relax). If you do enjoy cooking, do some baking and take the products along to share with your team at work. In hard times, sharing some food can lift morale. Eat chocolate or drink extra coffee or tea if you need to maintain your energy levels at work. Don't feel bad if you don't feel like exercising and just want to chill out watching Netflix, playing games or scrolling social media. But if exercise brings you joy, then do it. In the long term, exercise and good nutrition are beneficial; but if they add to your stress during a crisis, just do what you can manage. If you don't have the energy to clean the house or change your bed linen, don't feel obliged to do it (unless hygiene is a significant risk, then consider hiring a cleaner). Acknowledge that what you are going through is hard but avoid over-indulging in substances which numb your consciousness e.g., alcohol or drugs. Humour and laughter are good ways to relieve stress, so include some comedy as part of your viewing habits. Many people find music helpful to lift mood too.
If you are supporting someone who is working on the frontline during the pandemic, providing psychological first aid is one of the most practical things you can do to help them if they are struggling. The definition of psychological first aid is to provide a humane, supportive response to a fellow human being who is suffering and who may need support. While it is primarily used in acute disasters such as bushfires, the approach is also very valuable in the current pandemic as a first line response for anyone who is feeling overwhelmed and stressed. It includes basic principles of psychosocial support to promote natural recovery. This involves helping people feel safe, connected to others, calm and hopeful, and ensuring access to physical, emotional and social support. Psychological first aid aims to reduce initial distress, meet current needs, promote flexible coping and encourage adjustment. Respond to the person's immediate needs by providing a hot drink, meals and snacks, be a calming presence and provide some companionship, make sure their household chores are under control and let them talk as much or as little as they want to about what is going on and how they are feeling. There is no need for you to provide counselling or debriefing, just listen and acknowledge what they say in a non-judgemental manner. You do not need to fix the situation or offer advice. Validate their feelings and reassure them that their response is normal in the circumstances. Let the person you are supporting make their own decisions about what they need and what they want. Self-efficacy is very important when you are impacted by circumstances outside your control, such as during a crisis.
If any doctor or medical student wants to talk about what they are going through, AMA Victoria's Peer Support Service is available every day of the year from 8am to 10pm on 1300 853 338. Volunteers that take your call are experienced doctors who have undertaken training to provide support over the phone. The service is anonymous – you don't need to say who you are – and it is available to any doctor or medical student. The Peer Support Service is a useful sounding board. It provides contact details of other useful services and advises if issues needs to be escalated.
Kay Dunkley
AMA Victoria Coordinator of Doctor Wellbeing

Resources
For more information about moral distress and moral injury:
For those who want to learn more about psychological first aid:
References
1. October 1, 2021. The Guardian, "Melbourne's COVID Crisis has exhausted its emergency departments..."

Tags