Communications and Advocacy update: 21 October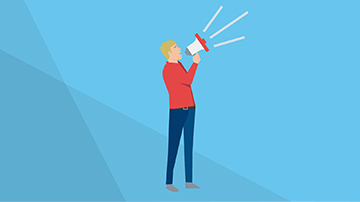 21 October 2021
Here's an update on a few of the issues AMA Victoria is working on for members, including:
Fit testing access for general practice
COVID-19 guidelines for IMEs regarding face-to-face interviews with workers
Mental Health Interim Regional Bodies.

Fit testing access for general practice
AMA Victoria has asked the Federal Health Minister to facilitate improved access to appropriate personal protective equipment (PPE) and fit testing for general practitioners.
We advised that our GP members continue to face issues regarding supply of P2/N95 masks. We noted that the Primary Health Networks (PHNs) advise primary care providers to source their PPE through their normal commercial means in the first instance. AMA Victoria urged that, with case numbers escalating across the state, GPs need assurances that they have reliable and adequate access to PPE, on an ongoing basis.
We also raised the lack of support for GPs when it comes to accessing fit testing. In addition to managing their practice load, playing an integral role in the vaccine rollout, and providing care to an increasing number of COVID-19 patients in the community, GPs are currently expected to organise their own fit testing services. We proposed that a more coordinated, centralised approach is needed with PHNs being best placed to facilitate this.
Our letter pointed out the significant consequences of GPs having inadequate access to appropriate and fit tested PPE, including that some may cease face-to-face consultations altogether, and the increased risk of staff furloughs because of exposure to subsequently confirmed COVID-19 positive patients. We argued that Victorian GPs must be assisted in every way possible to continue to safely offer patient care during the pandemic.

COVID-19 guidelines for Independent Medical Examiners regarding face-to-face interviews with workers
We have recently written to WorkSafe Victoria formally requesting COVID-19 guidelines for Independent Medical Examiners (IMEs) regarding face-to-face interviews with workers.
We put to WorkSafe that these guidelines would address issues such as:
How IMEs should deal with face-to-face interviews (for example, requirements around face masks and appropriate social distancing).
Whether IMEs are entitled to ask about vaccination status and whether they can refuse to interview a worker if they do not comply.
Whether IMEs can refuse to interview unvaccinated workers face-to-face.
We have expressed to WorkSafe our view that such guidelines would help ensure certainty and safety for IMEs and their staff as they perform their important work. Moreover, we noted that WorkSafe's historical approach to such matters - to require IMEs to 'provide a safe work environment'- is of little assistance in the context of a global health pandemic. Conversely, what is required are clear and unambiguous guidelines.
AMA Victoria will update members on WorkSafe Victoria's response.

Mental Health Interim Regional Bodies: Expressions of interest now open for Chairs
The Victoria Department of Health's Mental Health and Wellbeing Division is laying the groundwork for Victoria's reformed mental health and wellbeing system. The new system will have communities at its centre, so that people can access the treatment, care, and support they need - much earlier, and closer to their homes.
To this end, the Department is setting up eight Interim Regional Bodies across Victoria, as recommended by the Royal Commission's final report. These bodies will be made up of people who understand the diverse mental health needs, challenges and strengths of their regions, and will advise the Department of Health about mental health and wellbeing services and supports that will meet local needs.
Expressions of interest have now opened for the eight Chairs of these Interim Regional Bodies.
The Department is seeking candidates who are experts on the mental health needs of their region. The critical work of the Chairs will include engaging with communities, stakeholders and people with lived experience and their carers and supporters.
Expressions of interest close on Sunday 7 November.
More information is available on the Boards Victoria website.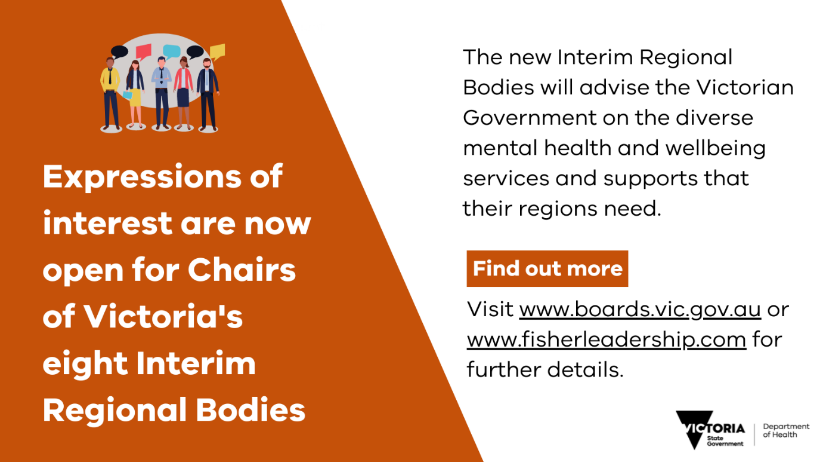 Tags