5 common reasons your patients aren't participating in bowel screening and conversation starters to help them to Get2it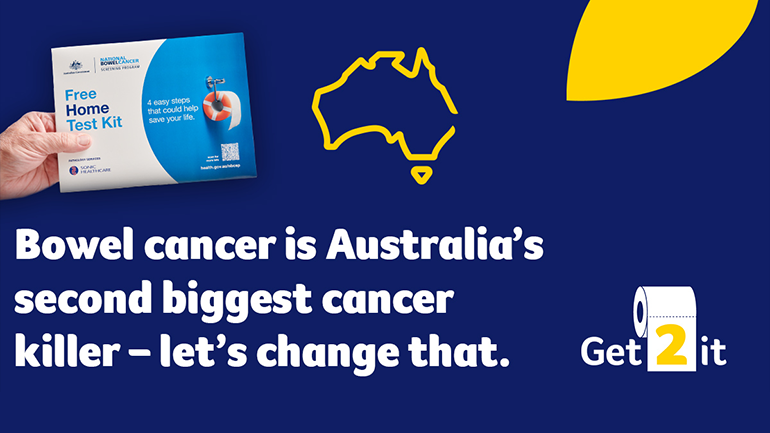 11 August 2022
What's stopping people from bowel screening? A new report from The Centre for Behavioural Research in Cancer has identified three distinct groups amongst the 36% of eligible Australians who don't participate in bowel screening:
Intenders (27%) who understand the importance of screening but live busy lives and can't find the time to do the test
Refusers (6%) who avoid bowel screening altogether, believing it's unhygienic, complex or they fear a positive test result
FOBT Naïve (3%) who are not aware of the NBCSP or the need to screen
Using these core insights, Cancer Council Australia, with the Australian Government, have launched a national campaign, encouraging Australians to Get2it and take part in the National Bowel Cancer Screening Program.
GPs can help spread this message too and break down the most common barriers.
Here's some conversation starters to help your patients feel empowered to Get2it and do the test.

Other priorities get in the way…
Reinforce and remind patients – that's how we put bowel screening at the top of their to-do list. Start a conversation about why screening is important with facts like "we know bowel cancer is Australia's second biggest cancer killer, but if detected early, 90% of cases can be successfully treated". You can also suggest patients set a date by which to do the test.
I can't remember to do the test…
Remind, remind, remind – until it's top of mind. Encourage patients to put the test kit in the bathroom or near the toilet. Or help them set up regular reminders. This could be through your clinic via a letter, phone call or text. Or you can help them set a reminder online here.
The test arrived and makes me worry about getting old and sick…
Get your facts and figures out. Highlight that bowel screening can prevent cancer and explain that early detection increases the chances of successful treatment. Sometimes a sense of humour can help too – some patients will appreciate humour whilst you're talking about their fears of screening and getting older.
I'm scared of what happens if I get a positive result. What happens next?
Reassure and motivate - talk to your patients about potential feelings of relief and gratitude after a negative result or finding an issue early. Outline the process if a positive test result is received.
Doing the test seems complicated and difficult…
Reassure your patients that the test is hygienic and simple to do. Provide simple test instructions and outline the process if a positive test result is received. You can use these simple infographics and video to help explain the process from start to finish.

You can help by directing your patients to the National Cancer Screening Register to order a free replacement test kit if theirs has expired, been lost or thrown away. You can also order a replacement kit on their behalf via the NCSR Healthcare Provider Portal.
You can help use your influence to raise participation in the National Bowel Cancer Screening Program (NBCSP) from 43.5 per cent to 60 per cent and save 84,000 lives by 2040.

For more information, visit the Cancer Council Australia.

Tags