Changes to CPD registration requirements: effective January 2024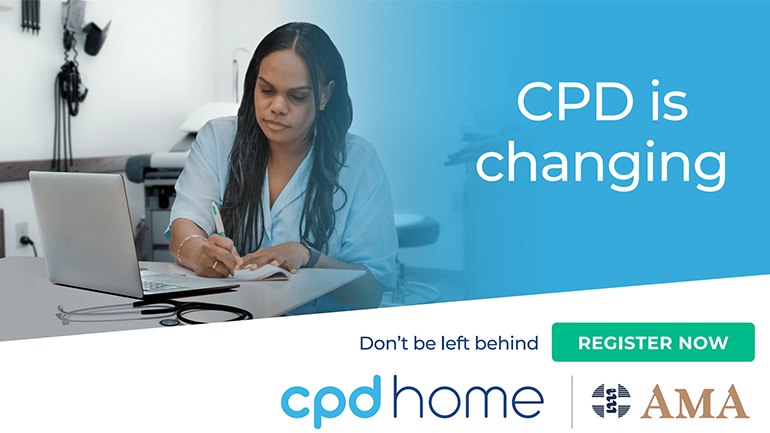 What are the changes taking place and how do they impact me?
Continuing professional development (CPD) for medical professionals is changing.
From January 2024, all doctors registered with AHPRA, with a few notable exceptions (outlined below), will no longer be able to self-manage their CPD and must join an AMC accredited 'CPD Home'.
To find out more about CPD Homes and the changes to CPD registration requirements, visit the Medical Board of Australia website here.
The doctors with an exception are:
All PGY1 & PGY2 doctors
Doctors in an accredited training program as of January 2024
Doctors with non-clinical registration. "

Introducing AMA's 'CPD Home': discounts and offers for AMA members
AMA's 'CPD Home': the only non 'medical college' AMC accredited CPD Home
AMA, through its Doctorportal Learning Pty Ltd subsidiary, trading as CPD Home is the only non 'Medical Speciality College' currently approved by the Australian Medical Council (AMC) to deliver a national CPD Home service to all eligible doctors.
The new Continuing Professional Development (CPD) requirements are set by the Medical Board of Australia (MBA), AHPRA. AMA's CPD Home service will be available to all doctors nationally who are required to work with a CPD Home service provider under these changes, with AMA members receiving a 50% discount on the full price of CPD Home.
AMA's CPD Home is also offering an end of financial year offer to all AMA members. If you sign up to AMA's CPD Home before Friday 30 June 2023, you'll get access to the 2023 and 2024 CPD program for the current published annual subscription price. That means you'll be covered until 31 December 2024 – including the remainder of the 2023 CPD Year for FREE!
We know you some of you will have questions regarding the changes to CPD and how they impact you personally. We will be aiming to answer these questions for you over the coming months to support you in preparing for this change.
In the meantime, many of your questions can be answered here. If you want to know what you need to do now, this resource is also very helpful.
If you are keen to find out more or have questions you can't find the answer to, contact us and we will assist.