Consultation - Victorian Pharmacist-Administered Vaccination Program - expansion and review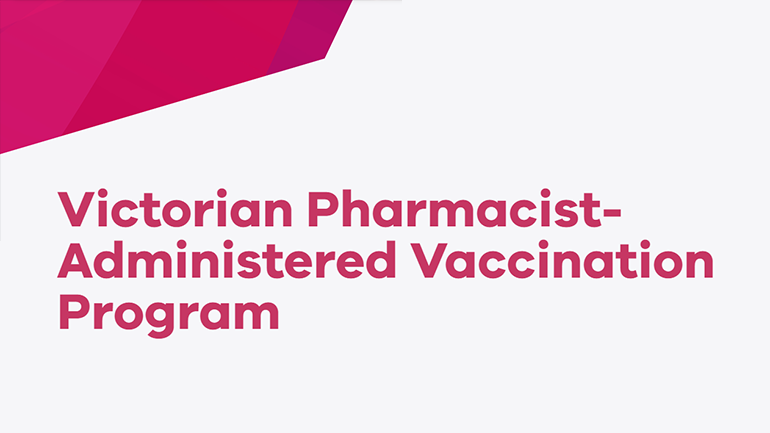 23 February 2023
The Victorian Department of Health (the department) is undertaking a review of the Victorian Pharmacist-Administered Vaccination Program (the program).
Expansions were made to the program in mid- and late-2022 authorising pharmacist immunisers to administer Japanese encephalitis, human papillomavirus, mpox, pneumococcal and herpes zoster (shingles) vaccines. Expansions were also made to the target cohort able to receive the diphtheria-tetanus-pertussis vaccine from a pharmacist immuniser. 
In late November 2022, as part of election commitment announcements relating to an increase in scope for pharmacists to be trained to prescribe and support care of minor ailments, the Government announced that pharmacist immunisers will be authorised to additionally administer travel and other public health vaccines. AMA Victoria's response to this announcement can be found here.
The consultation paper, for your consideration, details the proposed scope of the vaccines to be added to the Secretary Approval: Pharmacist Immuniser (Approval) as: 
hepatitis A vaccine to people aged 5 years and older;  
hepatitis B vaccine to people aged 5 years and older;  
poliomyelitis vaccine to people aged 5 years and older; and  
typhoid vaccine to people aged 5 years and older.  
It is envisaged that the administration of vaccines for the purposes of travel by pharmacist immunisers will require additional training beyond the current scope of the 'Immuniser program of study'.  
The amendments will be subject to the review and endorsement of the Department of Health's Health Professions Drug Access Committee, and approval by the Director of Medicines and Poisons Regulation (as the Secretary's delegate).  
If you would like to contribute to AMA Victoria's response to these proposed amendments, please send your feedback through to Senior Policy Adviser, Lewis Horton (lewish@amavic.com.au), by Monday 20 March.
AMA Victoria has been additionally asked to consider and propose ongoing improvement ideas for the program as part of the review. A template for proposals is included in the aforementioned consultation paper. We would also welcome members' ideas in this respect.