Crazy Socks 4 Docs – less talk, more action in 2022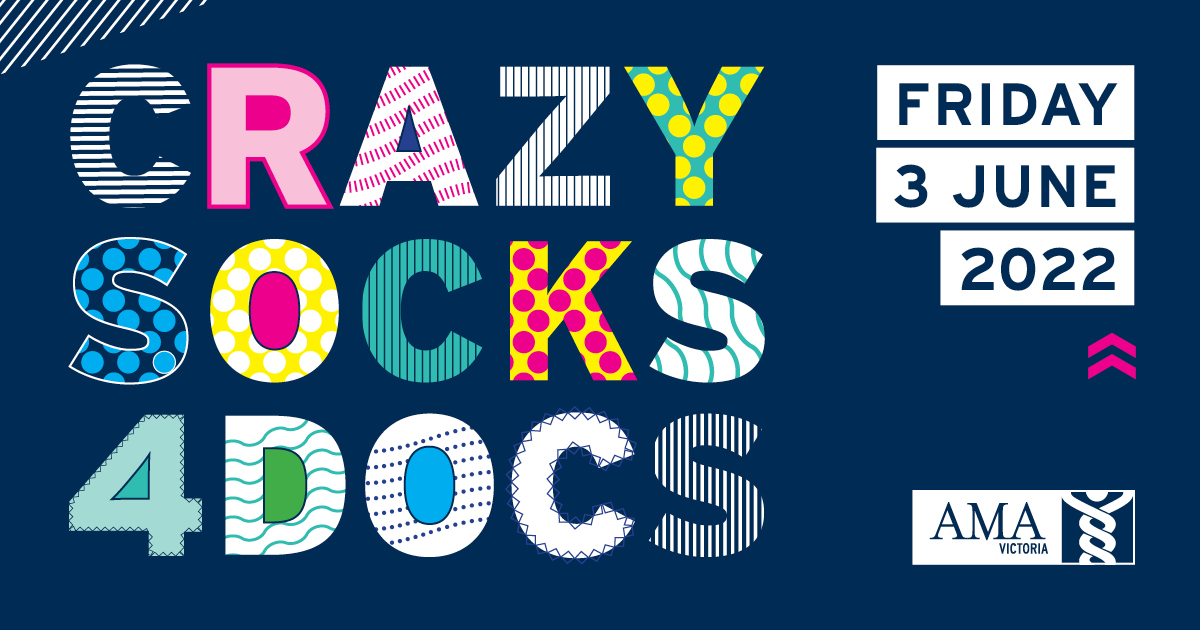 1 June 2022
Please note: this article mentions suicide.
Dr Geoff Toogood founded Crazy Socks 4 Docs Day to bring attention to the impact of stigma on healthcare workers who need to seek help for their mental health. For this year's Crazy Socks 4 Docs Day, Geoff is calling for more tangible change and action to support doctors' mental health and wellbeing.
This is Geoff's story, in his words:
"It all started when I wore odd socks to work one day in 2016. I was sniggered at behind my back… going 'crazy' again, was the conversation. No one reached out; there was just the back chat. It was pretty poor thinking to suggest that my mental health had become worse, purely based on sock choice. A simple chat or question would have cleared that up.
The actual reason I was wearing odd socks was because I had bought a puppy and it had eaten all my socks; the bright colours were to cheer me up. But sadly, in health, there's a lack of genuine chat and more background chatter."
This year on Friday 3 June 2022, the Crazy Socks 4 Docs themes are:
Awareness
Advocacy
Turning talk into tangible action
Ahead of the day, doctors are encouraged to:
Get your crazy socks ready
Consider your tangible action.
Visit AMA Victoria's Crazy Socks 4 Docs page to download resources to share your tangible action on social media.
In 2022, the pressure on healthcare workers is higher than ever with ongoing staff shortages and continued increased demand for healthcare. Burnout in the health professions is very real and combined with high rates of COVID-19 and influenza, many healthcare workers need to take leave.
At the same time, there are increased presentations in all healthcare settings as the community catch up on healthcare that was put on hold during the COVID-19 lockdowns, present with their own mental health conditions which have been exacerbated by the pandemic and catch up on urgent surgery which has been delayed during the pandemic.

Every healthcare worker needs to prioritise their own mental health and wellbeing at this time in a way that best meets their needs. Having a balance in life and support from colleagues, family and friends is essential. Peer support through organisations such as Hand N Hand Peer Support is a great way to seek support from like-minded colleagues.
While Crazy Socks 4 Docs Day has traditionally been a "crazy" fun day, recent suicides in the medical profession will see some doctors wearing black socks to honour a colleague. Sadly, health professionals, including doctors, have a higher suicide rate than the general population. We need to temper our Crazy Socks 4 Docs Day events by holding those who have lost their lives to suicide in mind. We must also use this as an impetus to change the culture which makes help-seeking an accepted practice among doctors and healthcare professionals.
While one day of wearing colourful socks does not change anything, everyone in healthcare needs to use Crazy Socks 4 Docs Day to plan tangible action to change the culture, reduce stigma and look out for the wellbeing of our colleagues as well as focus on our own wellbeing. The day is not just about having a breakfast or a grand round and taking photos for social media. Those in leadership and managerial roles, in addition to wearing colourful socks, need to be open to listening to healthcare workers to find out what is needed.

Doctors and other healthcare workers are essential for services that are needed by the community - they are the main instrument of care and their knowledge and expertise is too valuable to lose.
This year, AMA Victoria and the Victorian Doctor's Health Service are collaborating with Werribee Mercy Hospital to hold a grand round event from 12.30pm to 1.30pm. We look forward to participating in a panel discussion covering some of the issues that face medical students and doctors in relation to their wellbeing.
As you prepare to don your colourful or black socks (or one of each), we encourage you to also prepare your thoughts and plan a tangible action for Crazy Socks 4 Docs Day.
If any aspect of this article causes distress or if you are prompted to reach out for support, these services are available and targeted to the medical profession, including medical students:
Kay Dunkley
AMA Victoria Coordinator of Doctor Wellbeing

Further reading
Tags