Doctors with disabilities – leading the way for change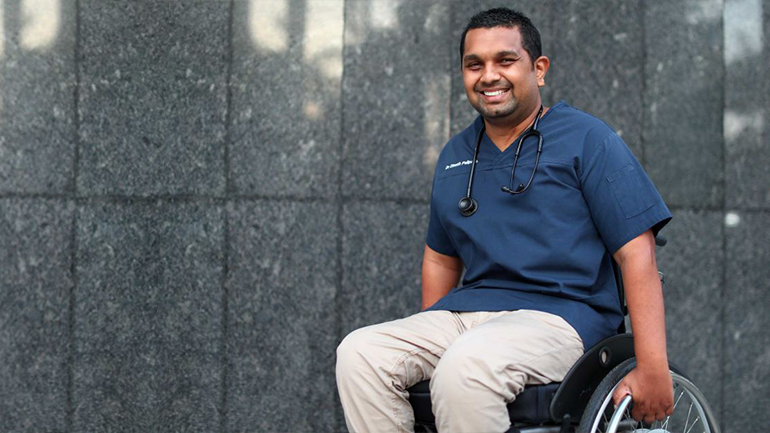 Dr Dinesh Palipana. Image: Griffith University (via ABC)

1 December 2021
This Friday 3 December is International Day of People with Disability (IDPwD). The day aims to increase public awareness, understanding and acceptance of people with disability and celebrate their achievements and contributions. The theme for 2021 is 'Leadership and participation of persons with disabilities toward an inclusive, accessible and sustainable post-COVID-19 world'.
The medical profession in Australia has its own disability advocacy group, Doctors with Disabilities Australia (DWDA). This group was founded by Dr Harry Eeman, Dr Hannah Jackson and Dr Dinesh Palipana. This year, Dinesh (who is an 'IncludeAbility' Ambassador with the Human Rights Commission) has been named a 2021 IDPwD Australian Ambassador. In an interview: Four questions with IDPWD Australian Ambassador, Dr Dinesh Palipana, Dinesh gives the following advice to persons with a disability who are seeking employment:
a. Persist. Don't take no for an answer. At the end of the day, the naysayers won't be around. Don't let them take control of your life.
b. Celebrate and cherish the people that support you. There are people who will fight for you expecting nothing in return. Those allies are the heroes who change the world.
c. Send the elevator back down for someone when you get upstairs. We have a responsibility to sow success and to create more leaders. That's how we can secure an inclusive future.
Dinesh is a fierce advocate for increased inclusivity in medicine, including entry to medical school, and his advocacy work has been recognised with a string of well-deserved awards.
Dr Harry Eeman, who is a Rehabilitation Medicine Physician and a Specialist Pain Medicine Physician, and Dr Hannah Jackson, who is a general practitioner in Tasmania and a senior university lecturer in general practice, have also been leading the way in advocacy by sharing their stories to help raise awareness. They display their leadership through their own unique stories.
Not everyone is comfortable taking on a public profile as disability is not always visible or obvious, and stigma can often make it difficult for doctors to request appropriate accommodation in their workplaces. AMA Victoria's Workplace Relations staff are experienced in assisting members to make necessary changes in the workplace. Every time an adjustment is made, or more flexible and inclusive practices are introduced, the pathway is paved for the next person.
For assistance from the AMA Victoria Workplace Relations unit, phone: 92808722.
Kay Dunkley
AMA Victoria Coordinator of Doctor Wellbeing

Further reading
Tags