IWD member profile: Dr Alice Mizrahi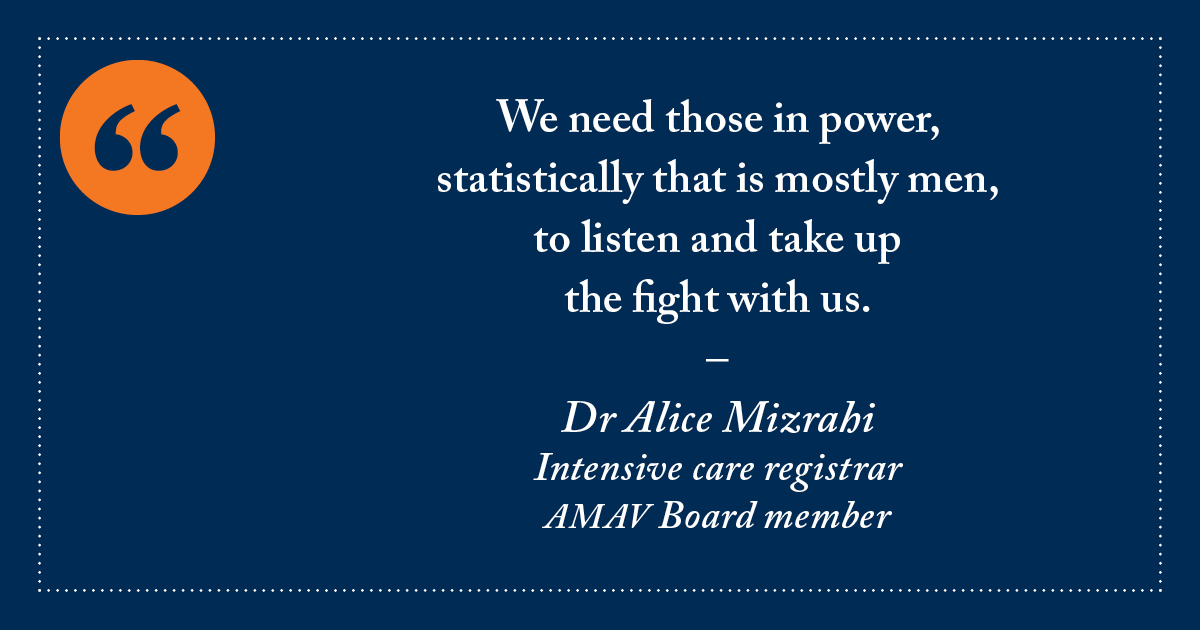 7 March 2022
We are celebrating the achievements of AMA Victoria's female members to mark International Women's Day on Monday 8 March. This year's theme is #BreakTheBias. Imagine a gender-equal world. A world free of bias, stereotypes and discrimination. A world that's diverse, equitable, and inclusive. A world where difference is valued and celebrated. Together we can forge women's equality. Collectively we can all #BreakTheBias.
Celebrate women's achievement. Raise awareness against bias. Take action for equality.

Can you briefly summarise your role in medicine?
I am an intensive care registrar working at a metropolitan hospital in Melbourne while doing my best to study for my First Part exam.

What do you think needs to be done to help achieve gender equality in medicine?
The answer to this question probably contains enough to write a book. The lack of gender equality in medicine reflects a lack of gender equality in our society and until we are able to see equality for women, non-binary and trans members of our community, including for people of colour, queer people, people across all socioeconomic classes, First Nations people and other marginalised parts of society, we won't see that reflected in our profession. We need those in power, statistically that is mostly men, to listen and take up the fight with us. Achieving gender equality is beneficial for everyone, including men, and without it our profession and our patients' outcomes will continue to suffer.

The theme of International Women's Day for 2022 is #BreakTheBias. How can we collectively break the bias that exists in the world of medicine so that it is more equitable and inclusive?
The first step is to be conscious of that bias. We all have bias about everyone we interact with and at work that includes both our patients and our colleagues. Always being conscious of our own privileges and biases can help limit (although not eliminate) the impact they have on our decision making and behaviour. But a more important step is to diversify the institutions we work within. We need to see more women, non-binary and trans people as well as people of colour, First Nations people, queer people, people of different religions, people from different socioeconomic backgrounds, etc. in positions of leadership and power. Only then will we start to see true progress towards equity and inclusion.

Tell us about a health issue you are particularly passionate about?
I'm passionate about the effect of war and conflict on health. Increasingly, and particularly recently, we have seen hospitals and other healthcare facilities become targets of military strikes, resulting in direct casualties of vulnerable people (and staff) and indirectly in deaths by destroying vital services in affected communities. But in addition to injuries, war causes mass displacement of peoples, starvation, trauma, and economic turmoil and widens the inequality gap within and between nations. The effect of conflict is profound and far reaching and extends long after ceasefires. I hope to see greater action from states and stakeholders to reduce armed conflict and its impact on health.

How have you maintained resilience and balance over past two years?
I think I've always been quite a resilient person, but the last two years have been hard for everyone, including me. But even more importantly, I think we need to move away from this concept of resilience and shift the conversation to how to make our workplaces healthier for employees. It's impossible to remain resilient without fail even without a pandemic if you're working unsafe hours, not being paid unrostered overtime and your workload is unmanageable. One of the most important functions of the AMA over the past two years has been defending workplace safety for junior and senior medical staff and I hope over the next two years we continue to see improvements that will help us have longevity and balance in our careers.

What do you value most as an AMA member?
The AMA has been an invaluable advocate for junior doctors both on an individual level when required and more broadly for junior doctors as a whole. I greatly value the AMA's work in the industrial relations space. Additionally, AMA's public health advocacy has been very strong prior to and throughout the pandemic and I am grateful to have a representative body to advocate on my behalf on public health issues that are important to me.

This article is an excerpt from a series celebrating AMA Victoria's female members for International Women's Day. The latest VICDOC features medical leaders Dr Alice Mizrahi, Prof Cassandra Szoeke, Dr Liliana Sousa Nanji, Dr Nardine Elzahaby and Dr Pearly Khaw as they share career achievements, the health issues they are passionate about, and views on securing diversity, equality and inclusivity in medicine. Read excerpts from each feature here. Read the full story in VICDOC.
Tags