IWD member profile: Dr Jill Tomlinson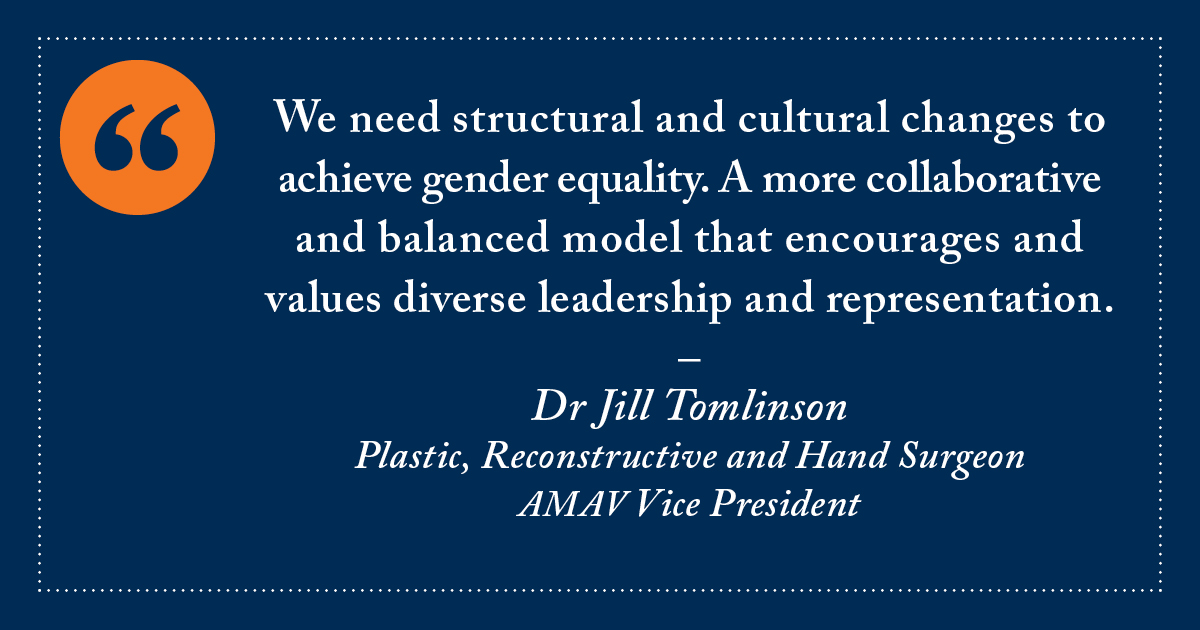 7 March 2022
We are celebrating the achievements of AMA Victoria's female members to mark International Women's Day on Monday 8 March. This year's theme is #BreakTheBias. Imagine a gender-equal world. A world free of bias, stereotypes and discrimination. A world that's diverse, equitable, and inclusive. A world where difference is valued and celebrated. Together we can forge women's equality. Collectively we can all #BreakTheBias.
Celebrate women's achievement. Raise awareness against bias. Take action for equality.

What do you think needs to be done to help achieve gender equality in medicine?
We need structural and cultural changes to achieve gender equality. A more collaborative and balanced model that encourages and values diverse leadership and representation.
I'm hoping that in the coming years AMA Victoria will be able to push for positive action towards gender equality in Victorian hospitals and health services as the data collected as part of requirements under the Gender Equality Act 2020 shines a light on existing disparities. Sometimes it is only when people are faced with the data that they can acknowledge there is a problem, and agree to make structural and cultural changes.

The theme of International Women's Day for 2022 is #BreakTheBias. How can we collectively break the bias that exists in the world of medicine so that it is more equitable and inclusive?
We must recognise and call out conscious and unconscious bias. That's not easy, but it is vital. A simple step for people who are interested in improving gender equity in their workplace is to take one of the great workshops that Women's Health Victoria runs exploring gender inequality, unconscious bias and workplace tools and strategies. A combination of education and behaviour change are needed.

How have you maintained resilience and balance over past two years?
Balance hasn't been possible between a global pandemic and the work and home demands of a surgeon and mother of one and then two young children, but the juggle of life is all about prioritising, doing the best that you can and being kind to yourself when demand outstrips supply.

What do you value most as an AMA member?
Collective action – together we can.

This article forms part of a series celebrating AMA Victoria's female members for International Women's Day. The latest VICDOC magazine features medical leaders Dr Alice Mizrahi, Prof Cassandra Szoeke, Dr Liliana Sousa Nanji, Dr Nardine Elzahaby and Dr Pearly Khaw as they share career achievements, the health issues they are passionate about, and views on securing diversity, equality and inclusivity in medicine. Read excerpts from each feature here. Read the full story in VICDOC.
Tags