IWD member profile: Dr Liliana Sousa Nanji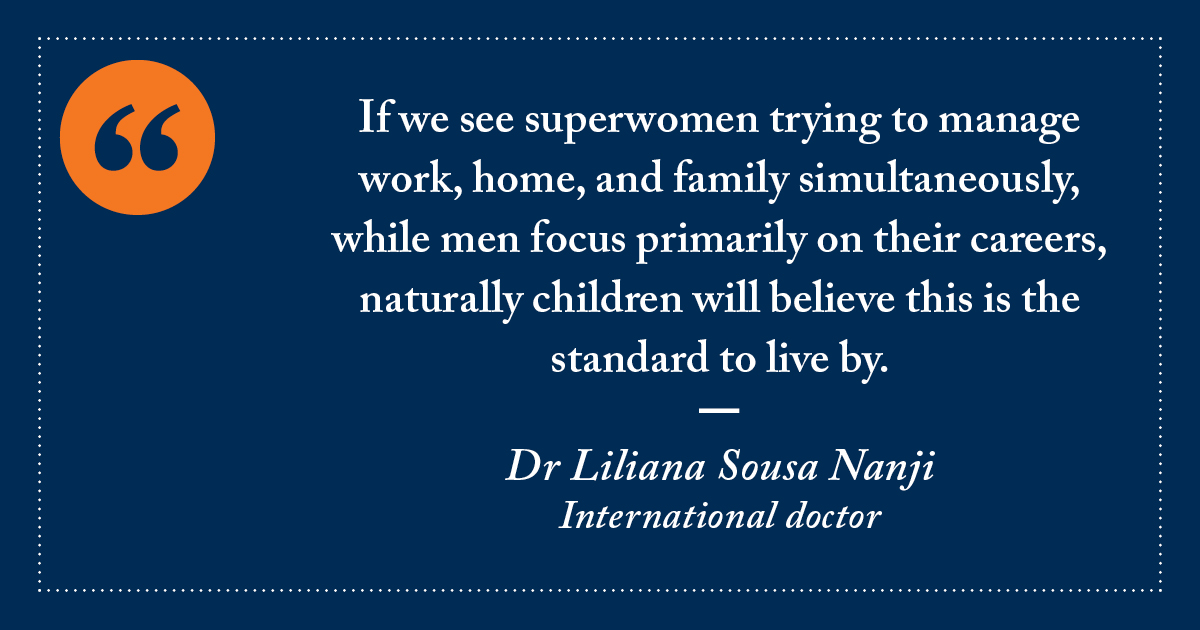 7 March 2022
The theme of International Women's Day for 2022 is #BreakTheBias. Imagine a gender equal world. A world free of bias, stereotypes and discrimination. A world that's diverse, equitable, and inclusive. A world where difference is valued and celebrated. Together we can forge women's equality. Collectively we can all #BreakTheBias.
Celebrate women's achievement. Raise awareness against bias. Take action for equality.

Can you briefly summarise your role in medicine?
I am an international doctor who aims to become a neurointensivist and an administrator. I have made some controversial decisions in my career, including leaving my original country a few days after completing my internship and making a career change from surgery to intensive care after burning out in 2019. However, I believe these decisions have allowed me to become a more well-rounded doctor and individual. I often find myself offering advice to fellow young doctors who struggle with various aspects of their lives, and this type of mentoring gives me a lot of joy.

What do you think needs to be done to help achieve gender equality in medicine?
I believe it is vital that doctors, either female, male or gender-neutral, are offered jobs and rewarded based on merit above all. I feel very uncomfortable when seniors ask me if I have a partner and plan on having children. I have seen seniors become upset learning they would have more female juniors for a certain time because they are "prone to take more time off". I would like to be seen as a doctor first and foremost when I am at work, and I believe I am pretty good at what I do! There is still a societal expectation that females dedicate more to the family and the home, but I would like to see relationships become more equitable. If I need to take time off for whatever reason, I will be doing it as predicted in the legislation – the same as my male counterparts, who may also choose to spend more time at home and with the family.

The theme of International Women's Day for 2022 is #BreakTheBias. How can we collectively break the bias that exists in the world of medicine so that it is more equitable and inclusive?
This is a multifactorial issue that needs to be tackled on multiple fronts. In my experience, our leaders set the tone for the teams we work in. If we see them being all-inclusive, as unbiased as humanly possible and willing to embrace our differences, then that is the behaviour that we will normalise and replicate. This culture then extends to future generations of doctors. However, this also needs to be addressed in society as a whole. If we see superwomen trying to manage work, home, and family simultaneously, while men focus primarily on their careers, naturally children will believe this is the standard to live by. Men will continue to be more likely to progress at work, and we will continue to see an imbalance in gender leadership. Women need to remember they cannot do everything at the same time, and men need to remember that we work as a team in all aspects of life.

What are you most proud of about your medical career?
I am most proud to have been able to find alternatives when life was not going to plan. Transitioning to the Australian healthcare system was an arduous journey, and it has taken me a few years to feel on par with my local colleagues. After burning out, when I was running out of hope and ideas, I still managed to remain in Australia and find a new passion in Intensive Care. I am also glad that, even through difficult times, I was still pleasant, helpful, and still taught and advised other junior doctors. I may not always be in the best energy and mood, but I always try and remember that the people with me at work are also human, and they do not need to suffer even if I am suffering.

Tell us about a health issue you are particularly passionate about?
From a professional point of view, I have always been interested in Neurosciences, Resuscitation and procedures. It took me a while to put these pieces together, but I got there in the end! More recently, I have become very passionate about advocating for doctors' wellbeing, especially after hitting rock bottom myself and not wishing it on anyone. I am an open book, and I have become more involved in speaking up about mental health in medicine, our work conditions and the need for compassion and self-care.

What do you value most as an AMA member?
I find it great to know that I always have the AMA on my back. They are the silent bodyguard I did not know I needed. There have been times I was unable to resolve issues directly with my healthcare, whether in terms of hours or pay, and it was very easy to get the AMA involved. Whenever I did this, I found the matters were resolved swiftly and without much fuss.

This article is an excerpt from a series celebrating AMA Victoria's female members for International Women's Day. The latest VICDOC features medical leaders Dr Alice Mizrahi, Prof Cassandra Szoeke, Dr Liliana Sousa Nanji, Dr Nardine Elzahaby and Dr Pearly Khaw as they share career achievements, the health issues they are passionate about, and views on securing diversity, equality and inclusivity in medicine. Read excerpts from each feature here. Read the full story in VICDOC.
Tags