IWD member profile: Dr Nardine Elzahaby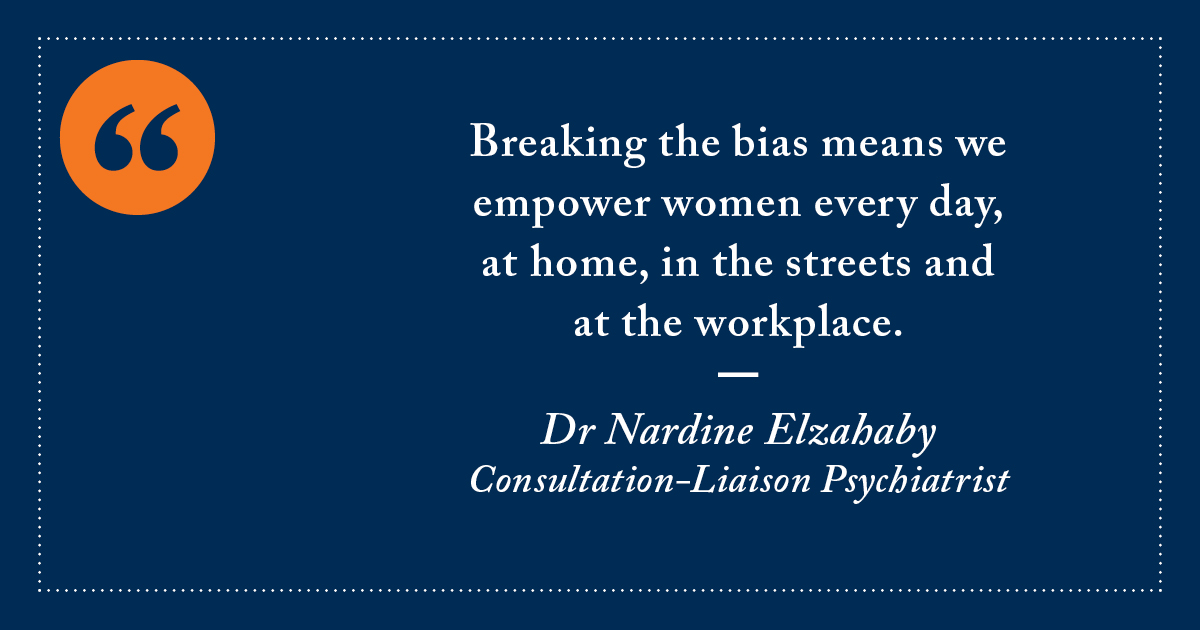 7 March 2022
We are celebrating the achievements of AMA Victoria's female members to mark International Women's Day on Monday 8 March. This year's theme is #BreakTheBias. Imagine a gender-equal world. A world free of bias, stereotypes and discrimination. A world that's diverse, equitable, and inclusive. A world where difference is valued and celebrated. Together we can forge women's equality. Collectively we can all #BreakTheBias.
Celebrate women's achievement. Raise awareness against bias. Take action for equality.

Can you briefly summarise your role in medicine?
I am a Consultation-Liaison Psychiatrist. I work part-time at Austin Health and part-time running my telehealth clinic servicing mainly rural communities.
I also run a business in medical education called IMG SOS. IMG SOS is a web-based accredited medical education provider for board qualifying examinations for overseas trained doctors, for RACGP, RANZCP, RACP and ACEM trainees. The company is web-based for accessibility to those who have to work in rural and remote areas.
I am part of Hand-n-Hand peer support network that aims to link healthcare workers into peer support groups.
I am passionate about system improvements in healthcare, hence I have started my Master of Business Administration in healthcare management.
I have received these awards:
Wellbeing champion award (PMCV, 2020)
Acknowledging a junior medical staff member who works hard to support their colleagues, create a safe working environment, and is a valuable leader.
Junior doctor of the year (AMAV Awards, 2019)
Recognising a doctor-in-training who has made an outstanding contribution to the medical profession and the community.

Who or what inspired you to become a doctor?
I completed my schooling in Egypt; a developing country where poverty and disadvantage are prevalent features. I felt I needed to contribute to my community, to helping the disadvantaged and marginalised. I envisioned myself going on a mission to Africa to help those communities who are in deep need for health literacy and healthcare.
However, my goals and mission shifted a little, driven by the lack of adequate training in Egypt and unrealistic working hours and the impact of that on my lifestyle and family.
I migrated to Australia as a skilled worker with my family in 2011. I enjoy practising in Australia, however inequality is noticeable; due to race, gender, socioeconomic status and mental illness. This is obviously an issue in many countries, but I am passionate about changing cultures and improving systems and do believe that gender equality is one of the issues that is well overdue for addressing and adjusting.

How do we collectively break the bias in medicine?
Breaking the bias starts with us. In my career, a lot of the challenges I faced as a woman were actually initiated by women. At times, we model behaviours that perpetuate gender inequality or in fact incorporate gender discrimination due to a lack of self-reflection or to please our male colleagues. Breaking the bias means we need to acknowledge that we all have biases one way or another and we need to be willing to improve.
Breaking the bias means we empower women every day, at home, in the streets and at the workplace. If we do not have a secure sense of self, we risk undermining and disempowering women with whom we identify. We are all busy and life can take its toll on all of us. It is very easy for us to lose track of why we do what we do; our values and goals. To be able to remain true to ourselves and to our values, we need to look after ourselves and practise self-care on a day to day basis.
In addition, we need to keep those conversations going. We get disheartened sometimes when our calls for equality fail or when the path feels too long and too hard. Pursuing those conversations feels like a marathon and it is! Systems and organisations take many years to change. At times, our years of work will land with our predecessors to pursue and that is ok!

What do you think needs to be done to help achieve gender equality in medicine?
As a wife and mother of three children and a woman of colour, I have struggled throughout my career with gender inequality. Comments like:
"You are pregnant, how about your training?"
"Oh, you have children, you will not be able to be on the roster."
"You are busy with your kids, you have no time for work."
These are very familiar. In addition, the alienation and marginalisation that occurs, not just from men, but from women who are in different stages of life is profound.
I believe we are well overdue for a change. I believe a human's contribution should be regarded on its own merits regardless of their gender, race and colour. I believe that women, in general, feel the pressure to do more, which takes its toll on their health and wellbeing due to the common perception that women do not do enough.
We need to develop reflective practises to help us observe our own biases and address it. We are all biased in many ways and we need to keep an open conversation about our biases. Shame and discrimination thrive on secrecy and silence. Keeping an open channel for conversations about this difficult topic is necessary for the change to occur.

How have you maintained resilience and balance over the past two years?
There were moments when I felt it was all overwhelming, and I wanted to quit medicine. Misogyny is well entrenched in parts of medicine still unfortunately and I do notice that it eats away in my resilience. However, over the last year, and whenever I felt burnt out, I sat down, made my own space, reflected on how I felt, took it easy on myself (at work or at home and told myself, "It is a marathon, not a sprint". Hence, I needed to slow down and look after myself at times.
I also felt strength in opening up and sharing my vulnerability with others. As doctors and perfectionistic humans, shame is often entrenched somewhere inside us; whether this is evident to us or not. Shame thrives in silence, and opening up to colleagues I trusted helped me in overcoming feelings of shame.
Only then do I feel able to do what Shirley Chisholm suggested, "If they don't give you a seat at the table, bring a folding chair". I find that as a woman, you may not be invited to the table or asked to join at times and that is ok, so I do bring my folding chair and make my voice heard.
When burnt out, I keep my expectations very low. I do what is required at work but review how much of what I do is required and how much is my own self standard! I often feel that our feelings of overwhelm start with very high expectations of self that we would rarely have of someone else. Why are others more deserving of looking after than myself? Lots of self-reflection and testing why I do things is key to my wellbeing and resilience.

What are you most proud of about your medical career?
I am proud of my young family and receiving my fellowship last year. I am proud of being able to marry my values to what I do every day at work. I often find that work can be less rewarding and burn out is very possible when we are not able to be our authentic self at work. Being able to be our authentic self at work with our strengths and flaws is key in sustaining our enjoyment and wellbeing.
What do you value most as an AMA member?
I value the great work and advocacy that the AMA does in relation to doctors' rights and wellbeing.
I value the presence of it as a body; something that is not there in many countries. I appreciate the AMA's contribution to the VDHP as well.
Learn more about the VDHP here.

This article is an excerpt from a series celebrating AMA Victoria's female members for International Women's Day. The latest VICDOC features medical leaders Dr Alice Mizrahi, Prof Cassandra Szoeke, Dr Liliana Sousa Nanji, Dr Nardine Elzahaby and Dr Pearly Khaw as they share career achievements, the health issues they are passionate about, and views on securing diversity, equality and inclusivity in medicine. Read excerpts from each feature here. Read the full story in VICDOC.
Tags