IWD member profile: Dr Pearly Khaw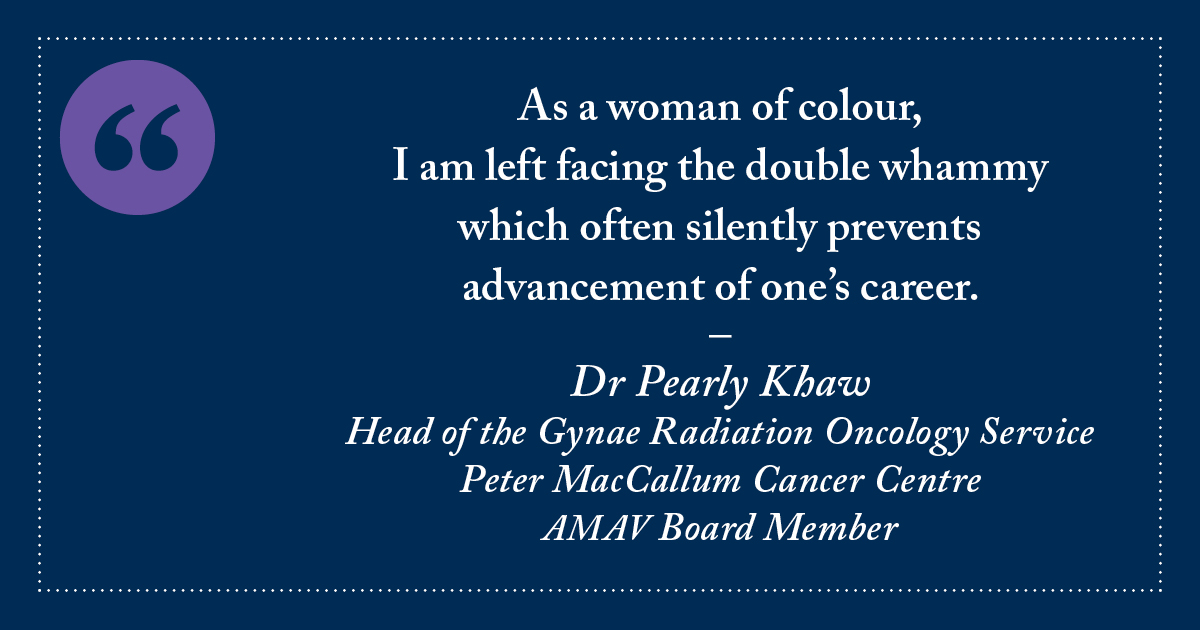 7 March 2022
We are celebrating the achievements of AMA Victoria's female members to mark International Women's Day on Monday 8 March. This year's theme is #BreakTheBias. Imagine a gender-equal world. A world free of bias, stereotypes and discrimination. A world that's diverse, equitable, and inclusive. A world where difference is valued and celebrated. Together we can forge women's equality. Collectively we can all #BreakTheBias.
Celebrate women's achievement. Raise awareness against bias. Take action for equality.

Can you briefly summarise your role in medicine?
I am currently the Head of the Gynae Radiation Oncology service at Peter Mac. We are responsible for the delivery of radiotherapy services and care to women with Gynaecological malignancies at all of the Peter Mac sites (Parkville, Moorabbin, Bendigo, Sunshine and shortly also at our Box Hill campus). Our service also provides specialised brachytherapy services to women of Victoria, Tasmania and also South Australia, as we are the only centre that has the capability and resources to deliver Interstitial Brachytherapy for localised recurrent disease in the lower pelvis. I am also heavily involved in Gynae-Oncology Clinical Trials, often acting as the lead Radiation Oncologist for many Australian and International trials. I am a Board Director with ANZGOG (Australian and NZ Gynae-Oncology Group), the leading Gynae-Oncology Research Group in ANZ and serve on a number of their committees. Through ANZGOG, I am also involved in a number of International Research Group activities and have also been invited to serve on both Cancer Australia and Cancer Council of Victoria Committees. I now hold a number of leadership roles within Gynae Radiation Oncology and remain keen to use this position to teach, encourage and promote the next generation of Radiation Oncologists, as well as seek better outcomes for women with Gynaecological malignancies.
Radiation Oncology is a little recognised specialty but it remains a critical component in our ability to treat and cure many cancers. The use of radiotherapy is also important in palliation, so the breadth of treatment capabilities is vast. It is also an area of medicine that often piques the interest of those interested in technological advances and how these changes can be adapted and used to improve outcomes whilst reducing toxicities.

What do you think needs to be done to help achieve gender equality in medicine?
To achieve gender equality we need to be prepared to view gender through a different lens. Positive measures to lift women need to be enforced. Stereotypes of how "things are done" need to be broken down and we need to view these psychological biases as fallacious. The negativity of the "status quo" needs to be reinforced so that it becomes something that we avoid at all costs. We need to plan to ensure our workforce is not divided based on gender - that benefits that have been sought to seemingly make life easier for women, are not just about women but are for all members of the medical workforce. When we view ourselves as equals within the workforce, then we should be able to start to move away from the discussion about gender. Women need to be empowered to stop having to think about how they must behave in a manner that is more akin to the (old) male stereotype in the medical workforce. If we feel we must display these behaviours then we perpetuate the boundaries that we are striving to break down.
However, gender equality cannot be achieved without also breaking down the other (silent) inequality in our workforce - racial inequality. As a woman of colour, I am left facing the double whammy which often silently prevents advancement of one's career. BIPOC are regularly expected to behave in a stereotypic manner and the silent discrimination of white privilege goes unaddressed and often unrecognised. Add to this the inequality that also comes if one identifies as LGBTIQA and it highlights how far we still have to go to break down the many barriers in our profession.

The theme of International Women's Day for 2022 is #BreakTheBias. How can we collectively break the bias that exists in the world of medicine so that it is more equitable and inclusive?
If we wish to #BreakTheBias then we need to speak about the bias. The people who sit in the positions of privilege - predominantly white male but also white female - need to listen to the voices of those who face these barriers on a daily basis. The listening needs to be proactive and without the standard reactionary position of defense. Active listening will allow for change but many of those in positions of power and privilege find this to be overtly challenging to the status quo. They do not want to lose that sense of power/privilege, so there is only a semblance or tokenistic move to effect change. Nothing of substance eventuates because that, in itself, is too much of a change and challenge.
We cannot #BreakTheBias without being prepared to deconstruct our current "status quo" and rebuild a more equitable profession that recognises, respects and reflects the many varied faces of our multicultural community. These faces need to be seen, promoted and lauded as leaders in our profession. If I "do not see me", I cannot feel like I truly belong in this community.

Tell us about a health issue you are particularly passionate about?
I remain completely passionate and committed to bringing greater awareness to the public's knowledge of gynaecological cancer and how we need to be proactive in trying to find ways to improve outcomes. I do not just mean focussing on research into new treatment options, but providing the multiple supports these women need to get through this journey. Support comes in many "faces" and we need to acknowledge the entire team that is involved. As well as this we also need to recognise how fiscal inequity also impacts on these outcomes.

This article is an excerpt from a series celebrating AMA Victoria's female members for International Women's Day. The latest VICDOC features medical leaders Dr Alice Mizrahi, Prof Cassandra Szoeke, Dr Liliana Sousa Nanji, Dr Nardine Elzahaby and Dr Pearly Khaw as they share career achievements, the health issues they are passionate about, and views on securing diversity, equality and inclusivity in medicine. Read excerpts from each feature here. Read the full story in VICDOC.
Tags