Leadership Insight #3 – 2022: The role of controlled processing and intentional behaviour in combatting unconscious bias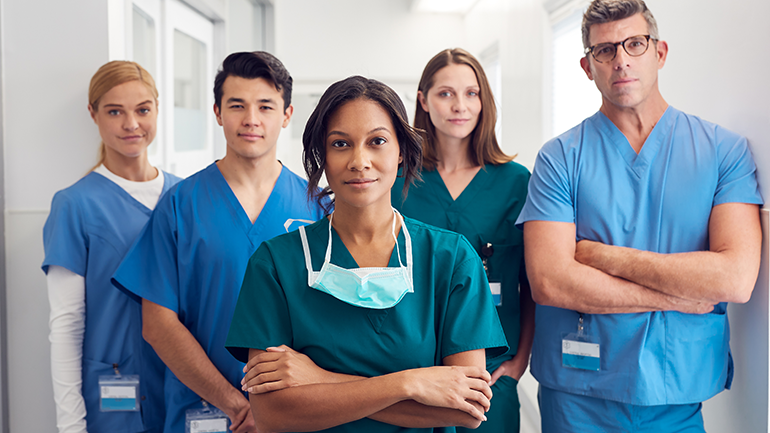 2 March 2022
It's International Women's Day next Tuesday and this theme this year is "Break the Bias".
In medicine, as in most other sectors, there is clear evidence of gender bias. According to a recent MJA article, while there has been "gender parity in Australian medical schools for decades; however, (women) represent only 28% of medical deans and 12.5% of hospital chief executive officers". [1]
These 'facts' result from a sticky web of interrelated biases that women in medicine face:
In selection and recruitment processes;
In access to sponsorship and allyship from informal networks – that are so helpful in career advancement and the psychological safety and professional connection that come from these professional networks; and
From the limited access to and continued stigmatisation of flexible training structures and work arrangements in medicine. [2]
In our leadership and professional coaching work we talk with many women – and men – for whom this gender bias is very real. It is real for women experiencing it, and real for men who are aware that they struggle at times to know how to support their female colleagues and staff in navigating these challenges. The aim of this short article is to focus our attention on the issue and detail some practical steps that we can all take to break the cycle of stereotype-based bias and discrimination.
Understanding these challenges and barriers requires an understanding unconscious bias. Where it comes from, how it influences our thinking and behaviours, and how we can mitigate this and turn things around, by thinking and acting in ways that instead suspend bias and promote equality in the workplace and beyond.
Very briefly, bias is the favouring or treatment of one group over another – if this is gender bias it generally refers to men being favoured or preferred over women. The meaning or content of the bias in rooted in social and cultural stereotypes – social knowledge that we learn from birth, and which is reinforced by social communication and practice. For example, the notion that men are strong and tough, and women are soft and emotional is strong in Australian culture. In terms of leadership, the idea that men are decisive and strategic and make better leaders than women, flows from gender stereotypes. This knowledge is deep and resides in strong associative networks that influence our cognitive processes – from attention and perception to information processing and decision-making. So, to use another quick example, if unchecked we are likely to see greater leadership potential based on a resume with a man's name on it, than a resume with a woman's name on the front cover – a phenomena born out in decades of research.
So, what can we do? Below are a couple of practical steps we can put in place in our everyday work.

Know the risk:
This is about understanding and accepting the nature of social stereotypes and how they affect our actions. It's about understanding that these operate unconsciously – as they are automatically activated in our everyday contexts including the work environment. What are the stereotypes of men and women, and of men and women in medicine? Regardless of whether you believe or endorse them, it's important to know that as members of this culture, we hold them and use them unconsciously all the time.

Know when it is likely to occur:
To be able to recruit more controlled and deliberate thought processes and behaviours, we must know when stereotypes are likely to get triggered – by being aware of our male and female colleagues the roles they occupy and how they tend to interact and behave in different work settings. For example, how might the task or context activate gender stereotypes?

Become skilled in effective leadership behaviours:
Building competence in effective leadership behaviours assists to mitigate the influence of these risk factors by creating space for controlled cognitive processes and making a more inclusive and psychologically safe environment for everyone. That is, having a range of habitual phrases and behaviours that you can recruit – in place of automatic stereotype-based processing – and use when you know might be helpful.
For example, below are a few general biases that play out in workplaces that can be more detrimental or less helpful to women in their career advancement Therefore working to 'intercept' these and create a different and more inclusive and equal workplace setting can help 'break the bias':
Talking about personal vs professional lives: In general, women tend to receive comments about or be asked about personal (over professional) things – e.g., comments about appearance or questions about their children than men do. While these can be positive and caring, they take away an opportunity to talk about professional issues and show professional expertise in the work environment that build strong professional relationship and networks which are so important for career planning and advancement.
Running inclusive meetings and listening to people speak: In general, women can find it hard to speak up in meetings and are often interrupted by and talked over when they do. Therefore, use inclusive leadership practices that use the knowledge of these general social biases and attempt to lead meetings by establishing clear expectations and norms for everyone contributing and listening to each person's contributions in full. Role modelling this as a leader is incredibly important and creates psychological safety, which supports better collaborative work.
Creating strong professional networks: Women tend to have less access to, and less extensive professional networks than men, which is problematic as these types of networks are so important for information sharing and providing sponsorship and allyship professionally. Men and women are socialised differently when it comes to talking about aspiration and ambition, about job promotion and opportunity. In general, women find it hard to talk openly about this and ask for connections, introductions, and invitations to meetings and events. If we know this and take it seriously, then we can test ourselves – if there is a new role opening, or an issue being discussed, are we talking about this openly and inclusively to both our male and female colleagues equally?
It's 2022. It's time to devote an extra bit of energy to breaking these biases. The leadership practices that do this are practices that are effective in establishing strong collaborative teams and teamwork for delivering effective healthcare. This leadership insight series writes about these – see previous articles for ways leaders and team members can create psychological safety at work.
If anyone would like to check-in with us on any of these issues, please use the free 15-min leader check-in or career call service via the Careers section of our website.
Click here for more information on our leadership coaching and professional development programs, or to access leadership resources and articles.
Dr Anna Clark (PhD)
AMAV Leadership development consultant, coach & educator
Dr Anna Clark is AMAVs Leadership consultant, coach and educator, currently offering individual coaching for doctors and directing the AMA's professional development programs in leadership, the Emerging Leader Program and Middle Leader Program.

References
[1] Allison Hempenstall, Jillian Tomlinson and Marie M Bismark, 'Gender inequity in medicine and medical leadership'. Medical Journal of Australia, 2019.
[2] For a detailed and research-based review of these interconnected biases, see the INSEAD Gender Diversity Program run by Prof Zoe Kinias and Prof Jennifer Petriglieri.

Tags