Leadership insight #5 / 2023: Fine tuning your professional introduction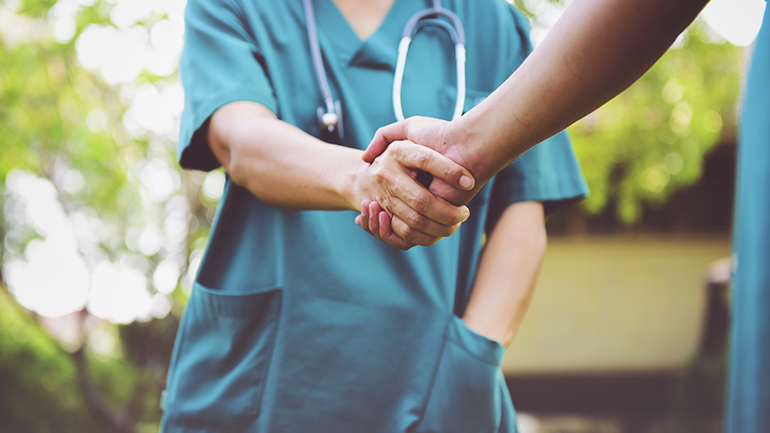 27 April 2023
Introductions are important. We want to know who people are, where they have come from and what makes them tick. The impressions and judgements we form of people based on their introduction happen fast: So, the way we introduce ourselves counts. It is a key part of impression and reputation management. It helps orient others to the things we want them to know about us, and it gives us a way of managing our professional identity.
Regardless of your career stage, there are always new situations and new contexts where you will need to introduce yourself - professionally. These may include:
Commencing a new role in a new department or workplace,
Joining a committee, project team or board
At an informal meet and greet
In a job interview
When speaking up or making a comment in a professional setting outside of your team and department
When presenting in a formal setting at a conference or at a professional event
Meeting a new contact in either a professional or personal context.
Being ready to introduce yourself professionally is often overlooked and often we don't do this well. Often the content and key messages used in an introduction is no longer 'fit for purpose' or relevant for the context in which it is being used. Introductions can tend to represent us historically, that is, 'who we were', instead of 'who we are now' or 'who we aspire to be – our desired 'future' self'. So, it is worth taking the time to reflect on 'how' you want to introduce yourself so that your introduction is 'fit-for purpose' for the context you are using it in and that it aligns with where you want your career to head.
If you are stepping into a new role – an introduction is a chance to re-introduce or re-position yourself specific to that role. This is particularly important if it's a promotion, or if it is a sideways step away from a traditional 'clinical' role. Your identity as a 'clinician' might be less relevant to the new role and you may want to draw on other experience, non-clinical roles and other skills and competencies in your introduction. This is also the case if you are joining a new board, committee or panel. An introduction is a chance to strategically direct attention in a way that best represents your work and career relevant to the position you are taking up. It should also align with your career aspirations and the future professional identity (or brand) you are crafting, so that the 'right' new opportunities find you.
Thinking about how we introduce ourselves can also be important for containing and managing the stress and anxiety that often comes up in new situations and when we are put in the spotlight to say, 'This is me'.

So, what do you say? What helps to include in an introduction?
A recent article by Andrea Wojnicki provides some useful advice. She suggests using a three part framing for professional introductions. Structuring them to include – in this order – a bit about you in the present, the past and the future.
The present, past and then future allows you to share:
A bit about you – your name and role(s) – and a bit about your current work (an interest, a project, a rotation, for example)
A bit about your past – some information about your background and experience – past roles, areas of expertise. This is about establishing credibility and casts where you are now in light of past work and achievements.
A piece that looks to the future: this could be an area of interest, an opportunity that is coming up, a challenge or collaborative project.
Together, these three pieces create a short and memorable narrative about you:
This is me
Here are some relevant and informative parts of my professional work and expertise
And this is what is interesting and rewarding for me – and will shape my next steps.
What I find so useful about this three part framing is that it sets you up well for a meaningful conversation with people in the room, because the people who are listening to you can then notice any part of what you shared – your current role and work, your background, training and experience or where you are headed / interested in, and in connecting to that, start a conversation.
Ending your introduction with something future oriented also sets you up well to connect to people and talk with them about something that is – or hopefully will be – part of your next career phase.
Our professional networks are so important. So, crafting an introduction that will help you connect to people and work that is interesting and meaningful to you is a good way to start the conversations with the people you want to talk to.
So, have a go. make a few notes, and then practice your introduction a couple of times – perhaps finding some different variations for different contexts. When we say things out aloud a few times we are performing a test for ourselves, and we are practising out the kinks and the nervousness too. As you practice you can change and modify what you share. This is all part of crafting your professional style and identity and starting interesting conversations.
While in theory this sounds easy we know that this can pose challenging work. So if you are finding this work difficult and need assistance our professional development and careers team is skilled in supporting doctors to develop a 'fit-for-purpose' introduction that serves you and your career aspirations and plans. Book a 'career call' or leader/manager check-in to discuss your needs and challenges.
Dr Anna Clark (PhD)
Dr Anna Clark is AMAVs Leadership consultant, coach and educator, currently offering individual coaching for doctors and directing the AMA's professional development programs in leadership, the Emerging Leader Program and Middle Leader Program.

References
Tags