Leadership insight #11 / 2023: How to maximise the potential of your new recruits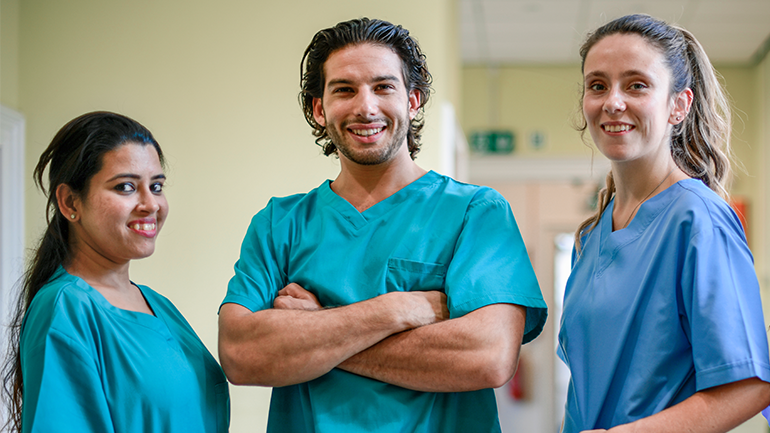 1 November 2023
You've just recruited some new team members – make sure to make the most of this opportunity.
Recruitment has been a major feature for many of the doctors we have talked with across the months of August and September. Firstly, the common theme is that it can be difficult at the moment to recruit quality staff into many roles, and we know vacancy levels are the highest they have been in some speciality areas and sites. Therefore, when you are successful in an appointing a new staff member, you want to ensure that their entry into, and contribution to, your team is a positive experience for everyone.
In general, new people strengthen the team. They contribute to the culture, bring expertise and knowledge, create more bandwidth and potential for effective work and innovation.
So how do you ensure you realise the potential new team members present:
Inform your team: Make sure you tell your team about the result of a recruitment process and inform them who is joining the team and when. It's a good opportunity to show open and transparent process and include team members in the good news. Others may want to reach out and say hi – it is a chance for team building and cohesion all around. While it can be a lengthy and involving process, many people I talk to in the coaching programs can also forget to tell people about the outcome.
Celebrate: Be sure to celebrate the effort and success of growing and enhancing your workforce with your team. This is no easy task, especially in the current context of extreme fatigue and burnout in the sector resulting in staff shortages. So, take the time to feel good about this success and celebrate with optimism for the future.
Focus on your team culture: How might a new member or two impact your team and culture more broadly? Onboarding a new person can present an opportunity to remind, reinforce or re-set ways of working, expectations, and team norms.
Are there ways of working – structures and processes even – that could be changed or improved?
Are there roles and responsibilities that need clarifying and strengthening that could be addressed as part of the onboarding of a new staff member?
Would a whole team meeting or get together (morning tea or catered lunch meeting) be a useful for team cohesion and to welcome new members?
Reach out to the new person before they formally start and begin the onboarding process well. Here are a few simple ways to start:
Find out their name and contact information (look up how to pronounce the name if you're not sure)
Say 'congratulations' on the position
Ask when they start
Consider offering to meet up on their first day / in their first week or two
Consider offering to ask any questions in advance – especially if they are new to the area or country
Reflect on the various ways that the team or department meet and communicate and ensure they are included where relevant – for example meeting invites, WhatsApp groups, phone contact lists, etc.
Remember, if a new member is joining your team from another town, state or perhaps even overseas, this is a big deal! For those people an extra welcome is important: it's not just a new workplace and colleagues they need to get to know, it's a whole new life! Having someone reach out in a friendly way makes a huge difference. I've moved overseas twice before – and having someone local to ask some simple questions of is incredibly helpful.
Finally, it is important to reflect on and acknowledge your own experiences of being a 'new' staff member, the positive and negative aspects of this, and how you might use this experience to inform the onboarding of your new team members. It can present a fabulous opportunity to change this aspect of organisational culture and strengthen it.

Dr Anna Clark (PhD)

Leadership insights review many key leadership actions and behaviours and consider practical ways for enacting them from your role. Take a look at past articles and feel free to take up the leader check-in as a member benefit.
Dr Anna Clark is AMAV's leadership consultant, coach and educator, currently offering individual coaching for doctors and directing the AMA's professional development programs in leadership, the Emerging Leader Program and Middle Leader Program.
Tags