Leadership insight #6 / 2023: Preparing for Performance Development Reviews (Part 1)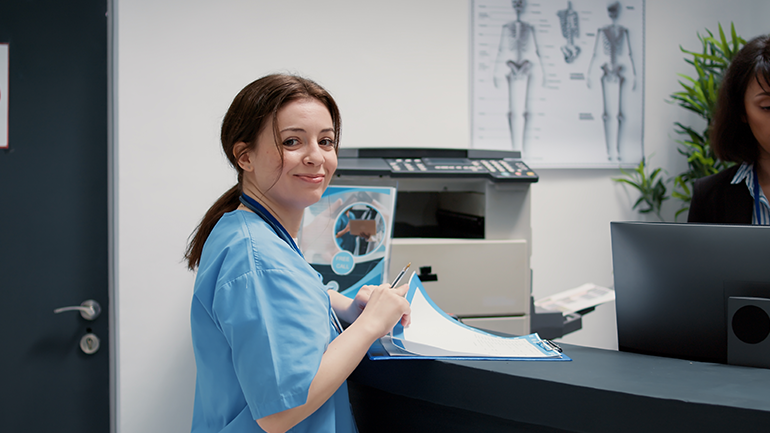 11 May 2023
Whether you are conducting a Performance and Development Review (PDR) or the one being reviewed, the PDR is a date on the calendar most don't look forward to. While these reviews often go well, the words 'Annual review' or 'performance review' – no matter how growth and support focussed any new terminology might be – often raise considerable anxiety and stress in the lead up to the conversation, potentially getting in the way of the process providing the support it is designed for.
So what can we do? How can we reflect on the purpose of the process and make the best of what is a rare opportunity to talk about our work and gain support for ongoing development outside of the immediate and unrelenting pressures of the job.
This article is written for both the employees preparing for their own review, and for the leaders and managers conducting the reviews. It aims to remind us of the purpose of the PDR, and of the fact that it is just one meeting, one conversation, and we must not blow it out of proportion. This article is also written to support those of you who are anxious and worried about how your review will go, and it contains tips for preparing, conducting, and reflecting on the experience to help support this process.
Part 1 looks at the purpose of the review and how to prepare. In Part 2, we then look at how to conduct yourself within this review meeting to make the best of that conversation and take any follow-up steps proactively – ensuring the review process is complete and productive.
What is the purpose of a performance development review?
The PDR has an evaluation and accountability component around performance and a development component to address further learning and career advancement. To achieve this, the entire process is supported by forms and templates to be shared and completed by both parties, and to create a formal record of the discussion. Each of these elements are there to support employees and their managers to discuss work and performance and to ensure that good, safe work is sustainable across a career.
The performance component: The central question is how are you going in your work/job? Is your performance in the job showing that the role and responsibilities are being executed effectively and reaching the desired outcomes or not (and to what degree)? This is an opportunity to ensure your manager knows the work you are doing (often the role descriptions are not accurate or complete; often people do much more than what their job is on paper). This is also an opportunity for the manager to recognise and reward work and achievement, to ask questions to gain deeper understanding, and to flag any concerns if there is evidence that the performance is lacking through effective feedback.
The development component: This aspect is about discussing the need and opportunities for increasing knowledge and skills, to keep up with current advancements and to progress one's career. This is about thinking 'what's next for me?' What opportunities are there for me here? What areas of interest and skill can be explored? And are there areas that are more challenging and need further support – from peers, through training or via mentor? This part of the conversation is a chance for employees to share their thinking and ideas and for managers to reflect on what is possible and what opportunities fit with the individual's skills and interests and those of the broader department or organisation.
Why a review?: To review is to go over – to assess, reflect and evaluate. Ultimately to create a shared record of performance in role. Good performance can be met with recognition and perhaps reward, and with further opportunities and development. Underperformance can be met with opportunities to support improvement and training and/or a performance management process where appropriate. These can be the next steps from a performance review.
Setting up for an effective PDR meeting. I think there are three central things that are worth focussing on to support an effective review meeting:
Preparation
Managing the meeting and managing yourself during this conversation and
Taking time to invest in next steps afterwards.
In this article we look at the importance of preparation. In Part 2 we consider the meeting itself and any follow-up steps.
Preparation
As with any type of professional conversation, it is worth doing some preparation. This goes for both the employee and the manager. For both parties, start with the basics: When is the meeting and with whom? How long is it? And what documentation do I need to complete? (you may want to refer to the previous year's form).
For managers/reviewers: Look at the form or document you are using to support this process. Does it reflect your intention and purpose of the process? While an organisation wide process may be set for now, it's important to be aware of the process your staff and colleagues are responding to. Ensure that your staff have all the necessary information to being the process and invite them to send you the relevant documents in advance of your one-to-one meeting. Find some time to read and prepare in advance, and if there isn't time – acknowledge this and say you would like to use this meeting to read it through together and plan next steps. Oftentimes, relevant documents are not up-to-date and not specifically tailored to the person and their current role. Any job or role description is very likely in need of work – refining, adding, and making current. Performance review documents that are out of date or not aligned to the current role and the person in can get in the way of an effective discussion in the time available.
For reviewees: Check the latest documentation and form you need to complete. Is the information correct? Perhaps you want to add more current information and record additional tasks and achievements you have been doing? Do try to make the form and the process work for you – share as much as you can about what you have achieved, what you enjoy, and where you can identify gaps or issues, and what support you would like to address them. Do think about what learning and opportunities you would like over the next year and write this too. This document provides much support and organisation for the meeting – one way to structure the conversation, especially if you are nervous, is to talk through the document, beginning to end – ending on a positive and forward-looking goal. This is a completely legitimate and important part of a performance review conversation. And don't forget – send your documentation through to your manager in advance, but also bring a hardcopy to the meeting in case they haven't seen or read it. In many ways you are in the driver's seat for this meeting – you will kick off by showcasing your work over the year, and raising any questions, areas of interest and areas needing support.
In the next LI we look at engaging productively and proactively in the meeting itself – how to make best use of the time available and how to manage the anxiety that can happen in the lead up and during the meeting.
Written by Anna Clark – Leadership coach and educator at AMAV
AMA Victoria's leadership and career coaching sessions can support you to prepare for performance reviews. Whether the support is in strengthening leadership skills to engage in and run performance reviews effectively, or career coaching to support career planning or working on your CV or interview skills, there are several tailored offerings available.

References
Tags