Leadership Insight #10 / 2023: Leaders on Leave - Tips for managing leave in leadership positions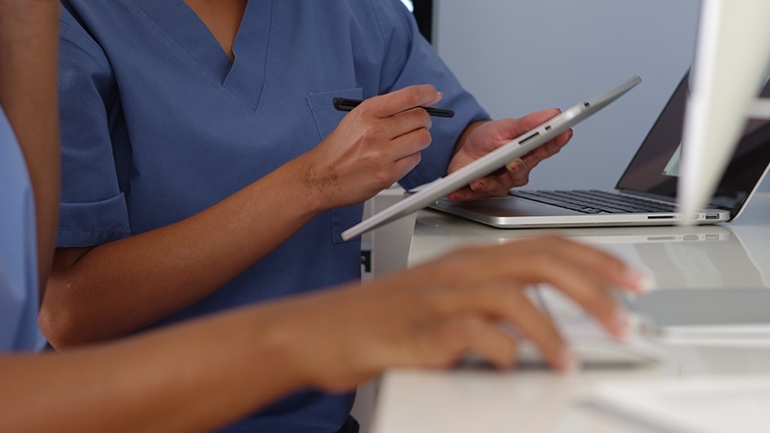 4 October 2023
Leave is essential for an effective and sustainable workforce. We need leave to be a normalised part of work life and time must be taken to schedule it, prepare for it and return from it, effectively.
There are many different reasons to take leave – holidays, sick leave, carers leave, parental leave, conference leave, sabbatical, secondments, etc. Leave provides opportunities to recharge, to look after loved ones and raise families, and to pursue other parts of life and areas of interest. But so often I hear people speak about their upcoming period of leave with a bit of fear, guilt and even shame.
Will everyone question my commitment if I take leave?
Will my patients be affected if I'm not there?
What if my team doesn't cope?
What if they can't fill the roster?
What if something happens?
What if I lose my spot on the roster when I get back?
What if someone else does better that I would?
What if my team liked the other person better?
What if they don't want me back?
These are all normal and natural emotions and responses. But they can get in the way of the purpose and benefit of leave.
We all need to take various forms of leave across each year and our career as a whole, so role modelling how to do this well can help everyone and form part of establishing a healthy work culture. Taking periods of leave can be beneficial to those who stay working to cover the leave colleagues and leaders, for example –
Stepping up to cover another person's role and responsibilities is a learning opportunity for someone else – a stretch opportunity to support building capability for a next role, a next promotion perhaps.
Having a team who is across each other's work is important for other times when the leave can't be planned, such as covering for sick leave, caring for others, attend urgent appointments or other sudden changes.
So, what can we do to support ourselves and others to take leave effectively?

Talk about your leave openly with colleagues
Taking leave isn't a bad thing to do – even if it feels like you are adding extra burden to your overworked colleagues in the short term. Talking about it openly makes it easier to negotiate when and how everyone can fit in their leave needs across the year(s). The Christmas and new year period can be particularly stressful and difficult regarding leave and covering the roster, therefore focusing on building good communication practices regarding leave in general, that can support the more difficult conversations when not everyone's leave requests can be accommodated.

Preparation and handover before you go
Things are going to go better at work if people know you are going to be away than if they don't. your colleagues don't need to know where or why you are away – they just need to know what to expect re any changes, who to go to in your place and when to expect your return. While feelings of guilt can get in the way of talking openly, remember these conversations are really about work and ensuring patient care; not about you and your holiday.
Key steps to take:
Communicate to all relevant people: Make sure you tell all the people who need to know that you will be on leave. Make sure they know the relevant dates, who is covering for you and who they can ask if they need to know something they would normally go to you for. While I know this can feel stressful – as it draws attention to the leave you are taking – remember that your colleagues are not thinking about you and what you are doing; they are thinking about themselves and the work – and they are interested in ensuring that work goes smoothly across the transition.
Delegate & handover: Ensure that you have delegated and handed over all relevant aspects of your role and responsibilities. If you needed additional resources to support your absence, make sure these are approved and in place. If you are chair of a committee, organiser of a monthly meeting or supervising a trainee – ensure that someone can stand in your place when necessary. Plan for how and when you will organise these things – you may need to request some meetings in the two weeks leading up to your leave.
Leave contact info and instructions: This is most useful for longer periods of leave. It may be the case that you may want or need to be contacted for some matters. Ensure that you have communicated this to someone, and that your give them the best way to contact you – if you are not monitoring your work email for example, give this person your personal address or number.

While you're away
Firstly, honour the leave and its purpose. If you're taking a holiday – relax and unwind! If you are caring for loved ones, be present with them and engage with them fully. Take the 'work' of leave seriously.
If you are away for a long period of time – perhaps six months or a year – you may want to connect in for a particular event or meeting. This is something to discuss with a colleague; it can be supportive and effective to stay across same things and check-in occasionally.

When you return
Check-in before your first day – this is really for more extended periods of leave. When you have been away for months – perhaps parental leave, sabbatical or long service leave, it is usually helpful to have checked-in with someone in the weeks leading up to your return and to think about creating time to meet with key people relevant to your work and role in the first couple of days after your return to work. For example, to hand-over (hand-back) work, to get a report on what has happened, to attend relevant meetings to catch up on what has happened.
Part of taking leave means that you will not know everything that has happened recently, you will not be completely 'up to date' for various things, and perhaps you will not step back in in quite the 'top form' you were when you left. This is often a reality. A long period of leave doing something else means that you do face a transition coming back. But we can prepare for this and communicate with others to support this and manage the situation effectively.

"I haven't done this shift for the last six-months. I'd prefer not to lead today / I'd prefer to have a colleague with me for this shift / could someone take ten minutes to brief me on xxxxx …"
Finally, thank your colleagues on your return. Gratitude and positive feedback go a long way to building healthy work culture – so use them whenever you can.
Going forward, think about the next periods of leave you have in your calendar, for the rest of the year and into 2024. Make a note to share your plans with relevant others as soon as it makes sense to do so, and don't forget to also schedule time for the handovers.
By Dr Anna Clark (PhD)
Leadership coach and educator at AMAV
AMA Victoria's Leadership and Career coaching sessions can support you to prepare for performance reviews. Whether the support is in strengthening leadership skills to engage in and run performance reviews effectively, or career coaching to support career planning or working on your CV or interview skills, there are several tailored offerings available.

Tags