Lift your gaze from the grind with the Gathering of Kindness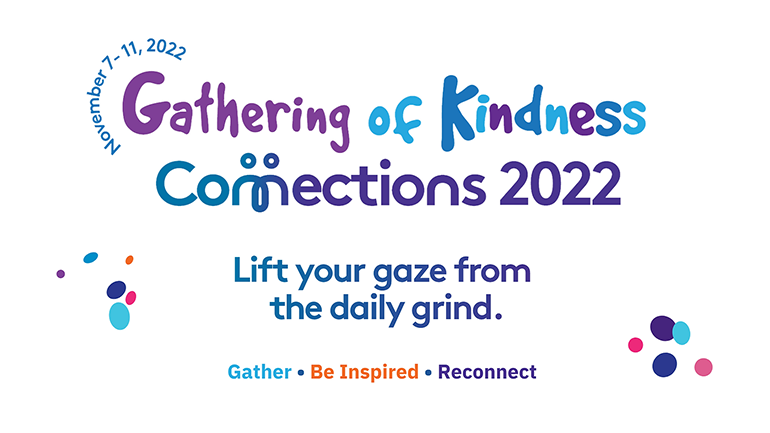 5 October 2022
October is Mental Health Month and National Mental Health Day is Monday 10 October. In 2022 the theme is Awareness, Belonging and Connection. This theme really reflects the importance of relationships to our wellbeing and to our mental health. In healthcare, displaying kindness to each other and to our patients is integral to the wellbeing of both the carers and to those receiving care. As many healthcare workers struggle with exhaustion and burnout, kindness can make the daily grind more sustainable. This year the Gathering of Kindness will take place from 7 - 11 November with the theme 'Gather, Be Inspired and Reconnect'. Again, the theme of relationships and the importance of interaction with others is emphasised.
Speaking about the Gathering of Kindness, Professor Catherine Crock, AM, Doctor at the Royal Children's Hospital and Founder and Chair of the Hush Foundation and Gathering of Kindness says:
"We know that healthcare staff desperately need a break from the stress, negativity and worry of these times. We hear that you also want to feel empowered to create positive change at work.

We have designed a program of creative, uplifting and important conversations, offerings and tools to reconnect with yourself, like-minded colleagues, and with joy, meaning and positive action in your work.

Let us celebrate and help sustain you. Let us work together to co-create a kinder and more sustainable healthcare system for all."
Lift your gaze from the daily grind
What to expect from the Gathering of Kindness: Two in person days of creativity and important conversations, an in person and live-streamed health futures think tank, six online presentations including live Q&As with international experts, virtual launch of Gathering of Kindness Canada, 'soft' launch of Hush Album 20 with Slava Grigoryan, two original theatre productions, performances from the Australian Youth Orchestra, Royal Melbourne Hospital's Scrub Choir, Silvertops Dance Crew and the Dancing Doctor, and workshops (both in person and online) including art, song writing, storytelling, reflective writing, dance and narrative.

As you reflect upon mental health and wellbeing during Mental Health Month, commit to create a kinder and more sustainable healthcare system and invest in yourself by taking time to be inspired by signing up for sessions at the Gathering of Kindness 2022.

Kay Dunkley
AMA Victoria doctor wellbeing and mentoring

More information
Tags