Mentoring – what, how and why is it useful in medicine?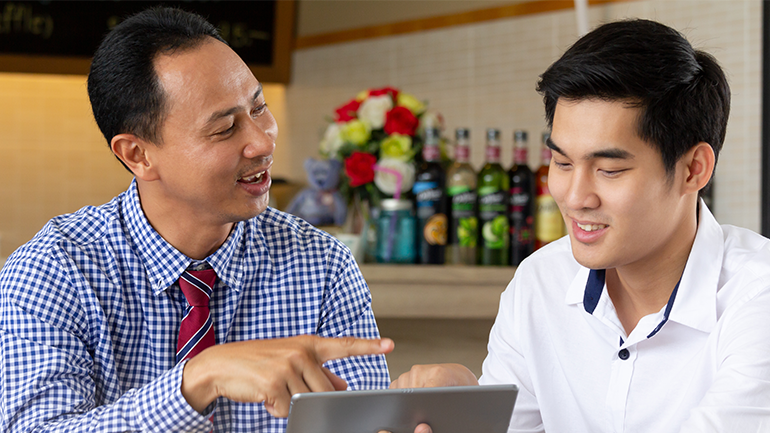 23 February 2022
Mentoring is a two-person psychosocial intervention in which a more experienced individual is brought into a close relationship with a less experienced person to provide, support, guidance and opportunities for career, personal and professional development. It is a partnership and a trusted alliance that is negotiable, helpful, safe, and founded on sharing and goodwill.
Mentoring relationships can be developed spontaneously or through a formally facilitated program, such as the AMA Victoria mentoring program, which links more experienced doctors with a doctor who is at an earlier career stage.
A mentor provides support, a sounding board, knowledge, encouragement, guidance, and constructive feedback to the mentee by developing a genuine interest in the growth of their abilities and talents.
A mentee actively seeks support and guidance in their career, personal and professional development from a more experienced mentor. A mentee, however, always has ultimate responsibility for their career, personal and professional development.
Mentoring is not one participant directing another, controlling or being responsible for another's professional development or career advancement. Mentoring is a partnership.
The terms mentoring, supervision, coaching, and peer support are often interchanged but each one of these has unique features and serves a different purpose. This table outlines the key differences.

Supervision involves oversight of performance. In medicine, supervision usually involves review and assessment followed by direction to ensure that practice is adequate to meet desired standards. The more senior person generally provides feedback to the less experienced person and guidance to ensure competency.
Coaching is a way of developing skills and abilities while simultaneously boosting performance and self-confidence in role(s). A central feature of coaching is that the individual is in charge of their own decisions and development to realise their full potential. The coach is there to facilitate this process through structured questioning, reflection, and observation - often challenging the status quo, helping the person being coached to find their own solution.
Peer Support is a way of providing emotional and wellbeing assistance where both the facilitator and participant are equals. Through this, people can connect through lived experiences.

The benefits of mentoring for doctors
There are many mutual benefits of participating in a mentoring program for the mentor and mentees,including:
For mentors:
Contribute to the future development of the medical profession
Improve communication and listening skills
Expand professional networks
Transfer skills and knowledge
Recognition of skills, knowledge and commitment to profession
Increase awareness of current issues and challenges facing junior doctors as they navigate training pathways and the health sector
Creates an opportunity for reflection both professionally and personally
Experience the reward of seeing a junior colleague progress towards their goals.
For mentees:
Develop professional skills and knowledge
Build professional networks
Increase confidence and self-esteem
Increase likelihood of success
Discuss and learn theoretical and practical issues with an experienced practitioner
Increase self-awareness and reflect on personal and professional growth and development opportunities
A confidential opportunity to discuss workplace issues
Provides further insight into a specific training pathways and practice area
Be encouraged by someone taking a specific interest in your career, personal and professional development.

Mentoring success
Successful mentoring requires a commitment by both parties to communicate regularly. Communication can be by any mix of modalities, but it must be interactive and enable a topic to be explored together. The mentee needs to be the driver and have an agenda for discussion. Mentees need to have a clear purpose which they can explain and bring relevant topics forward for discussion with their mentor. The mentor may reflect on their experience and knowledge but will not expect the mentee to reproduce this. To be successful there must be trust and respect between the mentor and the mentee so that both parties feel safe to be honest and open. Confidentiality is also an essential feature of mentoring.

AMA Victoria Mentoring Program
The AMA Victoria mentoring program welcomes expressions of interest from potential mentors and mentees via email to mentoring@amavic.com.au. Mentors must be fellows or nearing the end of fellowship. For mentees, the program is available to doctors at PGY2 and above and is particularly suited to doctors at a stage of transition in career path or personal life. This can include entering a training program, near the end of training or reaching fellowship, parenthood, newly arrived from interstate or overseas, changing career direction or seeking personal development to enhance opportunities.
Kay Dunkley
AMA Victoria Coordinator of Doctor Wellbeing

Resources
Tags