Pets and mental health and wellbeing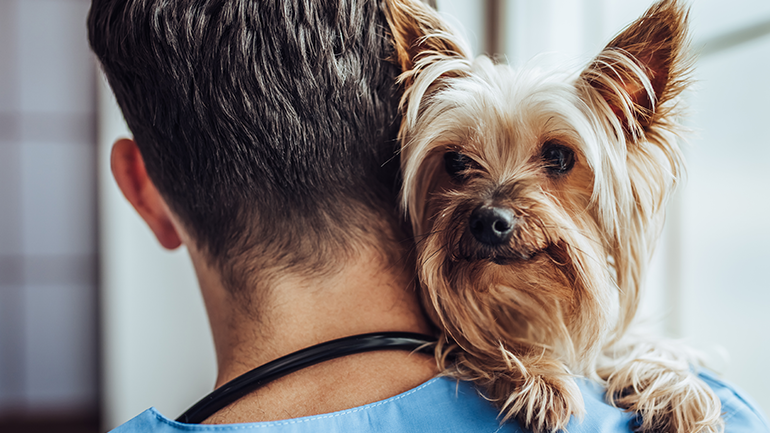 16 March 2022
Spending time with animals has been shown to have many benefits to our mental wellbeing and physical health. Pets can be relied upon to be loyal and trustworthy, as well as a source of comfort. They have personalities, and for many of us, they're just like another member of the family.
The bond between humans and animals is ancient and well accepted in our society. Many of us have grown up with pets in our lives; we find their appearance attractive, and most pets are responsive when we interact with them. Their behaviour can be both entertaining and soothing.

Pets reduce stress
Research shows that patting a pet can ease stress and reduce heart rate and blood pressure. Even watching fish swimming in an aquarium reduces stress. Spending time with a pet can be a mindful activity which is beneficial to our well-being and can help us relax.
Watching funny pet videos is not likely to be as effective as being in contact with a pet, but the resulting laughter can be beneficial.

Pets provide companionship
Pets can be affectionate, accepting, loyal, honest and consistent. When we feel isolated with little support, a pet can help to reduce loneliness. We can talk to a pet and be sure that what we say will be kept confidential.

Pets fulfill the human need to touch
Most of us feel better when we have physical contact with others. Simply patting a pet can cause the release of oxytocin which in turn stimulates the release of serotonin and dopamine which will lift our mood. Many pets enjoy a cuddle, being patted or stroked, sitting on your lap or beside you.

Pets require routine and organisation
Most pets require a routine of feeding, cleaning and exercise. While this is an additional responsibility, it can be a welcome distraction when we are under pressure and provide a sense of purpose beyond our work and study. It can provide us with motivation if we are going through a difficult time, such as failing an exam or missing out on a job offer. This sense of purpose can be important if we are experiencing depression or anxiety. If you have a pet, you are never alone and you are also responsible for looking after them.

Pets can increase our social interaction
Pets create opportunities for social interaction with other pet owners and neighbours. Going to pet-friendly beaches or parks can increase our social network. It is easy to make new friends just by taking your dog for a walk or waiting at the vet, due to a shared interest in pets.

Pets provide an opportunity for exercise and play
Dogs need regular walks, and this exercise is good for us too. Exercise, like walking, has many benefits for our mental and physical health and wellbeing. Walking outside is particularly beneficial and can be a mindful activity. Many pets enjoy games, whether it is fetch with a ball with your dog or chasey with your cat. Being playful is a great way to relax and relieve stress.
Studies have shown that pet ownership is linked with a lower risk of death over the long term, which is possibly due to a reduction in the risk of cardiovascular disease. In addition, the responsibility of pet ownership is a motivator for maintaining good health.
We are also seeing an increased use of pet therapy in many settings. Many aged care facilities will either have a pet or have regular visits from a therapy dog. Trained therapy dogs are increasingly being used in a variety of ways to improve quality of life. For example:
as a provision of support for those experiencing post-traumatic stress disorder
for emotional support in anxiety
to monitor for falls or seizures
to alert an owner with impaired hearing when a doorbell or the telephone is ringing
and as guide dogs for people with impaired vision.
This is in addition to the use of dogs in diagnosis because of their strong sense of smell. Therapy dogs are also being used to provide stress relief for health professionals such as paramedics working for Ambulance Victoria and healthcare workers within hospitals.
There are a wide range of options when choosing a pet (whether we like fur, feathers or scales) and the responsibility associated with caring for a pet varies from twice daily walks to simply placing a food block into a fish tank periodically. It is important to consider a pet that fits in with your lifestyle.
During the early years of working as a doctor, with frequent rotations including to regional locations, there can be challenges in keeping your pet with you when you relocate and need to find temporary accommodation. It is important to know your rights under tenancy legislation. If you will be staying in hospital provided accommodation, always notify the hospital early of your requirement for pet-friendly accommodation. Contact AMA Victoria's Workplace Relations Unit for advice if you encounter any difficulties regarding hospital accommodation and your pet.

Kay Dunkley
AMA Victoria Coordinator of Doctor Wellbeing

Resources
Tags