Post at your peril: A reminder to doctors about social media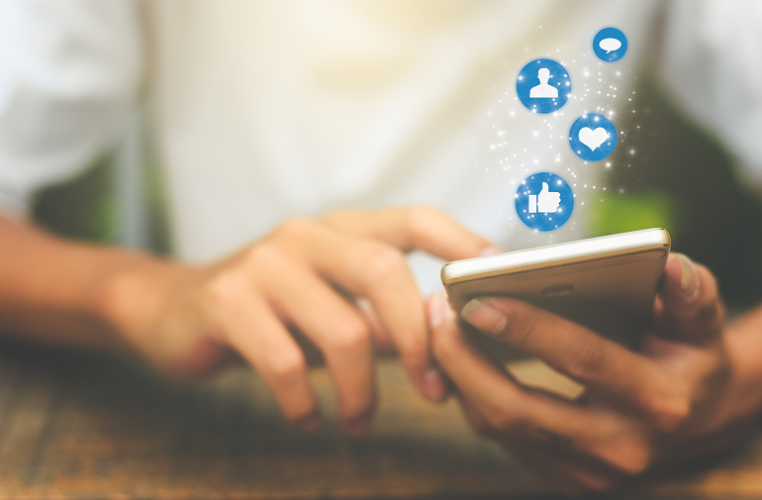 17 November 2021
When platforms that once served as portals of cringeworthy status updates morph into unvetted modern day town criers, health practitioners must exercise caution. Never has this been more apparent than in the era of COVID-19. While it is nothing new for registered health practitioners to peddle scurrilous claims about vaccines, social media has amplified the reach of these theories and placed them squarely before the public.
With recent studies showing that almost a quarter of Australians rely on social media as their primary source of news, it is little wonder that the National Boards and Ahpra are sharpening their focus on health practitioner social media usage in the professional or personal sphere.
We explore the joint statement from Ahpra and the National Boards about their expectations of health practitioners regarding COVID-19 vaccines and Social Media Guidelines, as well as recent cases where Australian practitioners have compromised their registration by posting and sharing unproven or controversial information on social media.
Joint statement
On 9 March 2021, Ahpra and the National Boards released a joint statement outlining their expectations of registered health practitioners and students with respect to COVID-19 vaccination (joint statement). The goal of the joint statement is stated to be ensuring protection for practitioners, both as professionals and as members of the general community.
While the joint statement does not go so far as to mandate vaccines (that decision being left with health departments, individual employers and health services), registered health practitioners and students are strongly encouraged to be fully vaccinated, unless medically contraindicated. Conscientious objectors are expected to inform their patients/clients of their objection, but in doing so, must take care not to discourage patients/clients from seeking vaccination.
In addition to the firm recommendation that practitioners should be vaccinated, the joint statement provides that the National Boards expect registered health practitioners and students to:
be appropriately qualified and trained to administer COVID-19 vaccines (if authorised to administer them)
provide accurate information and advice about COVID-19 vaccination, including in social media and advertising.
Importantly, the joint statement provides:
Any promotion of anti-vaccination statements or health advice which contradicts the best available scientific evidence or seeks to actively undermine the national immunisation campaign (including via social media) is not supported by the National Boards and may be in breach of the codes of conduct and subject to investigation and possible regulatory action.
Social media guidelines
As the line between the professional and personal spheres increasingly blurs, it is important for practitioners to remember that their use of social media is subject to the National Law, Codes of Conduct, Codes of Ethics and the Advertising Guidelines.

In November 2019, Ahpra released social media guidelines (the Guidelines) to help practitioners understand and meet their obligations. The recommended steps are to:
comply with confidentiality and privacy obligations
comply with your professional obligations as defined in your Board's Code of Conduct
maintain professional boundaries
communicate professionally and respectfully with or about patients, colleagues and employers
not present information that is false, misleading or deceptive, including advertising only claims that are supported by acceptable evidence (our emphasis).
As with the joint statement, practitioners are asked to place their personal beliefs aside and defer to public health campaigns and messaging when using social media, noting that to do otherwise might lend credence to questionable health claims.
Practitioners should therefore take care when:
liking posts
commenting on posts
sharing information online
when that information does not reflect the best scientific evidence. Failure to do so could find a practitioner in breach of their professional obligations and open to regulatory action.
It is also important for practitioners and students to note that the powers granted to Ahpra under Schedule 5 of the National Law are exhaustive. Social media accounts that are set up under a different name so as to be kept private could still be linked to the practitioner.
Acceptable evidence
For practitioners uncertain about what amounts to acceptable evidence, Ahpra has produced the following guide: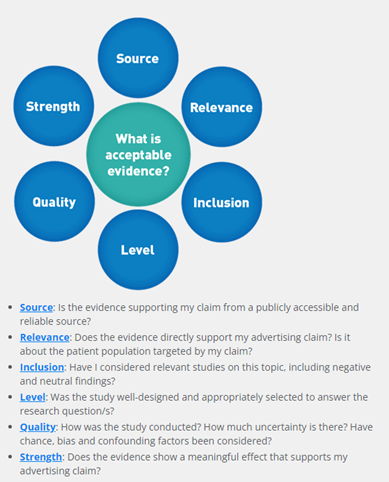 Case example
Some practitioners have faced disciplinary action arising from their use of social media or from their promotion of unsupported theories about vaccination.
Dr Michael Ellis v Medical Board (Review and Regulation)[2020] VCAT 862
Pursuant to its powers under s156(1)(a) of the National Law, the Medical Board took immediate action to suspend the registration of Dr Michael Ellis, GP, on 29 May 2020. An ongoing investigation had found that between August 2017 and April 2020, Dr Ellis had made 56 posts across social media channels (one being personal and four associated with associated entities) which espoused controversial views on vaccines, chemotherapy, COVID-19, religious groups and the LBGTQI community. Those views included that:
compulsory vaccination had, "national socialist roots… that spring from the same 'master race' that led the Nazis to embrace eugenics… and dysgenics..."
Vitamin C, "is very effective at killing the [corona]virus – and boosting the immune system"
"If you see a psychiatrist you may as well see an undertaker!!!"
Dr Ellis appealed the interim action but VCAT upheld the Board's decision to suspend Dr Ellis' registration on an interim basis. In reaching that decision, VCAT made clear that:
it was not required to consider freedom of expression
this was not a matter of academic freedom which should take place through, "appropriate discourse within the professional community… dissemination of material by a registered medical practitioner to the general public… that has the capacity to cause harm to the community in the ways we have identified, is expression of a different kind altogether"
it was unconvinced by Dr Ellis' suggestions that he tried to keep his identity as a registered practitioner secret, noting his identity was known to a proportion of people who visited his sites or was ascertainable
the publication of misleading statements on social media (even if unlikely to be repeated) can contribute to a reasonable belief that a practitioner might pose a risk in the way they practise medicine. This is because the, "practice of medicine is not limited to the physical acts involved in treating patients. The practice of medicine includes the discussions that a doctor has with patients".
As to the impact of Dr Ellis' posts on social media, VCAT noted:
"Dr Ellis has published material – about vaccines, chemotherapy, and Vitamin C and COVID-19 – that has no proper clinical basis or that is contrary to accepted medical practice, or that is otherwise untrue or misleading… Dr Ellis' commentary has had at least the potential to deter members of the public from obtaining vaccination for themselves or their children… to encourage them to rely on unproven protocols for the prevention or treatment of COVID-19; and to undermine their confidence in doctors, hospitals and pharmaceuticals."
With regard to the nature of the risk presented by his actions, VCAT noted that:
"Evidently thousands of persons... accessed the social media commentary." (M)embers of the public include vulnerable people who at least lack the qualifications necessary to evaluate the medical statements properly and make safe decisions about their healthcare."
Interestingly, VCAT also noted that the, "coronavirus pandemic has increased the risk that vulnerable or unqualified persons would, out of fear or desperation, turn to "advice" from unreliable sources."
The investigation is ongoing and a final determination has not yet been made.
Other practitioners have been the subject of interim regulatory action taken by the relevant Boards under the powers in the National Law. This has included suspension of their registration, with final determinations yet to be decided.
Conclusion
In a pandemic-ravaged world, the emphasis from Ahpra and the National Boards is on a clear and consistent public health message, supported by the best available science.
Conscientious objection, freedom of speech and the use of social media accounts for personal purposes only, will be unlikely to suffice to excuse the posting of controversial vaccination views on social media by registered health practitioners and students.
To avoid regulatory action, including suspension of their registration, registered health practitioners and students should have due regard to the joint statement and Guidelines whether posting in a personal or professional capacity.
Beth O'Connor & Mia Campbell
Kennedys



Tags