Staff wellbeing takes more than a one hour workshop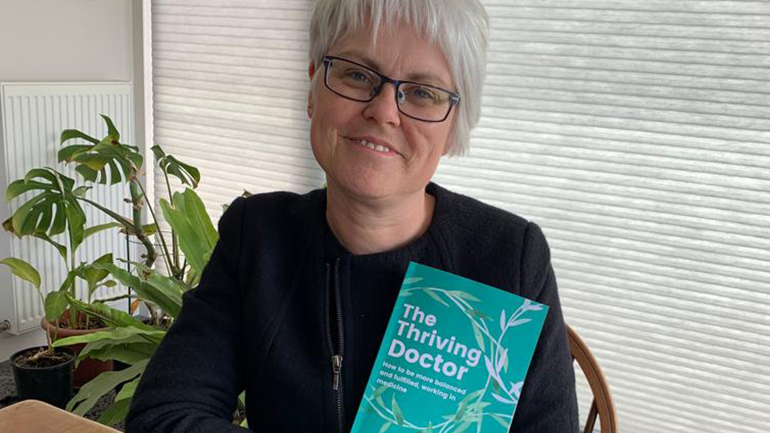 31 August 2022
Image: Guest contributor | psychologist Sharee Johnson
It's truly wonderful to see colleges and healthcare employers thinking more about wellbeing and recognising that these conversations need to start earlier in a doctor's career. We are fielding so many requests for one-hour workshops just now, it's wild! People who organise events for doctors are cognisant that the doctors are time poor and hope that something is better than nothing. To some extent they are right. Often just one sentence, at the right time, can help a person see something new that allows them to make an important change to their behaviour or mindset.
I am grateful to be invited to share what we have learnt about doctor wellbeing. Our experience in delivering these short workshops though, is that participant commitment to a short workshop is loose at best. In the immediacy of a busy day a wellbeing workshop can seem like the least consequential thing to drop from their diary. Or they arrive late and leave early, distracted by their phone or the other very real competing pressures.
Hmmmmm, what to do…..
Our experience is that a longer term approach gets better traction and has more impact for individuals and for organisations.
Yes, it's a bigger commitment - and - it seems the old adage applies, you get what you pay for…
When we commit to a longer term process of learning we are really saying, in a practical and ideological way, this is important, I choose to prioritise it. When an individual says this about their own wellbeing, when they take action by blocking out their diary, paying for a course, telling others they will be unavailable, they often feel better before they have even started the wellbeing program.
This works for going to the gym, booking a therapist or a date night, buying the ingredients for a healthy dinner, and registering for coaching or a wellbeing program. The decision to prioritise yourself, to value yourself starts paying positive dividends immediately you action the decision.
Organisational decision making can have the same impact over time, if, and only if, it is reliable. That is the key. If an organisation promises a wellbeing program but has no capacity for people to leave the floor, it's an empty promise. Wellbeing programs without time or budget allocated are simply a pipe dream and will likely do more harm than good for staff wellbeing.
If you are thinking about a wellbeing program for your team or your organisation
Check your intention, do you want your whole team to benefit?
Is it useful to train the leader and have them teach the team?
Or would there be more momentum if you trained several champions?
How will you provide ongoing support so new habits and systems can be embedded?
What structure and resources can you provide to make the learning a reality that results in sustained change?
Learning happens when the learners feel safe and relaxed, when it's fun, when there is time to experience the new learning. Learning happens best when people value it, the more people the better. The learner, the others, the bosses - do they all value what is being taught?
For healthcare to find a way to take better care of the workers, we need radical change, not tweaks at the edges. A short workshop with no follow up, no support, no budget, no reflection, no accountability, smacks of ticking the box and the people know it.
Why would you bother?
A series of conversations over time is much better for effecting lasting change.
A structure that supports wellbeing conversations gives them a real chance of impacting the culture. When you think about wellbeing for your staff recognise that this is a lifelong project. Think about how you can create a system that allows all the relevant people to leave the frontline and focus properly on their learning? Create the conditions that will maximise the learning beyond the workshop.
Think about what can be put in place in the days afterwards to help the participants remember and test the ideas, to apply them, in real time, to their work environment? Think about what they will need next to extend their learning. Build a program that is ongoing, creates momentum, positive energy and hope. This is engagement. This is culture change. This is a virtuous cycle that ripples out creating contagions that benefit healthcare workers and patients. This is a real wellbeing endeavour.
Healthcare workers who value their wellbeing know that it's going to take more than a one hour workshop.
Individual healthcare workers who decide to prioritise their wellbeing do best with at least one buddy. We are a social species. When we are working on breaking habits and establishing new ones we need support and encouragement. Feel your own agency, tell someone you trust that you are crafting your own life, find a community that will encourage and empower you. Our Recalibrate program is designed to provide this kind of wellbeing skill development, in community.
Wellbeing is everybody's business. We all want to be well.
We want you and your team to be well too. It's the only way we will have a healthcare system to speak of...
You can be an employer of choice: when wellbeing has budget, time and priority. It will take an ongoing multifaceted effort. And, it will be worth it.
I hope we can talk soon. May you be well
Sharee Johnson
Guest contributor | psychologist
Sharee Johnson is the Managing Director at Coaching for Doctors. She works as a psychologist coach, is accredited with the International Coaching Federation and is a meditation teacher. Her best selling book The Thriving Doctor: How to be more balanced and fulfilled, working in medicine has been welcomed internationally by doctors and many other professionals working in healthcare and education.
Doctors can register for 2023 Recalibrate here.