2022 State Election Advocacy - update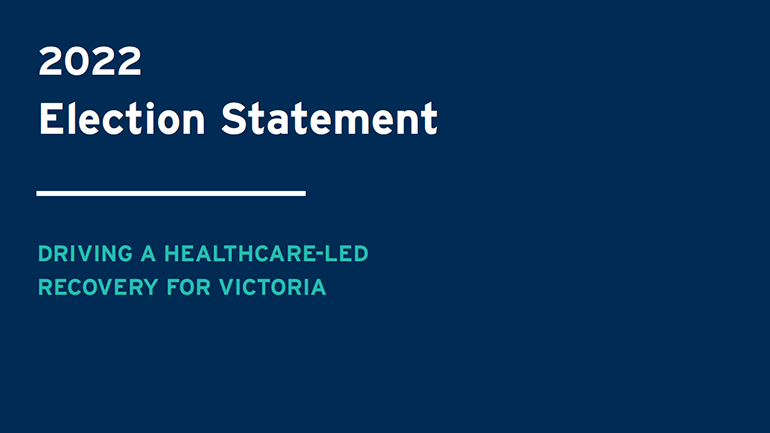 24 November 2022
Here's an update on a few of the issues AMA Victoria is working on for members, including:
AMA draft submission to the Centre for Disease Control consultation
Victorian Department of Health: Day Case December webinar.

AMA draft submission to the Centre for Disease Control consultation
The AMA is currently preparing its submission to the Commonwealth Government's discussion paper on the Role and Functions of an Australian Centre for Disease Control (CDC): Role and functions of an Australian Centre for Disease Control | Australian Government Department of Health and Aged Care
The AMA supports developing an Australian CDC. The AMA has been calling for a CDC since 2017 and continuously advocated for a CDC throughout the COVID-19 pandemic.
Answers to any questions posed in the discussion paper are welcome. However, we are seeking specific advice on the following:
The CDC structure, including the role of States and Territories, accountability, and decision making
Scope and function- feedback on the Department's proposed scope (page 16 of the discussion paper)
Lessons learned from COVID-19
Ideas on how to prepare for the next pandemic.
If you would like to contribute by providing feedback on the AMA's draft submission/working paper, please send an email to Senior Policy Adviser, Lewis Horton, at LewisH@amavic.com.au as soon as possible.

Victorian Department of Health: Day Case December webinar
The Victorian Department of Health's Chief Surgical Adviser, Prof Benjamin Thomson, will be facilitating a webinar regarding 'same-day models of surgical care' on Tuesday 6 December 2022, 5:30pm to 7:00pm.
In April this year, the Victorian Government announced a $1.5 billion Planned Surgery Recovery and Reform Program (also known as the COVID Catch-Up Plan). As part of the Program, the Department has been working with the healthcare sector to understand how we it can sustain and increase surgical activity and support more patients to access the right care and achieve positive outcomes. A feature of this work is understanding, implementing and expanding new and existing same-day models of surgical care.
The Department wants to work with the sector to disseminate best-practice and support the continued uptake of same-day surgical models - noting their positive outcomes for both the patient and the system.
Many members of the healthcare workforce, health services and Health Service Partnerships have already commenced fantastic work in regard to same-day surgical models of care. This webinar will be an opportunity to showcase this work, learn from it, and build on it.
The webinar, facilitated by Prof Thomson, will include the following presentations:
Day case surgery: Professor David Watters, Director of Surgery, Safer Care Victoria
Establishing effective day case surgery models: Ms Sarah Larwill. Director of Operations - Surgical Services, Alfred Health
Regional experiences of day case surgery: Mr Graeme Campbell, General Surgeon, Bendigo Health
PAC and pain management: Dr Ben Kave, Anaesthetist, Royal Melbourne Hospital
The healthcare workforce, health sector executives, health policy makers, and other interested parties are all encouraged to attend.
The webinar will build upon the same-day surgery webinar series that was hosted by the department last year. If you would like to register to access the webinar recordings please email surgicalreform@health.vic.gov.au
If you would like to attend this year's webinar, please register online by Monday 5 December 2022.

Tags