Suicide - words matter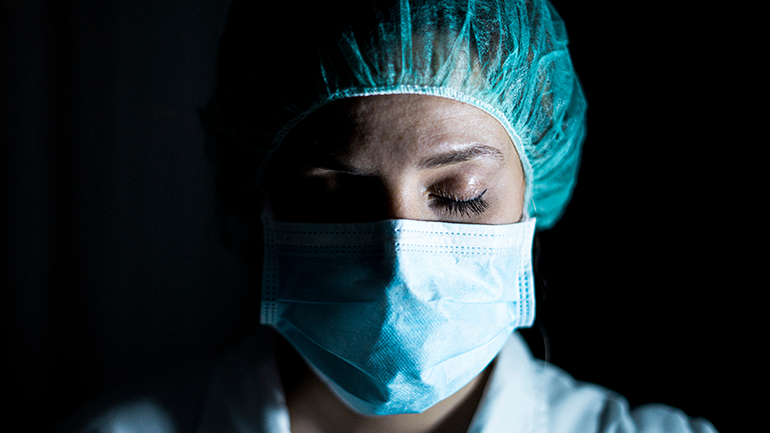 RUOK? Day is tomorrow, Thursday 8 September 2022 and World Suicide Prevention Day is on Saturday 10 September 2022. Do these awareness days have any impact? Some people hold the view that awareness days are misguided and tokenistic and others express the view that every day should be a day when we check in with our family, friends and colleagues to make sure they are OK.
We do know that death by suicide is higher in healthcare professionals, including doctors, compared to other professional groups, and appropriate conversations about suicide are important as a means of suicide prevention. Being prepared to ask someone about thoughts of suicide is a basic Mental Health First Aid skill. The aim of suicide prevention programs such as Mental Health First Aid is to equip the broader community with the skills to link people in crisis up with expert support. Speaking up is important to save lives.
Across the year there are many awareness days and weeks, including several which focus on mental health. One of the main benefits of awareness days, in relation to topics such as mental health and suicide, is to reduce stigma by starting conversations. Awareness days also provide education for the broader community on how to ask about suicide and how to help anyone who is needing further support. The RUOK? Day resources do educate on what to do if someone indicates that they are not OK and advises asking whenever you sense that someone may not be OK. The RUOK? Day resources also educate on what to do if the person you ask says they are OK but you are still concerned. Speaking up is important to save lives.
Dr Andrew Tagg talks openly about his brush with suicide here: The Road... Not Taken - (dontforgetthebubbles.com). In the video of this presentation, Andy talks about the fortuitous phone call and conversation which resulted in him accessing treatment and a recovery pathway. He also discusses the impact of stigma which makes it really hard for doctors to seek help. He stresses the need to ask your colleagues if you notice signs that they may be struggling. Speaking up is important to save lives.
Dr Geoff Toogood also talks openly about his experiences with depression and the stigma as a doctor which makes it so hard to seek help: "I'm a doctor, I shouldn't get sick" – Geoff's experience of work stress and depression (beyondblue.org.au). Geoff founded Crazy Socks 4 Docs Day with the aim of breaking down the stigma around mental health issues for doctors and health professionals. His vision is to reduce doctors' suicide around the world. Speaking up is important to save lives.
The words we use around suicide are important. For example, suicide used to be a crime hence the terminology "committed suicide". Now however it is more appropriate to say "died by suicide" to dissociate suicide and a criminal act. This is important to reduce stigma for families and loved ones who are bereaved by suicide and to make is easier for everyone to talk about suicide without any stigma. This table from Resources about suicide, mental ill-health, alcohol and other drugs. - Mindframe provides a great summary of the best way to talk about suicide.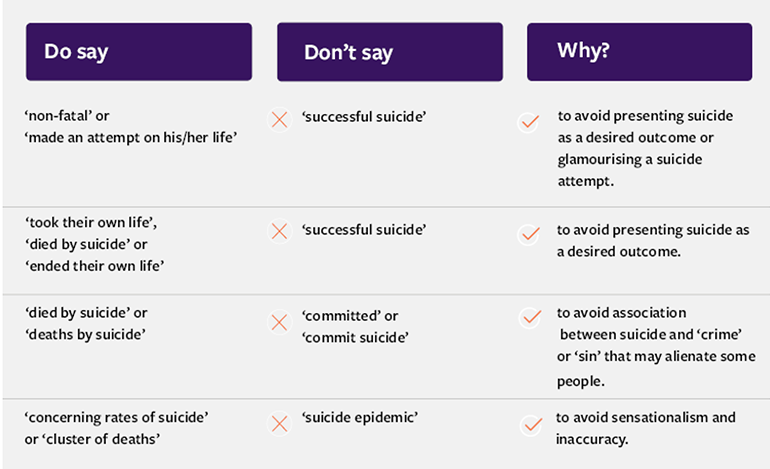 Image: Mindframe
How suicide is presented in the media is important as this influences the perception of suicide by society. The Everymind website has some useful resources which relate to reporting suicide in the media. Likewise this guideline for talking to the media about suicide from Conversations Matter - practical resources for talking about suicide is also a valuable tool. Words matter.
If you or someone you know is in crisis, please call one of the following national helplines:
Other sources of support for members of the medical profession in Victoria include:
Kay Dunkley
AMA Victoria doctor wellbeing and mentoring

Further reading and resources
Tags