The benefits of music in healthcare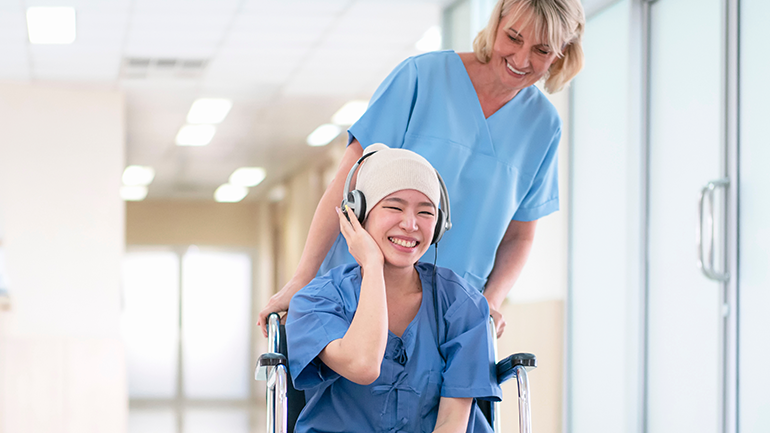 23 March 2022
The benefits of music therapy are well established. Music can change mood, aid focus and concentration, help us to feel calmer or increase motivation and energy and is an important influence on our wellbeing.
In healthcare, music has been used in variety of settings including palliative care, during invasive procedures and during radiological scans, in the operating theatre, during labour and delivery, as therapy in mental health facilities and paediatric units, to assist with rehabilitation and to improve quality of life in aged care.
Some of the known benefits of music in healthcare include:
Reduction of anxiety and stress
Decreased perception of pain
Assist in the management of insomnia
Enhanced social connection and mood through shared listening activities and singing
Decreased agitation and anxiety in dementia
Better cognitive health and wellbeing through group singing
Improved lung capacity through singing
Improved cognition through playing a musical instrument
Dance and movement associated with music improves overall health and mobility
Many health professionals are also musicians. In Melbourne we have Corpus Medicorum, an orchestra of doctors, medical students and health professionals. Corpus Medicorum has four concerts coming up in 2022 on 27 March, 22 May, 7 August and 27 November at the Melbourne Recital Centre.
Melbourne is also the home of the Hush Music Foundation. The Hush Foundation was established in 2000 by highly awarded and renowned physician, Prof. Catherine Crock AM, in response to her work with children undergoing painful medical procedures at The Royal Children's Hospital Melbourne. The vision of the Hush Foundation is to transform the culture of health care through the Arts. The activities of the Hush Foundation include Hush Music, Gathering of Kindness, Hush Healthcare Plays and the Hush Treasure Book. The extensive Hush Music collection compilations feature many well-known artists and is suitable for all ages bringing calm and optimism.
During the COVID-19 pandemic we have seen musical performances from groups of healthcare workers which have really stirred our emotions during challenging times. Here are several inspiring examples. Look out for familiar faces and voices.
As well as performing music, healthcare professionals can use music as part of a self-care routine to improve well-being by reducing stress and increasing a sense of calm, as well as to lift mood and enhance cognition, learning, motivation and energy. Music is readily accessible is many formats and many readers will have favourite playlists on various apps. Music is an important tool in our self-care armamentarium.

Music resources to help our wellbeing
Doctors and medicine also frequently feature in music, and this compilation has a list of 70 contemporary songs which feature medicine, doctors and health: 70 Songs About Medicine, Doctors, and Health | Spinditty.

Further reading and resources
Tags