Volunteers for digital story making opportunity in aged care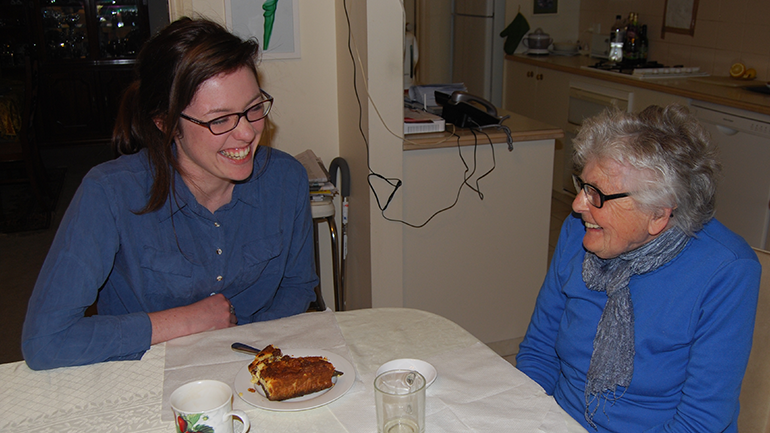 25 November 2021
Applications are now being taken for a new initiative in the AMA Victoria Peer Visitor Program which is being conducted in conjunction with Swinburne University: Digital Story Program in aged care facilities.
Please complete the application form and forward it to rebeccacollins@swin.edu.au. Applicants will be interviewed by the Swinburne University Program Coordinator, Rebecca Collins, during early December and the program will commence with the first training session on Friday 14 January 2022 from 3.30pm to 4.30pm and will continue with regular training sessions at that time each Friday. You will be matched with an older person residing in aged care and prepare a short digital story about them. The commitment is for approximately 20 weeks to develop the digital story, but you may wish to continue the friendship long-term. Visits to the older person can be undertaken at a time which suits you on weekdays or weekends. You will require a current police check, full vaccination against COVID-19 and two referees. To be covered by our volunteer insurance, you will need to be a current member of AMA Victoria. Membership of AMA Victoria is free for students. There are a range of membership options for doctors.

Program summary:
Students and members of the community have the opportunity to provide digital story services to older adults living in aged care facilities through the Swinburne Volunteer Digital Story Program.

Volunteering is a means to provide companionship and social interaction to aged care residents. Our volunteering services aim to help residents feel valued and acknowledged. Sometimes having someone to reminisce with is the perfect medicine for an elder. Visits involve conversations and companionship with a resident, reminiscing and doing other things of mutual interest to gather information and produce a digital story. Volunteers commit to this program for up to one year.

Volunteers become more aware of late-life medical and psychological difficulties and develop basic counselling skills. Volunteers are provided with weekly training in counselling, interviewing skills, psychological issues relevant to older adults, script writing and digital story creation and have regular supervision and support.

Due to the increased use of smartphones and tablets, by people of all ages, and the no cost apps that can be uses to take pictures, add text, record audio, shoot video to create a digital story, almost anyone is able to make a story and share it globally with the touch of a few buttons.

The Digital Story program is not about the technology or the quality of the production, it is about the connection to the resident.

If you can use a smart phone, use the internet, and feel confident you can learn some simple new things about technology you will have no problem with this program.

The aged care facilities involved in this initiative are as listed below. As medical students and doctors if there is a retired health professional participating in the program at the facility you choose to visit you may elect to be matched with them.
Ashby (Templestowe)
Autumdale (Cheltenham)
Baradine (Mooroolbark)
Box Hill (Box Hill)
Broughtonlea (Surrey Hills)
Chelsea Manor (Chelsea)
Cresthaven (Malvern East)
Darnlee (Toorak)
Elly Kay (Mordialloc)
Gardenia (Chelsea)
Glengowrie (Glenroy)
Grossard Court (Cowes)
Hansworth (Mulgrave)
Highgrove (Kew
Hilltop (Preston)
Ivanhoe (Ivanhoe)
Karinya Grove (Sandringham)
Livingstone Gardens (Vermont South)
Monterey (Glenroy)
Oakleigh (Oakleigh South)
Riverlea (Avondale Heights)
Scotchman's Creek (Mount Waverley)
Sheridan Hall Brighton (Brighton)
Sheridan Hall Caulfield (Caulfield North)
Silverwood (Templestowe)
Tarralla (Croydon)
The Boulevard (Mill Park)
The Gables (Camberwell)
The Mews (East Camberwell)
Western Gardens (Sunshine)
Westgarth (Northcote)
Willowmeade (Kilmore)

If you have any questions about the program, please email AMA Victoria's Coordinator of Doctor Wellbeing, Kay Dunkley at kayd@amavic.com.au.

More information:
Tags