Whole person healthcare for health professionals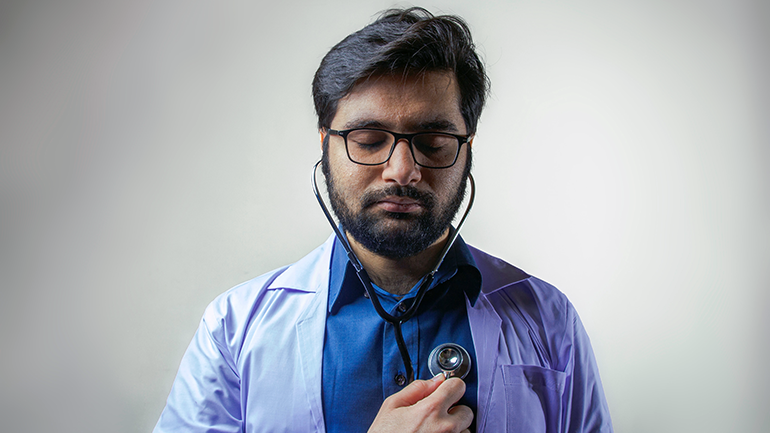 26 October 2022
The holistic model of health care is well suited to be a wellbeing model used by health professionals.
The importance of 'whole person' or 'holistic' care is widely recognised. It is also known as the biopsychosocial model of care. The themes of this model of care include:
A multidimensional integrated approach which addresses the multiple aspects of each person and their context. This includes the biological, psychological, environmental, social and spiritual characteristics.
The importance of the therapeutic relationship including a collaborative approach.
Acknowledging the humanity of the doctor or health professional, including self-reflection, self-awareness and the potential for personal growth of the doctor or health professional through the clinical interaction.
Recognising the individual personhood of each patient, with the focus placed on the person rather than the disease.
Health is more than absence of disease. The conscious pursuit of the highest qualities of the spiritual, emotional, psychological, physical, environmental, occupational and social aspects of the human experience with an emphasis on preventive health measures.
Employing a range of treatment modalities ranging from medication, surgery and physical therapy, to counselling and cognitive therapy, spiritual counselling, compassion, presence and connection. This often involves team-based care.
These themes are very similar to the Chair of Wellbeing designed by Dr Eric Levi.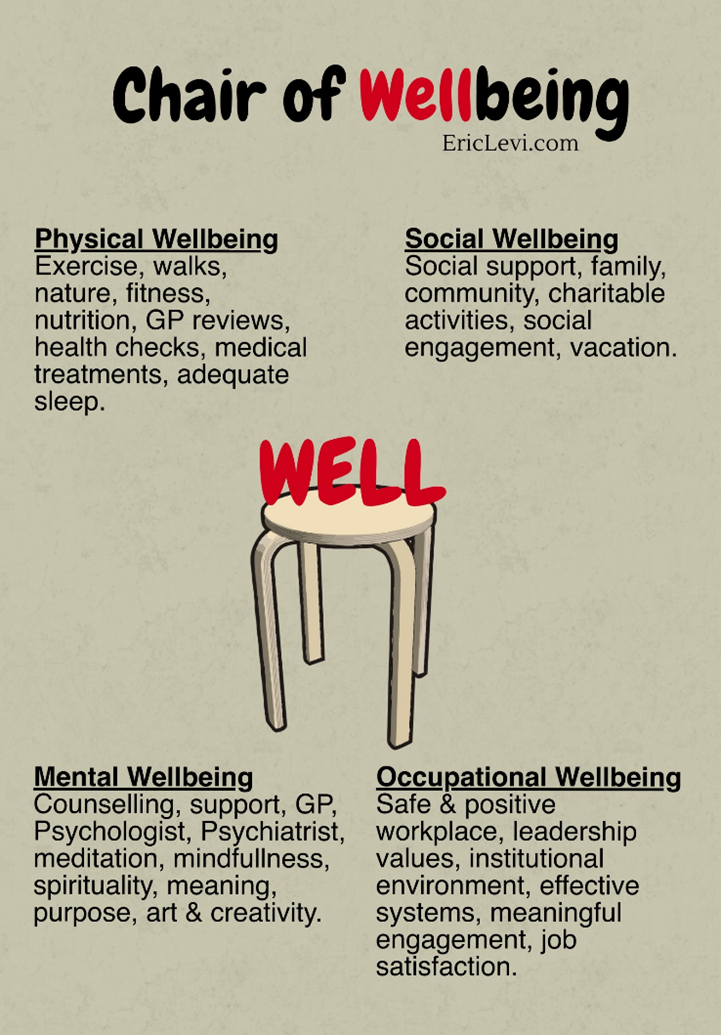 It is essential to pay attention to the many aspects of every doctor or health professional. Despite a professional approach to work, which often masks distress or strain, every doctor is human and has physical, psychological, emotional, spiritual and social needs. Every doctor is impacted by their environment and by the events that occur at work, at home, in their community and in the wider world.
Every doctor will benefit from caring therapeutic relationships with treating clinicians. Peer support and kind and compassionate relationships in the workplace, plus good teamwork are the key to being able to manage stressful situations. Adequate autonomy is also essential to avoid moral distress.
Basic needs such as adequate nutrition, hydration and being able to go to the toilet are necessary to get through a shift at work. Likewise, adequate sleep when off duty and rest breaks during a shift enhance cognitive skills and decision making. Time off for recovery when unwell and regular holidays are also essential to prevent exhaustion and burnout.
In the same way that patients benefit from holistic care, so do doctors and other health professionals. Paying attention to the whole person and providing collaborative care with the benefit of a team approach will produce the best outcomes.
Kay Dunkley
AMA Victoria doctor wellbeing and mentoring

Resources and further reading
Tags