World Kindness Day - kindness in healthcare is not negotiable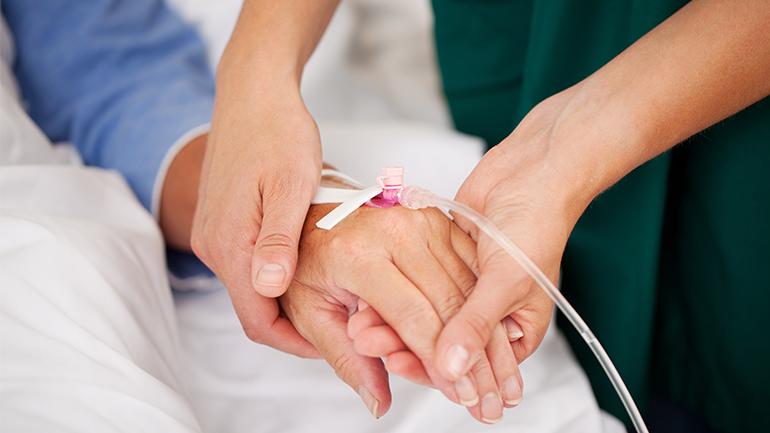 9 November 2022
World Kindness Day is an international observance this Sunday 13 November 2022. Kindness is defined as the quality of being friendly, generous, and considerate. Kindness is more than simply being nice and it does not mean being soft or a pushover. Being kind is to intentionally take action or speak up and requires strength to go beyond doing what is expected, even when this is the difficult option. The aim of kindness is to heal, serve and resolve situations with integrity and care.
World Kindness Day was first launched in 1998 by The World Kindness Movement, an organisation formed at a 1997 Tokyo conference of like-minded kindness organisations from around the world. There are currently over 28 nations involved in The World Kindness Movement which is not affiliated with any religion or political movement. The mission of the World Kindness Movement and World Kindness Day is to create a kinder world by inspiring individuals and nations towards greater kindness.
This week the Gathering of Kindness 2022 has been taking place this week from 7 November to 11 November 2022. A key theme of the event has been connection and the program included a mix of in person sessions as well as online access and included both an Australian and international speakers and audience. The program explores creativity, the arts including writing, drama and music as well as discussions about kindness, compassion and structural change to produce a kinder healthcare system for all. Participants include healthcare leaders and managers, healthcare workers, patients, carers and supporters. The music and workshops were wonderful, the presentations were inspiring and the mood in the room was warm. Some of the key learning points from Day 2 of the Gathering of Kindness on Tuesday 8 November 2022 follow.
Presentation by Nicki Macklin, Doctoral Candidate, Faculty of Medical and Health Sciences, Population Health, New Zealand:
Kindness is based on the word kin and is about treating other people as a fellow human. Kindness is an antidote to incivility. Kindness is not optional it is integral to our life and work as healthcare professionals. Kindness does not mean avoiding conflict it is about the way we have conflict or difficult conversations.

Presentation by Dr Eric Levi, ENT Surgeon and culture change leader:
Kindness is more than just a warm fuzzy feeling, it is an essential human factors ingredient in the provision of safe and effective healthcare. Kindness is not easy, it can be painful, it can be costly and it can be countercultural. Unkindness is unfortunately common in healthcare being entrenched in culture and we need change.
Kindness in healthcare is measurable, is non-negotiable and is practical. Kindness is integral to patient safety as it allows concerns to be raised. Kindness in healthcare does not take much effort, for example reassuring a patient can be as simple as "I know this is a tough time and I will be with you."
The panel discussion and workshop covered the topic Structural Kindness: the what, who and how.
Discussion grew from consideration of this article written by Dr Irwin Loh It's time to recognise and fix structural unkindness | InSight+ (mja.com.au)
Panellists included:
Dr Katherine (Kate) Worsley, Group Associate Medical Director, and Medical Director for St Vincent's Private Hospital Melbourne
Professor Alan Sandford AM, Executive Director of the Regional Medical Pathway, Central Queensland and Wide Bay Hospital and Health Services & Immediate Past President and Executive Board Director - Royal Australasian College of Medical Administrators (RACMA), Chair of the Wide Bay PHN Clinical Council.
Matt Jones, CEO, Murray Primary Health Network.
Ms Kaye McNaught, Barrister at the Victorian Bar and Board Member, Alfred Health.
Dr Frank Daly, Chief Executive Officer at Northern Territory Department of Chief Minister and Cabinet.
Some points from Kaye McNaught:
Organisations which have structural kindness have the following characteristics:
- Excellent communication
- Respect
- Good morale
- Staff and all those working in the organisation feel valued
- Less bullying and bad behaviour
- Less sick leave
- Less staff turnover
- A sense of civility
- Less medical error
- There is an understanding of the value of all roles
- Positive teamwork
- A culture of diversity and inclusion

Some points from Alan Sandford:
In an organisation with structural kindness all juniors are nurtured from student years and upwards. They are the foundation for the future. There is a sense of joy in the workplace. This all brings efficiency as people are happier.
Some points from Kate Worsley:
In order to be able to show kindness we need our own well to be filled. In structural kindness there is a regular check-in for all with genuine enquiry "How are you today? Is your well full?" This needs to be an everyday concept in the workplace.
Some points from Matt Jones:
We need a different starting point. We have services full of expertise and provision of care by individuals. But we need to nurture and encourage kindness with empathy, equity and equality. This needs to permeate the whole organisational culture and include all interactions between healthcare workers and patients, healthcare workers interacting with each other, and also manager and healthcare worker interactions.
Some points from Frank Daly:
On a macro level healthcare needs to be designed around people not places. Healthcare needs to be culturally appropriate and located where the people are. Healthcare needs to move away from the acute sector with more focus on primary care and prevention.

On a micro level we need well designed teams with strong leadership who check in regularly with the people in the team. Clear goals and shared purpose are required and everyone needs to work together to work towards improvement by reviewing data on outcomes. When teams work well in healthcare we see decreased error, morbidity and mortality. Good teamwork will see increased efficiency and cost effectiveness.

Everyone needs to cognitive bandwidth in their workload to be compassionate. This is supported by good teamwork.
In summarising, the discussion that came from the workshop the facilitators Lucy Mayes and Vicki Mason made the following points.
There is a need to give up power and work as a team. The system needs to be based on values not processes or policies. A kindness mindset must underpin relationships and connectivity and power dynamics. This then should feed into policies, practices and the flow of resources.
Other discussion in this workshop highlighted the need for leaders who walk around and meet and talk with people to know their team. Good communication underpins kindness. Peer support from colleagues who check in with each other with deep listening and respect creates a compassionate and kind culture.

Further reading and resources
Tags