Doctors' Health Fund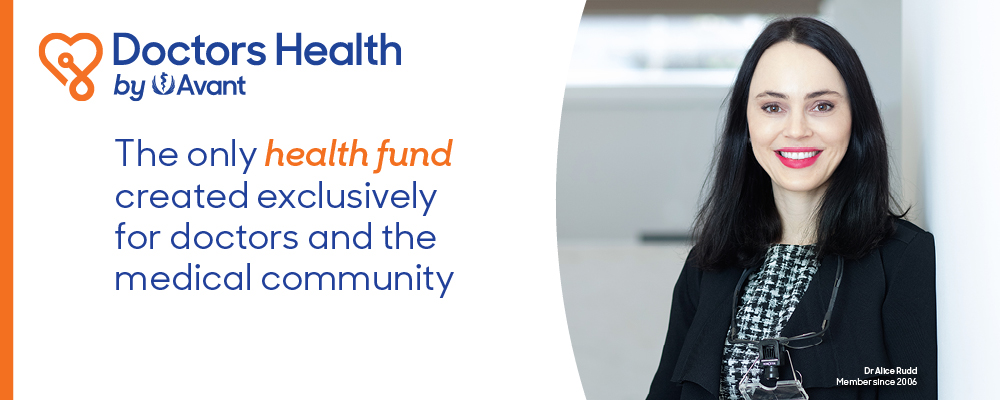 Doctors' Health Fund is a private health insurer created by the AMA in 1977 to exclusively serve the medical community. Now part of Avant Mutual since 2012, Doctor's Health Fund has become one of the fastest growing health funds in Australia with over 25,000 members now trusting the fund for their private health insurance.
We provide quality hospital and extras policies to meet the health care needs of our members at various stage of life, whilst supporting them both as a patient and as a medical professional.
Why choose Doctors' Health Fund
Our Top Cover Gold Hospital uniquely pays medical benefits up to the AMA list of services and fees.
We advocate for clinical independence and freedom of choice with no restrictive preferred provider networks
All of our Hospital covers includes national ambulance cover for both emergency and medically necessary ambulance services
We outperform bigger open-funds when paying in-hospital medical services with no-gap1
Generous extras benefits like 100% cover for unlimited general dental check-ups on Total Extras2
We have maintained a member satisfaction rating of above 94% for more than 10 years3
Our user-friendly mobile app allows for a quick and easy claiming process – it only takes 2 minutes;
As part of Avant Mutual, we are owned by doctors not shareholders
Need help deciding what best suits you?
Our expert Member Service Team will talk through the options for you and your family. Call 1800 226 126 or email us on join@doctorshealthfund.com.au
Already a member?
When you refer an eligible member to Doctors' Health Fund, you and your referral will each receive a $100 Flexi eGiftCard when they join! Visit doctorshealthfund.com.au/refer-a-friend for more information.
1. http://www.privatehealth.gov.au/dynamic/Insurer/Details/AMA
2. Check-ups limited to an examination, fluoride and a scale and clean where the fees are within the range of usual, customary and reasonable charges.
3. The Doctors' Health Fund Member Satisfaction Research report 2010 – 2021
Private health insurance products are issued by The Doctors' Health Fund Pty Limited, ABN 68 001 417 527 (Doctors' Health Fund), a member of the Avant Mutual Group. Cover is subject to the terms and conditions (including waiting periods, limitations and exclusions) of the individual policy.
Tags