Open Conversation Series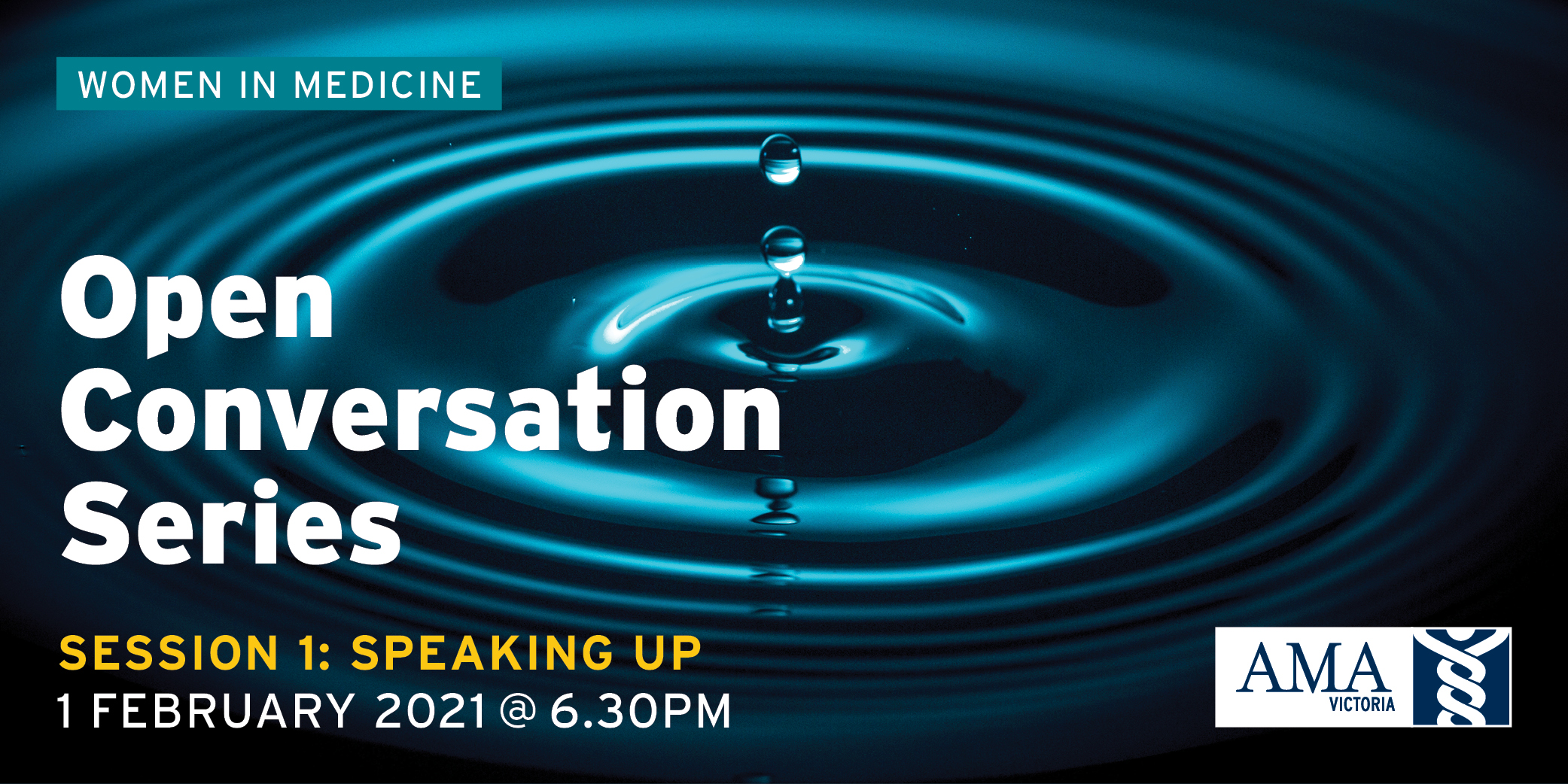 Join us
Monday 1 February from 6:30pm
Via Zoom, from the comfort of your home
All genders welcome

AMA Victoria's Open Conversation Series encourages honest conversation about the professional culture of medicine and seeks to foster a spirit of inclusiveness.
During the first half of 2021, the series will take a tour of issues, norms and expectations in medicine and seek to examine their influences on all doctors. It is an invitation for us to reflect on the values we wish the medical profession to embody and the factors necessary to sustain it.
Proudly brought to you by AMA Victoria's Women in Medicine Group.

The first session: Speaking Up
"Medical culture is not only defined by what doctors feel, think, say and do but also by what they do not feel, think, say and do." (American Medical Association, Journal of Ethics, 2015)
This session highlights the aspects of workplace practices within the medicine that need further improvement and change that we need to discuss openly. We will hear from two doctors who have courageously shared their experiences in the hope of driving change. Join us as we ask them, "What is the impact of speaking up?"

Speakers
Dr Sonia Henry
Dr Henry lives and works in Sydney as a doctor. When she's not being a medic she devotes her spare time to writing and has been published in Kevin MD (America's leading physician blog), the Sydney Morning Herald, the Australian Medical Students Journal, and has scientific publications in the ANZ Journal of Surgery. Her most widely read article was an anonymous piece, 'There is something rotten inside the medical profession', was shared more than 22,000 times and re-published widely around the world.
Assoc Prof Louisa Ng
Assoc Prof Ng is a rehabilitation physician and has been the Supervisor of Intern Training at Royal Melbourne Hospital (RMH) for the past 14 years. She is also Deputy Director at RMH Clinical School. She sits on the Steering Committee of the Safety Culture program at RMH and is a strong advocate for junior doctors and medical students. As hospitals work towards achieving an environment where patients want to be treated and staff want to work, the importance of speaking up, and equally, of listening is of utmost importance, however these are skills that can be challenging especially in a complex environment.
Tags